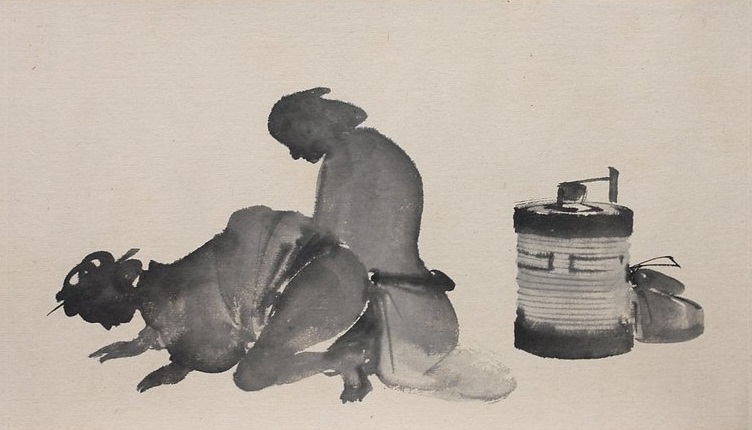 One of Our Rare New Shunga Scrolls Featuring Silhouette Paintings
We have added some new shunga scrolls to our gallery under which the piece below. It's from the 1840s and painted in sumi-e (lit. 'black ink paintings') by the Osaka school master Suzuki Hyakunen (1825-1891)*. It consists of twelve shadow/silhouette paintings, with incredible detail and executed by a true master of the brush technique, featuring intimate encounters in dreamy compositions.
Kama no Suetaka
The style of the paintings are similar to the famous Album of Flowers and Moon (Kagetsujo) that was issued in 1836.  That woodblock album was devised by the poet and calligrapher Kama no Suetaka (1752-1842)** and was one of the few notable erotic albums from the Edo period not created by ukiyo-e artists.
Click HERE for other articles on other beautiful erotic scrolls and paintings…!!!
Click HERE if you are interested in purchasing this shunga scroll…!!!
*Suzuki Hyakunen was born and raised in Kyoto, where his father, an astronomer, trained him in drawing astronomical diagrams. He is described in the literature as a student of Edo artist Onishi Chinnen, who studied under Maryama Okyo. Although Hyakunen's style can be placed in the Maryama tradition, it was already comprehensive in his early career, ranging from Shijo to Kanostyles. He was an avid follower of the Southern School of Chinese painting ("literati painting") and its influence can be discerned in a lot of his paintings.
Hyakunen's significance is not only determined by his own work, but also by his impact on the work of other artists. His most talented student was probably his son Suzuki Shonen, but he was also the teacher of Kubota Beisen and Imao Keinen. When the Kyoto Prefecture Painting School wa founded in 1818 he was assigned as one of the leading instructors. A rivalry with Kono Bairei made him quit after only one month. When Bairei also quit a year later, Hyakunen's son Shonen was assigned.
Hyakunen often submitted paintings to large Meiji era exhibitions, and won many prizes. It was during one of his return journeys from an exhibition he attended that he unexpectedly died. (Source: Saru Gallery)
**Suetaka was a Shinto priest at Kamo in Kyoto. In his formative years he was introduced to poetry by Tachibana Chikage in Edo. He was a well-known figure in the art scene of Kyoto and Osaka during the first part of the nineteenth century. He often inscribed genre paintings and contributed to many literary decorations to the ehon genre.
This scene was reproduced by Kano Eishin, a student of Kano Eigaku (1790-1867), after a copy of the scroll painted by Kano Eino (1634-1700). It features a chapter from the 'Phallic Contest' (Yobutsu kurabe), a famous scroll ascribed to the Buddhist priest and painter Toba Sojo (1053-1140).