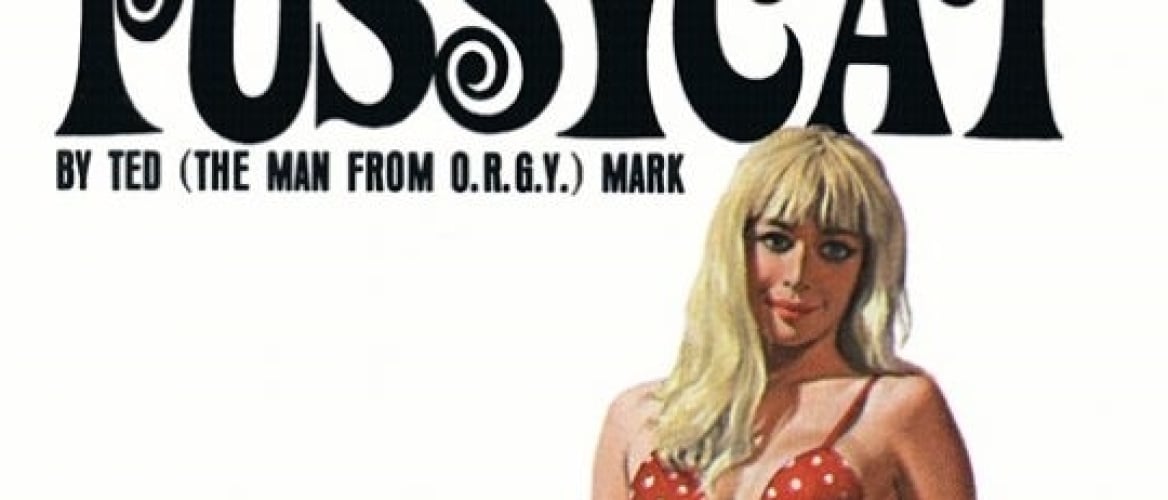 So Bad It's Good: Top 26 Covers of Erotic Fiction By Stanley Borack, Part One
If you're a kid of the 60s-90s, you very well may find these books with lascivious covers in your parents' bedroom or at the toilet or on top of a closet, etc., and spend with them a couple of following nights. Most possibly, it was Stanley Borack (1927-1993) who drew your attention by his pin-up beauties, fancy secret agents armed with guns, and brutal cowboys riding a ufo. Today we offer you a nostalgic top 26 covers that made you open a book, which highly likely was unreadable but seemed very intriguing because it belonged to the adult reading category.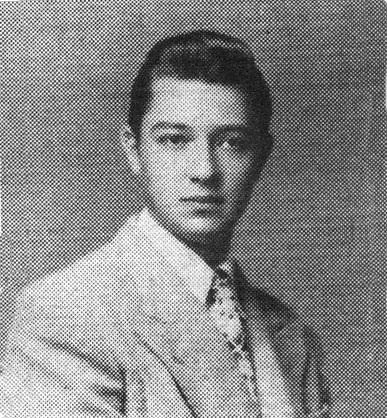 Fig. 1. Stanley Borack (pulpartists.com)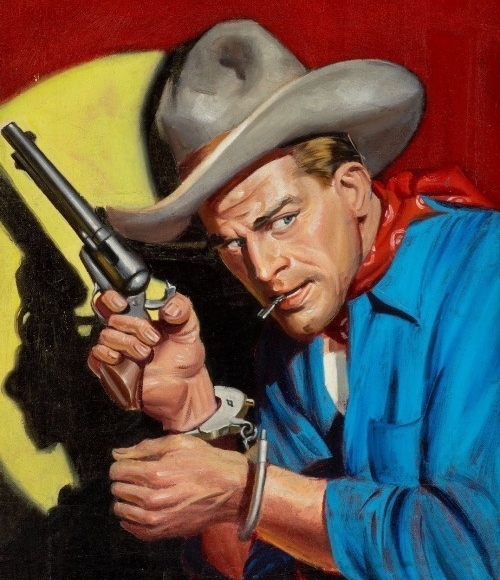 Fig. 2. nevsepic.com.ua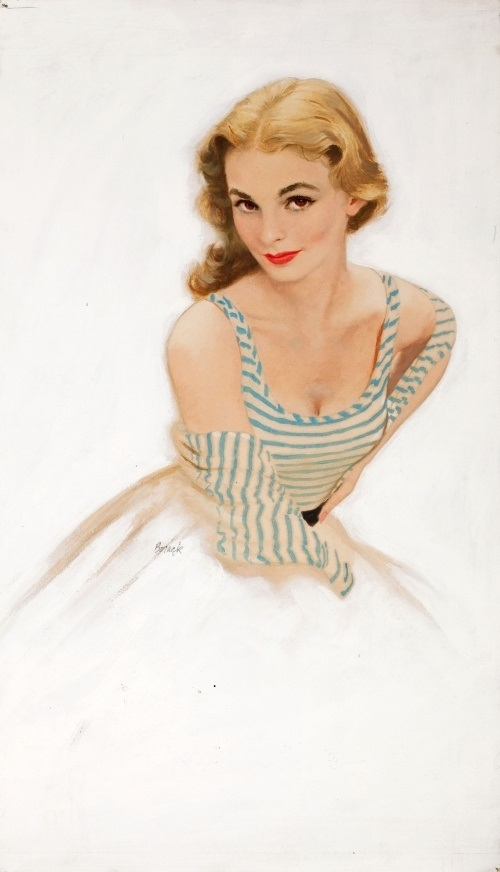 Fig. 3. nevsepic.com.ua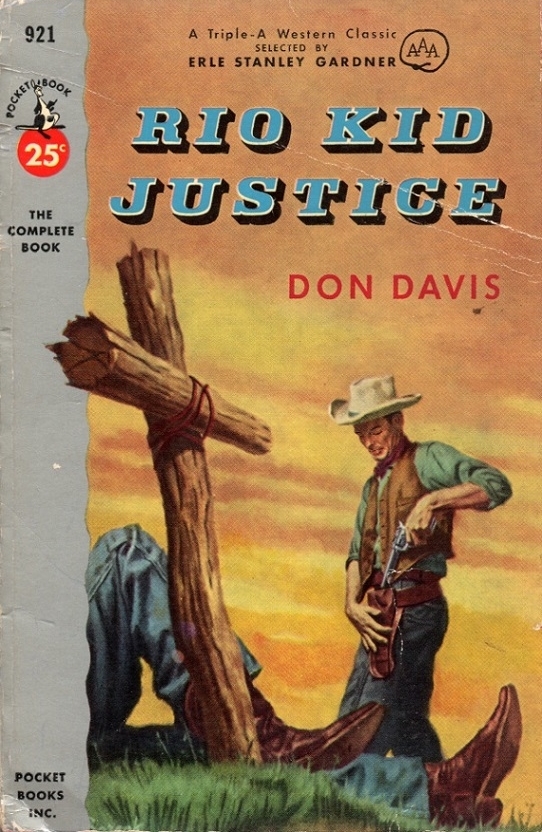 Fig. 4. P.S. Don't know why, but I bloody love this cover. It seems to be a brutal quintessence of the genre (pulpcovers.com)
Life-Long Western Appreciation
According to David Saunders, Stanley Borack was a descendant of Jewish emigrants who moved to the USA from Austria in the 1920s and settled in Brooklyn, NY. His father, Ben Borack, worked as a tailor. Borack studied at the LaGuardia High School of Music & Art and graduated in 1945. The motto under his photograph in a graduation album sounded like the possible title of a book he could illustrate: "Stan, Stan, What a Man!". Right after graduation, Borack did military service in the U. S. Navy and was honorably discharged in 1947. Then he continued his education, having enrolled in the Art Students League of New York until 1950. After that, Borack began contributing as a freelance book artist to Dell, Pocket Books, Perma Books, and the Lion Library. He also produced covers for pulp magazines like Luke Short's Western Magazine, Zane Grey's Western Magazine, Best Western, Complete Western Book, Western Novels & Short Stories, and Western Short Stories.
Dangerous Adventures
In the 1960s, Borack focused mainly on men's adventure magazines producing covers and illustrations for stories. Then he returned to books and painted paperback covers for Avon Books. You can see his works in several commercially successful series like The Callahan Garrity Mysteries and The Man From Avon. Later he started creating paintings of the Old West for fine art galleries. As Borack confessed, "I always loved a good Western movie. The Old West was a classical era in American history, with its unique clothing, colorful Indian costumes, and wagon trains. Who doesn't like to look at a handsome horse in movement? When the Western art market took off, I got into it and left everything else behind! I have been painting for thirty years, and I never tire of the high that painting gives me." Well, this appreciation is clearly visible in some of Borack's works. If you're still a teenager longing for dangerous adventures, you'll bloody love our set full of old and cheap but still funny and familiar covers. Let's start our countdown!
26. The Girl From 'Pussycat' By Ted Mark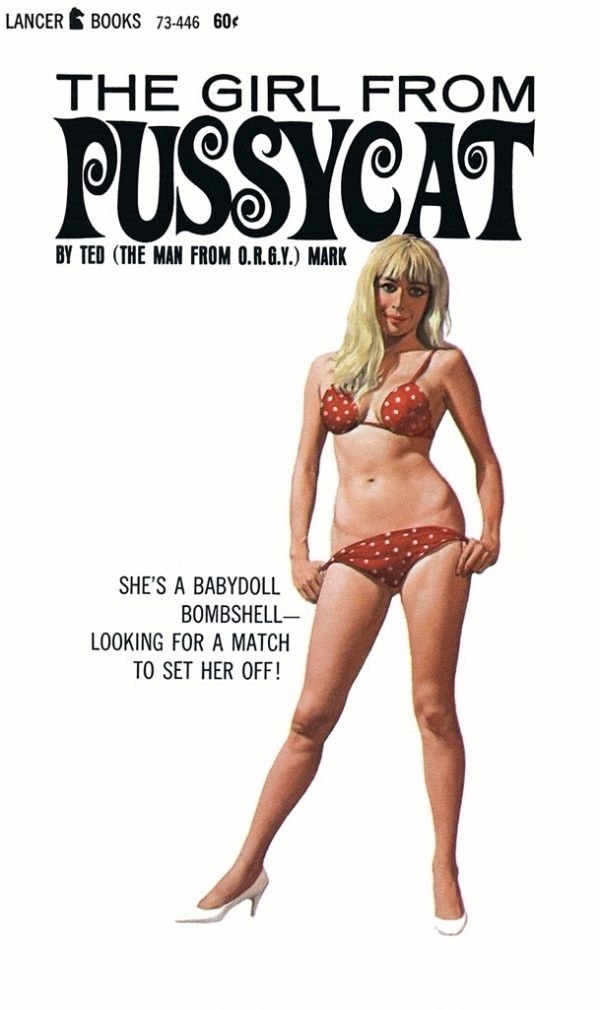 Fig. 5. pulpcovers.com
We begin with a classic image of a blonde wearing a red polka dot bikini. "Check it out from the library and save yourself the money!" reads the comment from Amazon, and we're not surprised by this conclusion. As the spoilers can't really spoil anything in this case, so let's look at the plot. The book tells us of Penelope Candie, who desperately tries to lose her virginity in NY circa 1965. At the end of the book, she achieves her dream. A person suffering from hidden meaning search syndrome (I am!) would probably draw your attention to her name. Penelope may be a reference to the mythic wife of Ullyses waiting for her husband as long as Ted Mark's heroine waits for the man "to set her off!". Her second name Candie may be derived both from "candy," which implies a sexual connotation, and from the Latin word "candid," meaning white (the girl on the cover is a blondie!), clean, pure (often used to describe a virgin). All this stuff sounds ironic as Penelope seems to be a professional virgin… Still the author is not as simple as you may think from the beginning!
25. The Corrupter By Clayton Matthews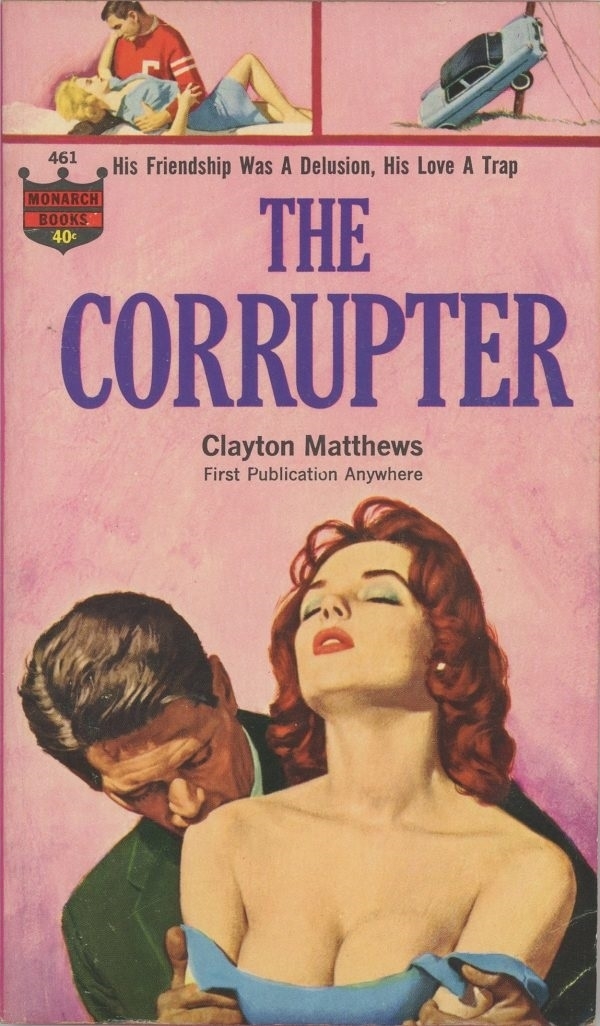 Fig. 6. pulpcovers.com
"His friendship was a delusion, his love a trap!" reads the cover sentence attempting to hook your imagination. The cover tells us a story with its' front and back side, so again it's not necessary to spend your last money. The man kissing a woman is a corrupter himself, Jay Carson, and the woman he seduces is Rita Bell, who "had always been true to her husband, until Jay made sin more attractive than loyalty." The man wearing a red sweater and looking like a sportsman is Robin Black, a young (though he's not so young here) football player, to whom Jay showed that there were other games to be played — just as physical but less dangerous. The blondie with him could be his sister Nora Black so the game could be incest, but it seems that their stories are rather separate, and Nora Black is somehow connected with a depicted car accident. Anyway, if you meet Jay Carson, don't invite him to your party!
24. Woman of the Avalon By L. L. Foreman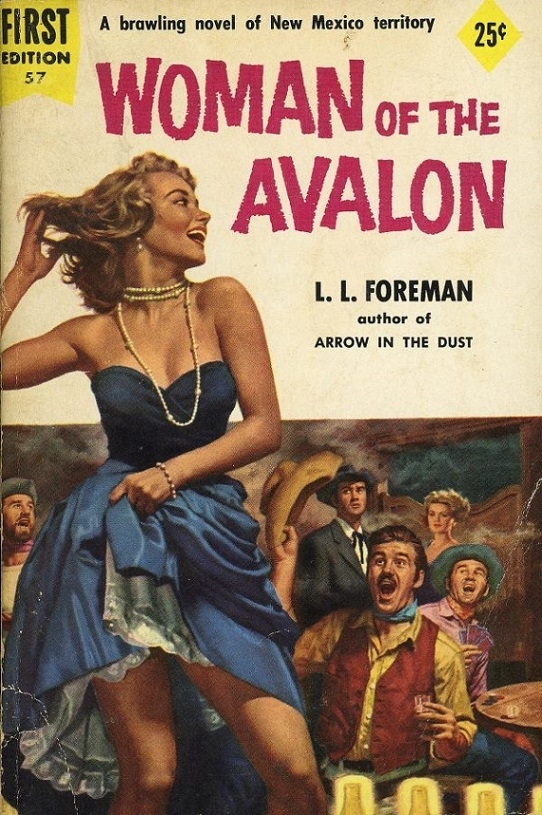 Fig. 7. pulpcovers.com
Here's a favorite territory of Stanley Borack, the Old West with drunk cowboys and sexy maids. "They came hunting for something better in this wild and open country of promise and new hope (New Mexico). Yet it was always the same, always the land molding the men – and the women – in its own violent image. This was the real law of the territories, not the tin star of man-made authority. And this is the story of a woman and two men who tried to shape their own destinies and were shaped instead." By the way, the woman on the cover of 2006 looks much less flirtatious than this one.
23. The Man From Avon By Michael Avallone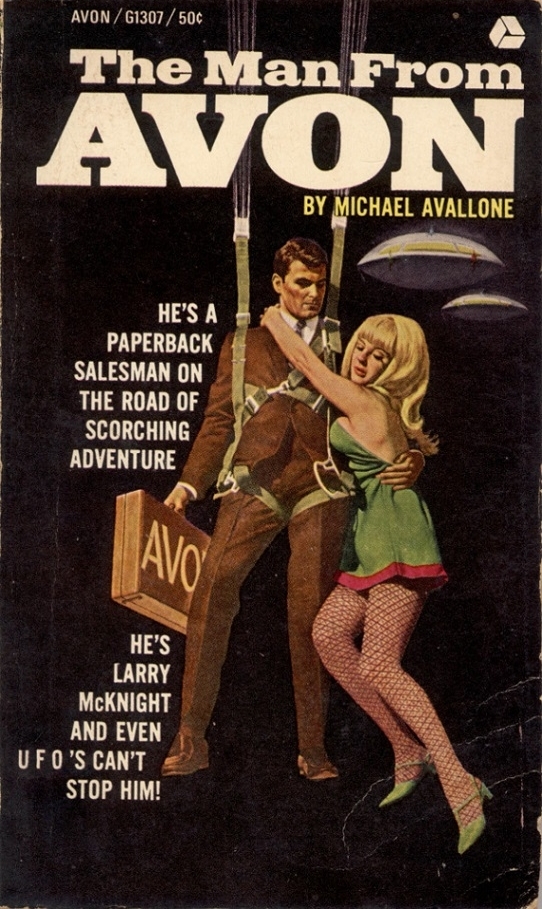 Fig. 8. pulpcovers.com
Yeah, it's tough not to confuse Avon, Avalon, and Avallone, but we managed and gave this cover the 23rd place because we want to believe!
22. Treasure of the Brasada By Les Savage Jr.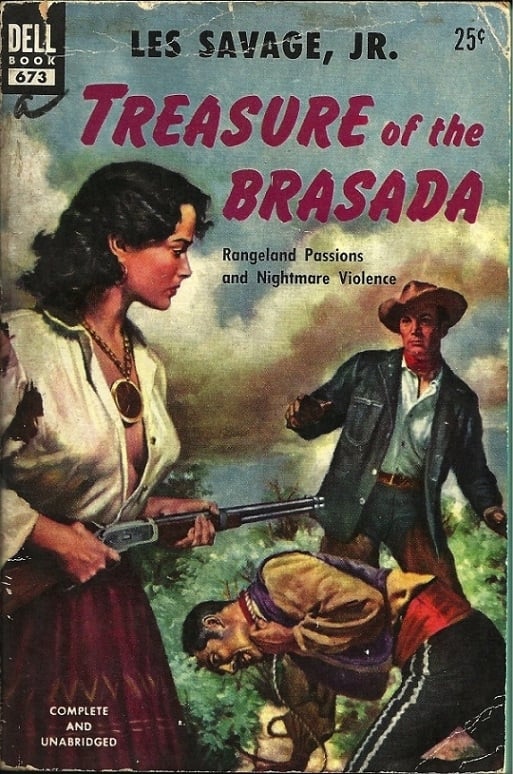 Fig. 9. pulpcovers.com
Rangeland passions and nightmare violence!! Of course, UFO makes everything better, but what makes everything best? A woman with a gun!
21. The Wives of Friends By Sam Webster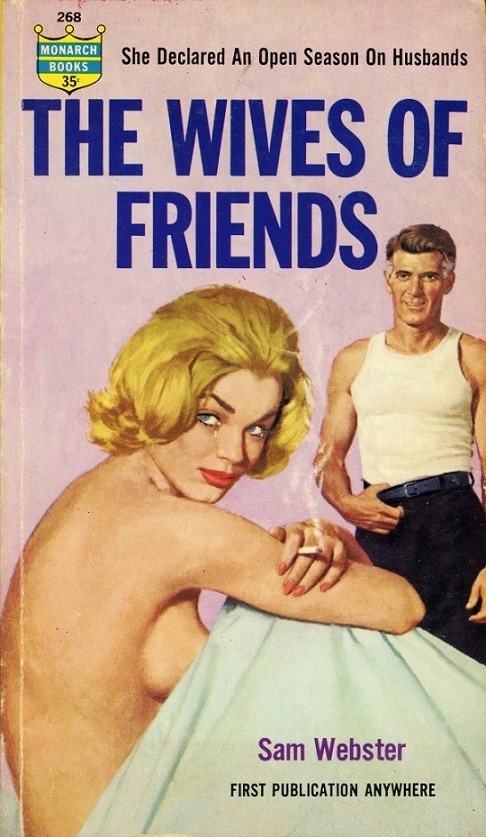 Fig. 10. pulpcovers.com
This cover occupied the 21st place because it seems intriguing and inconsistent at the same time. The title suggests that the book is rather about a male seducer hunting friends' wives. Probably he travels from one place to another like Casanova, makes new acquaintances with ideal families, and ruins them. But the subtitle and the image both imply that there is a huntress, not a hunter. Allegedly, Sam Webster was an alias of Ben Haas, the writer who started working with paperbacks in 1961 to improve his financial state and fulfill higher literature ambitions, so maybe this book is even bearable. Anyway, judging by titles, we should admit that Sam Webster was a prisoner of the genre because his other novel is entitled My Neighbor's Wife.
20. The Square Root Of Sex By Ted Mark
Fig. 11. pulpcovers.com
To memorize the Pythagorean theorem, Russians use a poem, something like this, "Pythagor's pants are one of a kind / Because they're equal on every side." If Ted Mark were Russian, this book would be entitled What's Hidden In Pythagore's Pants?
19. The Real Gone Girls By Ted Mark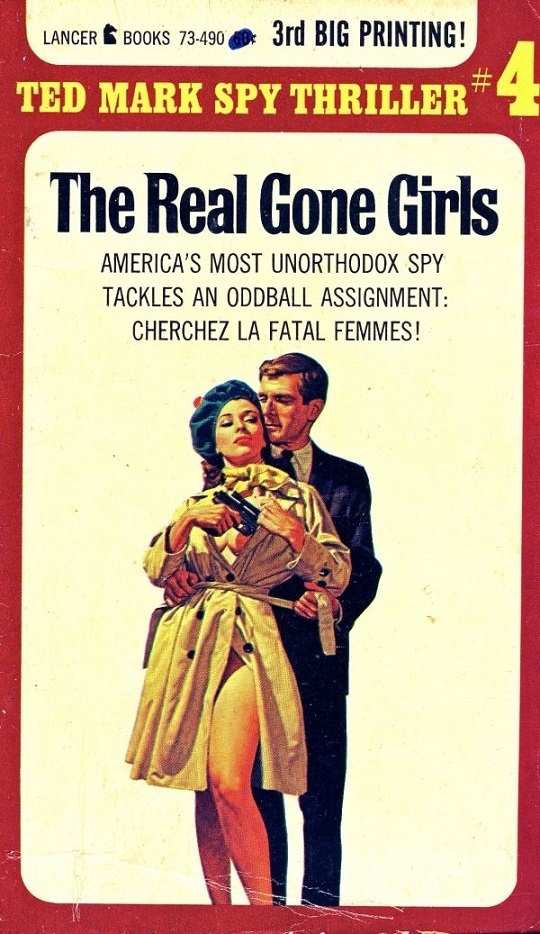 Fig. 12. pulpcovers.com
Ted Mark (Theodore Mark Gottfried) apparently was a prolific writer (we will face his novels many times). As usual, all the spoilers are on the cover. A handsome agent must neutralize (and the cover shows how) a villain, but the villain is an attractive malicious woman! With a gun!! We all know that the girls' best friends are diamonds and the best weapon of a secret agent is his phallus of justice.
18. The Unmarried Ones By Don Rico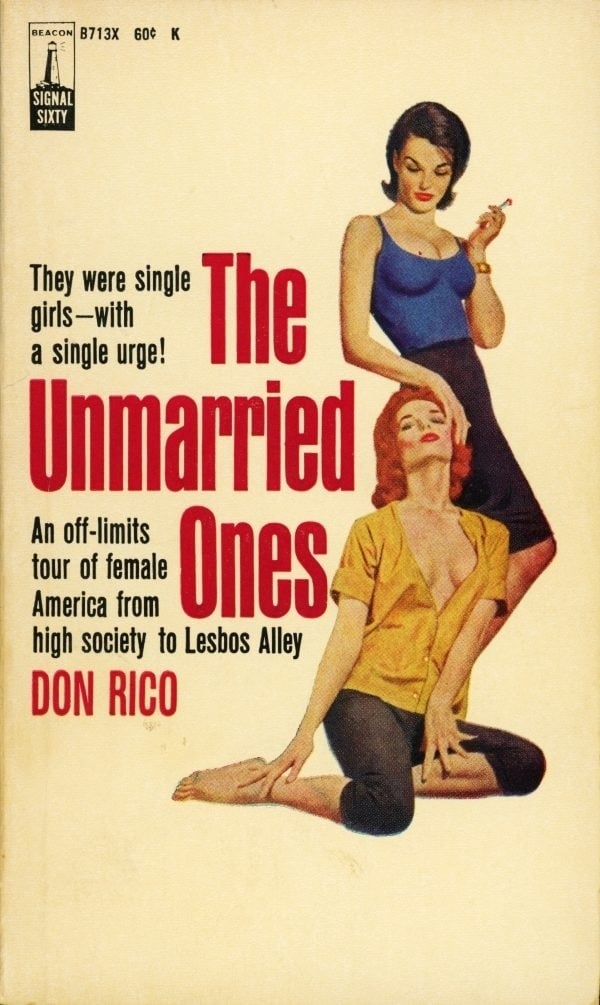 Fig. 13. pulpcovers.com
This novel about lustful single women is the second book of Don Rico. According to Wikipedia, Donato Francisco Rico II (1912-1985) was a remarkable person: a paperback novelist, screenwriter, wood engraver, and comic book writer-artist. He co-created such recognizable characters as Marvel's Black Widow and Atlas Comics' Jann of the Jungle. At the 1976 Comic-Con International, Don Rico was honored with Inkpot Award, which is given to comic professionals since 1974.
17. A Woman's Woman By Toni Adler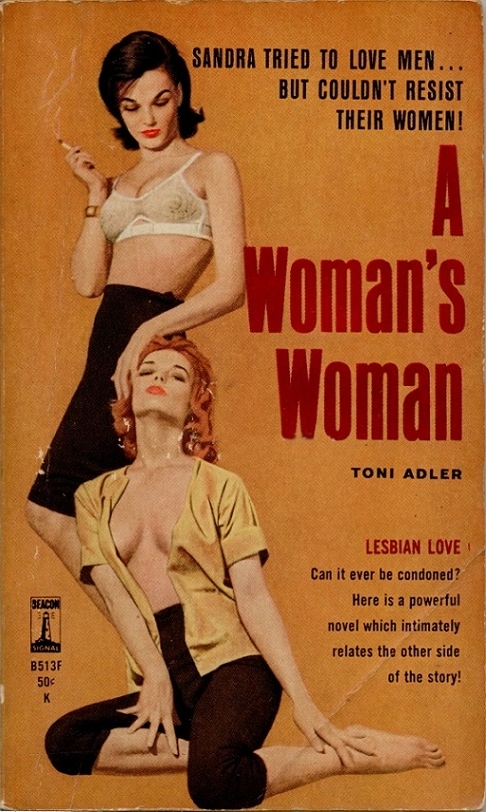 Fig. 14. pulpcovers.com
Yes, it's the same girls, but we placed them higher because now they're almost undressed (unfortunately, we haven't found the third version where they would be completely naked). What's more, now they're definitely lesbians, which means a higher demand among the readers.
16. Husband Chaser By Sheldon Lord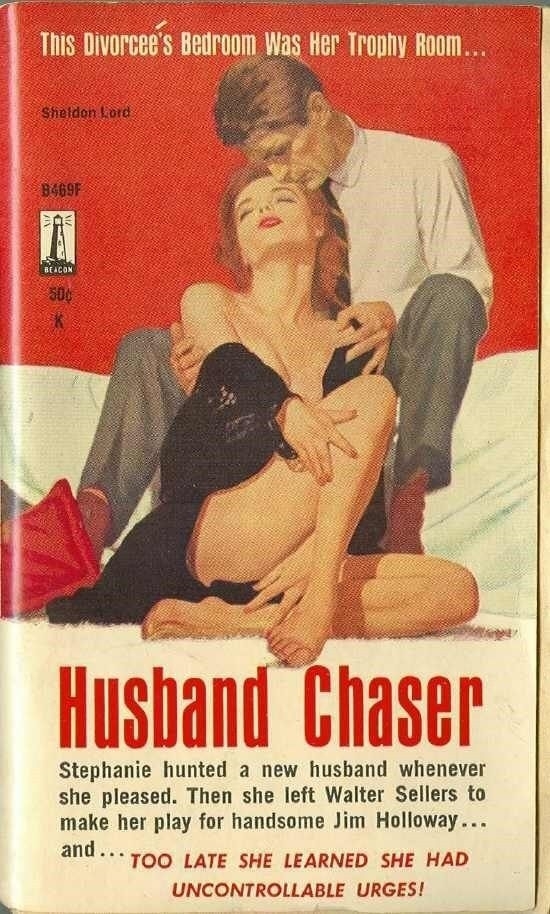 Fig. 15. pulpcovers.com
And now here's one more seductive huntress, a nymphomaniac divorcee seeking "just another baby," as it goes in the iconic song by Ace of Base. I personally like the white-red coloring reminding me of Marlboro cigarettes promoted by the cowboy called the Marlboro Man (which Borack would approve).
15. The Wife Traders By Charles Beck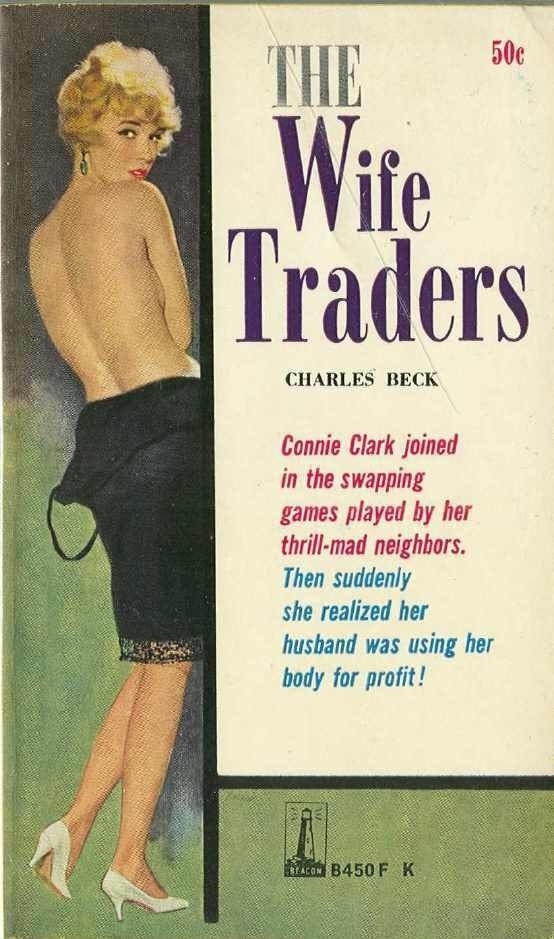 Fig. 16. pulpcovers.com
Who needs trading if you can use wife? Reading this title, I imagine a private club with men in suits watching the asset prices of their wives in real-time. Don't know about Charles Beck, but Ted Mark would divide these men into two groups in accordance with conventional terms of trading. Bulls would be the ones who can fuck their assets all night long and bears the ones who prefer short time sessions.
14. The Day Khrushchev Panicked By George B. Mair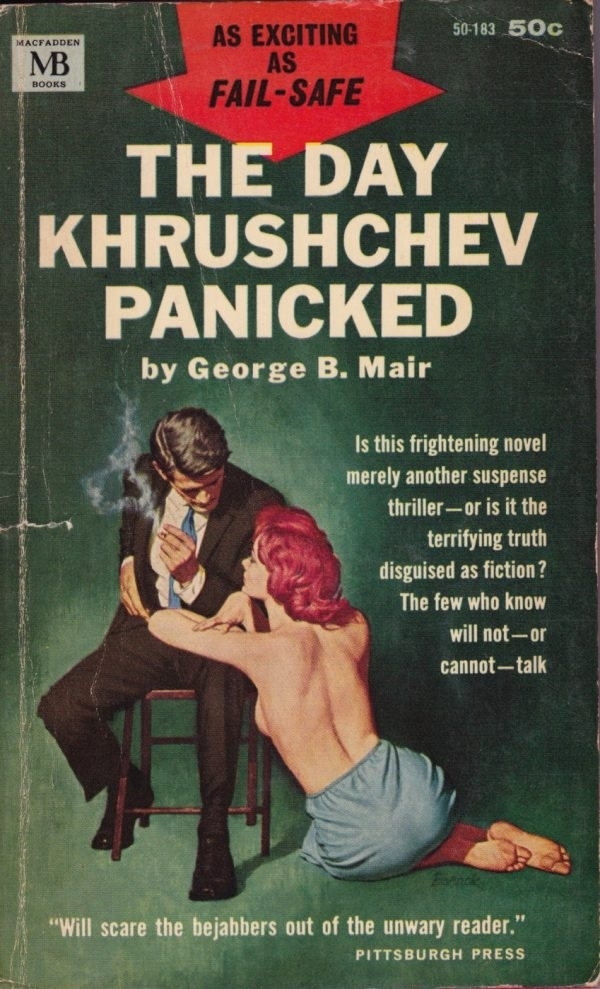 Fig. 17. pulpcovers.com
Well, this cover is the thing we love the most in our media(val) times: it's clickbait. Mair's novel is about the deadly Soviet weapon which the famous satellite is supposed to be. Sputnik was charged with 'anti-matter' and aimed at cities of the USA. No fancy love stories, no erotic twists. But maybe the woman on the cover is anti-matter in disguise, who knows…
The second part with the remaining risky covers will be published next week. In the meantime you can check out the Top 30 of the most trashy erotic magazine covers of Hara-Kiri….!!
Sources: pulpartists.com; pulpcovers.com; goodreads.com
What is your most favorite adult cover of the above? Leave your reaction in the comment box below….!!