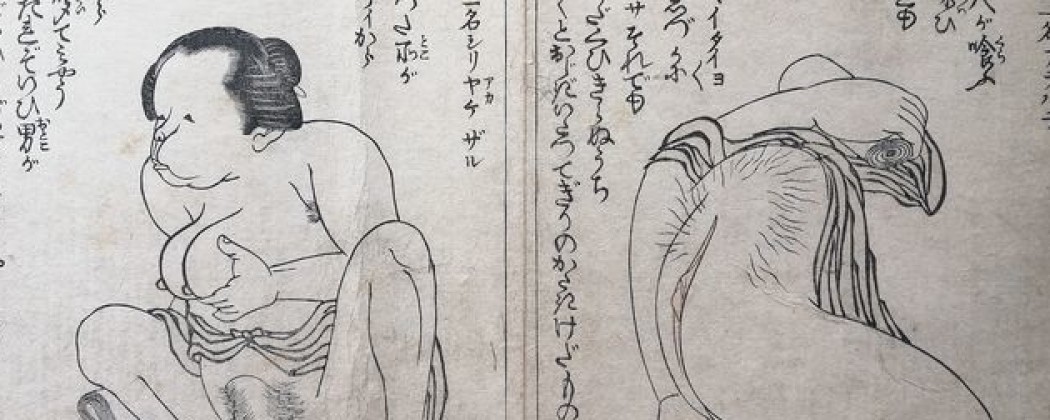 Hilarious Shunga Book with Grotesque Erotica by Akatsuki No Kanenari
The author and illustrator from Osaka who produced the comical erotic scenes below, Akatsuki no Kanenari (1793-1861) is a lesser-known name within the shunga genre because he mainly published essays, novels, comic novels and non-erotic books. Also, shunga were predominantly produced in the pleasure quarters of the Yoshiwara in Edo (now Tokyo) only.
Soy Sauce Maker
Kanenari was born as the fourth son of the well-known soy sauce maker, Izumiya Tahei. He developed his drawing style under the guidance of Shokosai Hanbei. He used several "Go" (studio names) such as Kimura, Meikei, Keimeisha, Kiya Yukishige and Gyoseio.
Chubby Females
The 12 satirical illustrations from Kanenari's 'Gugen sansai chie (Foolish Talk, Three Years' Wisdom)' are remarkable, to to say the least. For example, there is the scene with the two chubby females sitting on a phallic shaped rock (Fig.6 – left page) while playing with two harigata (strap-on dildo). Or what about the penis and scrotum-shaped foo-dog (Fig.2 – right page).
One of our devoted members Darya has send us the following additional images from a series by Akatsuki no Kanenari called 'Bankoku shinwa' (c.1852)…
The following two designs (also provided by our valued member Darya) are cut from a rectangular page from the book series 'Bankoku shinwa (new Stories of Ten Thousand Couplings and Buddings)', was issued in 1852 and designed by Akatsuki no kanenari…
Hemispheres
The illustration (so both Fig.16 and 17) is entitled 'Complete Abbreviated Map of the Two Fundamentals of the World (Ryōkon chikyū ryaku zenzu)', plays on maps of the world arranged in two large circles representing hemispheres.
Yin-yang
Instead, the illustration identifies man as the 'southern fundamental' and woman as the 'northern fundamental'. This method of representing the world as a man and a woman is based on part on ancient Chinese yin-yang thought, but it also incorporates new knowledge introduced from the West.
Skilful Blending
The skilful blending of various ideas in this way can be considered in particularly Japanese form of cultural expression.
Click HERE for numerous other book illustrations with similar bizarre figures….!!
Source: 'Shunga, Sex and Pleasure in Japanese Art' issued by the British Museum
If you want to join our movement that advocates the uncensored display of sensual art, you can do so by becoming a member now.
For this, you only have to download one (or all) of our free eBooks….!!
If you are already a member and support our mission, we would be grateful if you could express your support in the comment box below (anonymously if necessary)..!!