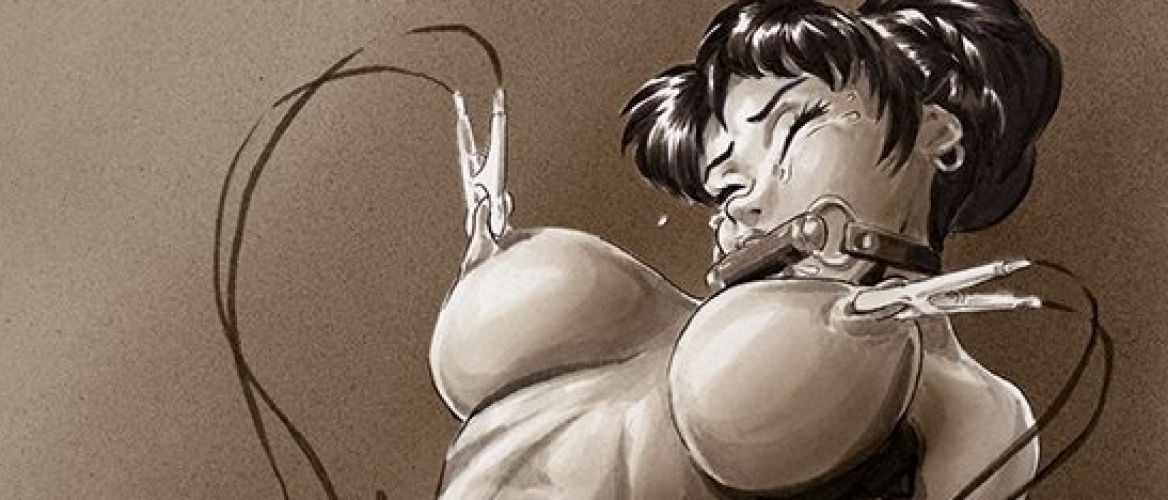 The Benevolent Submissiveness of Andy's Dames (44 Pics)
Busty ladies with wasp waist tied with ropes, leather straps or iron chains and equipped with nipple clamps, butt plugs, and ball gags. Despite their submission, the women rule with the males only depicted as minor characters, made unrecognizable or reduced to mere props or erotic tools. Welcome to the kinky world of Andy's Dames. The latter is the alter ego of 43-year-old Seattle-based artist Andy L, who prefers to remain anonymous to keep his name for deviant future projects.
Cartoonesque BDSM
His alluring, mainly black, white and grey fantasy illustrations, offering an amusing mix of cartoonesque innocence and harsh BDSM, prompted us to ask the artist for an interview…
I read you're from Seattle and self-taught. What else can you tell us about your background?
Actually, I moved to the Seattle area two years ago, but I spent my first 41 years in northern Idaho.  My wife had an opportunity to advance her career quickly by moving here, so since my job doesn't require me to be in one specific place, I sold my house and moved here to support her efforts.  So far it's working out okay.  As for my background, I actually used to be an old car enthusiast who worked in auto parts and paint sales, until the 2008 recession.  The "Dames" were actually born out of necessity when the economy slowed and I needed extra money to make ends meet.  Paper and pencils are cheap, so I started using evening and weekend hours to practice, and sold my early pieces on Ebay as I went.
What is your fascination with BDSM?
Good question, but I'm not sure I have a good answer.  It's something I've associated with sex for as long as I remember, and never had much interest in sex without it.  I'm not (too) much of a sadist, and I don't like abuse, but I've always been attracted to the power exchange and ownership elements of BDSM.
Who is (are) and/or what are your influence(s)? And why?
Artistically, I think I was first influenced by comic books and the early manga artists who started to appear in the US in the 1980s, when I was of a very impressionable age.  Favorites included Masamune Shirow and Kenichi Sonoda, who were some of the most accessible from the small town where I lived.  It was later that I became more aware of classic fantasy artists like Frank Frazetta, and pin-up artists like Gil Elvgren.  I had a poster of Elvgren's infamous "Still Life" image long before I was familiar with the bulk of his work.  I also love classic "lifestyle illustration" painters who worked for magazines and advertising in the 1960s and '70s, like Robert McCall, Robert McGuiness, and Coby Whitmore.  But honestly, I can't even begin to copy anything these guys did, they're so far over my head that I can't even begin to understand how they completed their works.  I think that's why they interest me as much as they do- it's all very mysterious to me, no matter how much I try to learn.
Can you live from your art?
I can, and I consider myself very fortunate to do so.  It's been a long journey over the last twelve years, and I appreciate every bit of the encouragement I've had from art collectors and Patreon supporters.  My earliest pieces sold for as little as $7 or sometimes not at all, but I've just kept moving forward as best I can.
Are you familiar with shunga? If so, does it appeal to you?
I am, and I think it's amazing work.  Don't forget the octopus, he gets lonely.
Do you have difficulties, considering the risky subject matter, displaying your art?
Well, I don't display my own work, I leave that up to collectors.  They largely seem to display it in private bedrooms, dungeons, and other BDSM play spaces, though I'm sure there are exceptions.  As for me, I honestly don't have any desire to display it, since I know exactly how I produced it and there's no sense of wonder in it for me like there is when I look at someone else's work.  For my own work, I usually only look at it with criticism for analysis.  But for many of us, that's just how it goes!
And your online exposure?
I currently post most of my work on Twitter and Fetlife, which seem to be where I get most of my traffic.  I also have older accounts at DeviantArt and Hentai Foundry.  My complete archive is accessible through my Patreon page, though the archive itself is hosted through an independent hosting service, which I had to change last November when my old host became too unreliable.  Tumblr was good for my business for a while, until they banished adult content from their platform.  Other than that, I haven't had too much trouble.  However, I don't want to become complacent, as I'm concerned that more and more platforms will become closed to adult content over the next few years.  I'm trying to develop some other projects in the background, just in case, but progress has been very slow so far.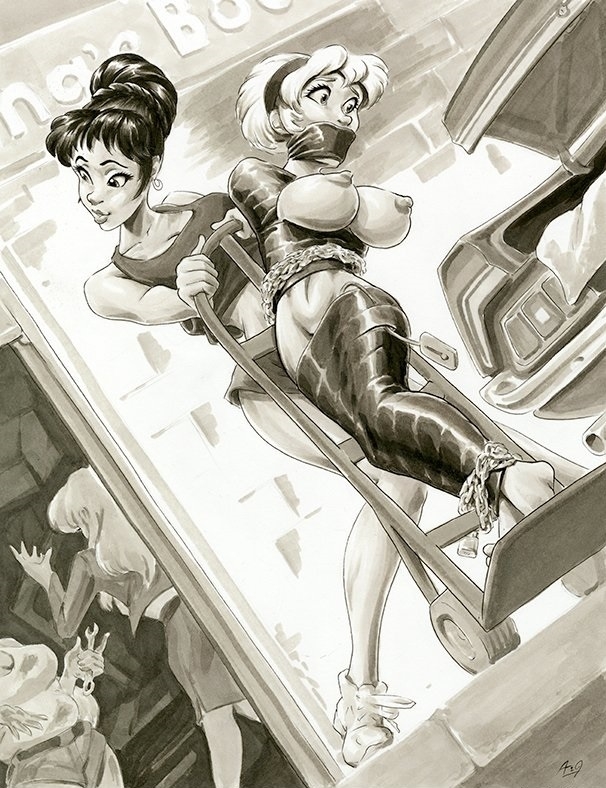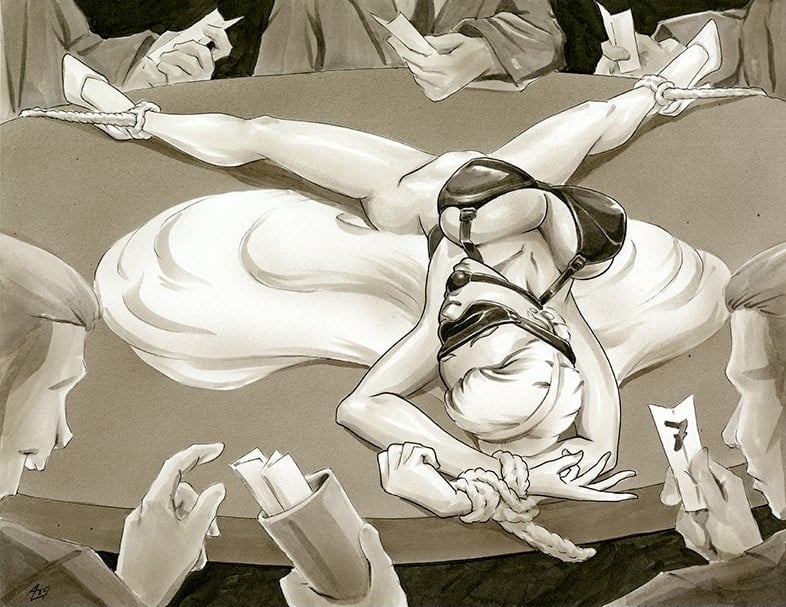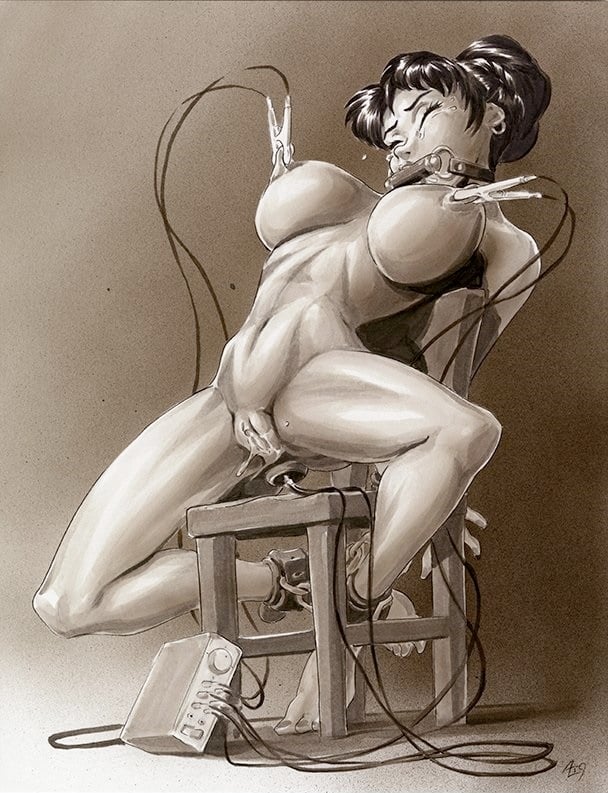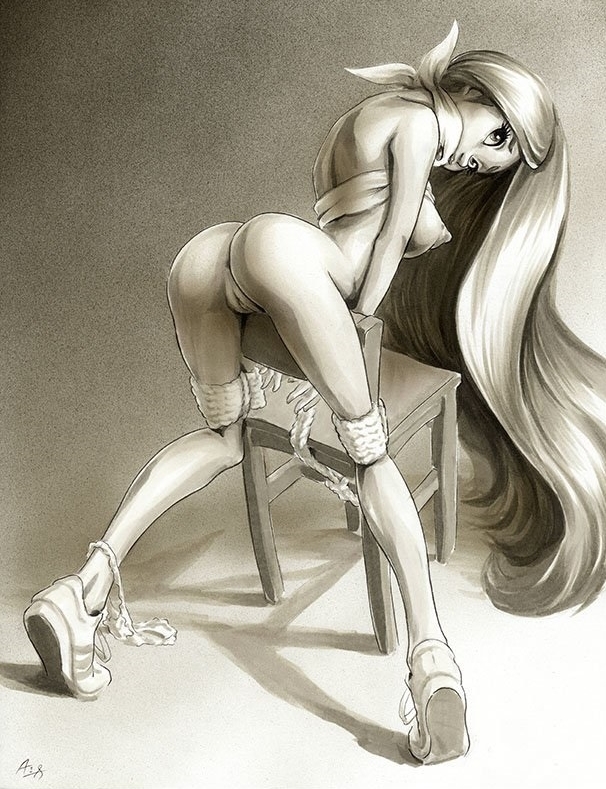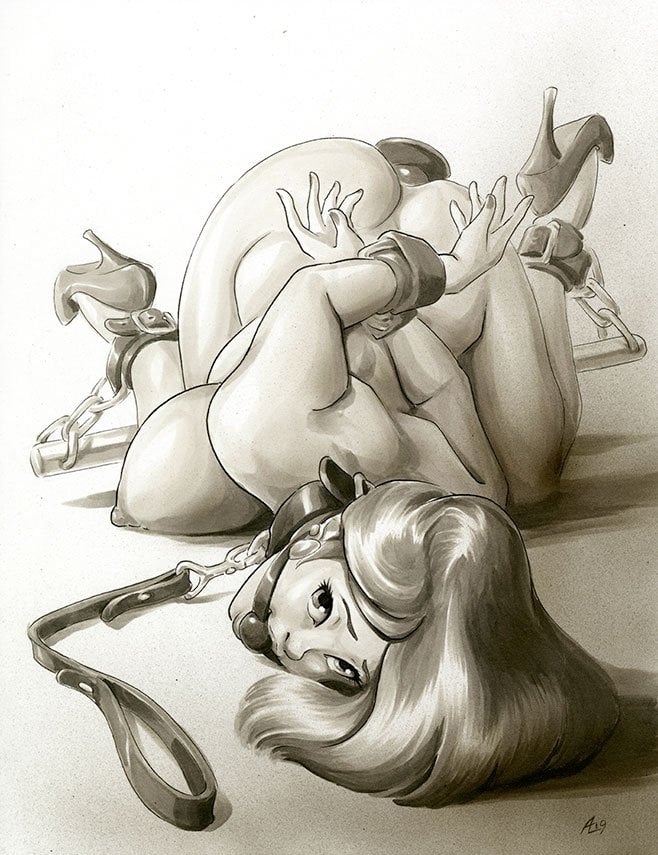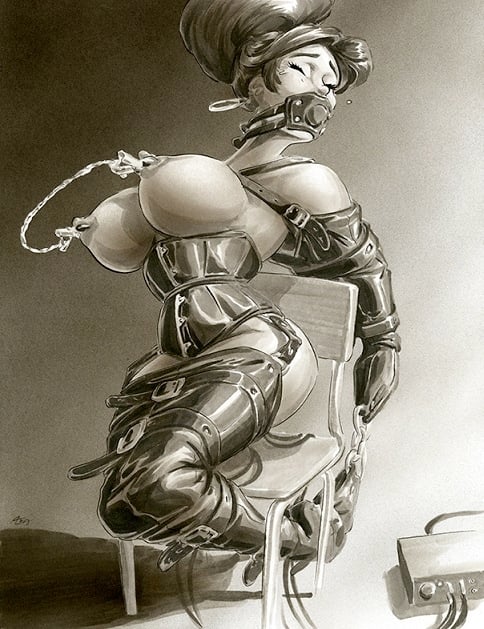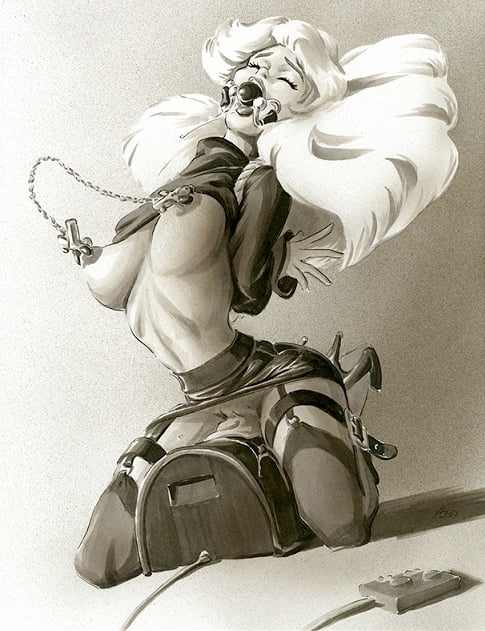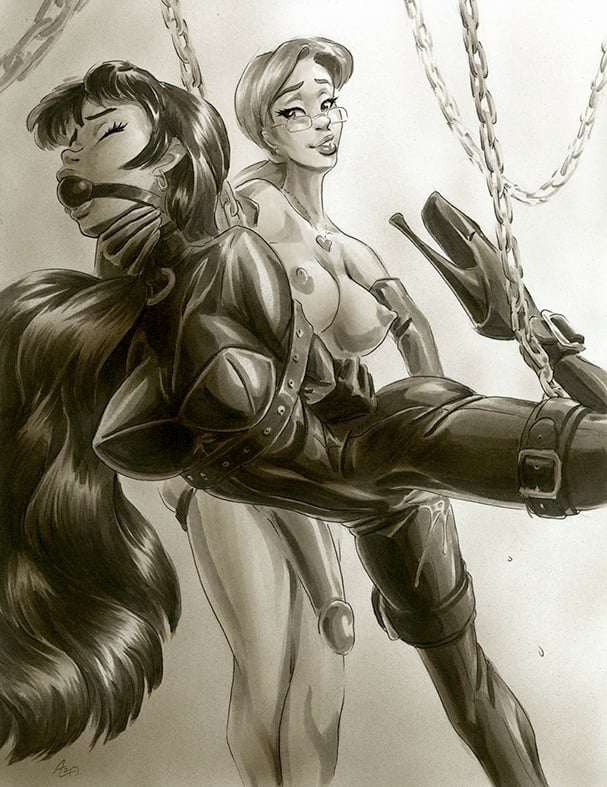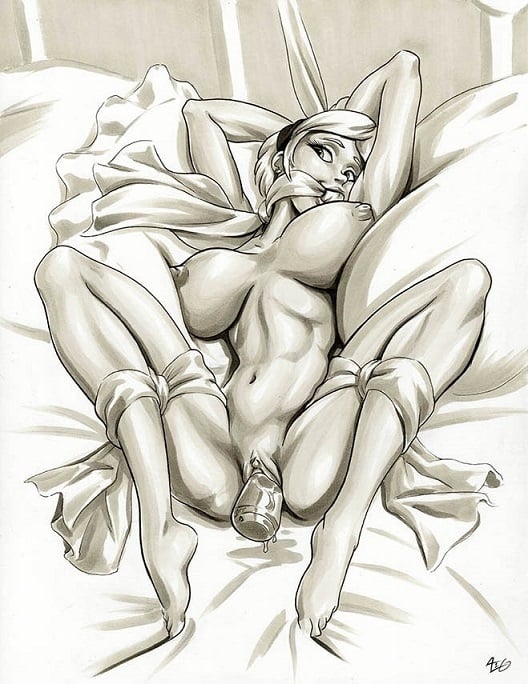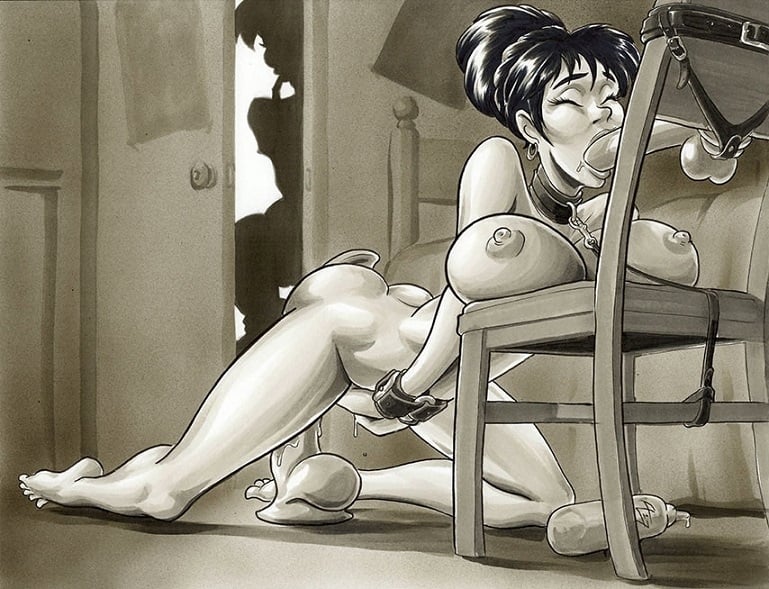 Thanks a lot for your great replies Andy. We'll continue to follow your future developments closely!
You can check out much more of Andy's Dames on Twitter, join the artist's community on Patreon (get access to over 1400 pin-ups!) and/or have a look at the art in his shop…!!
Click HERE for more articles on bondage art….!!
Do you also think Andy's Dames are irresistible? Leave your reaction in the comment box below…!!