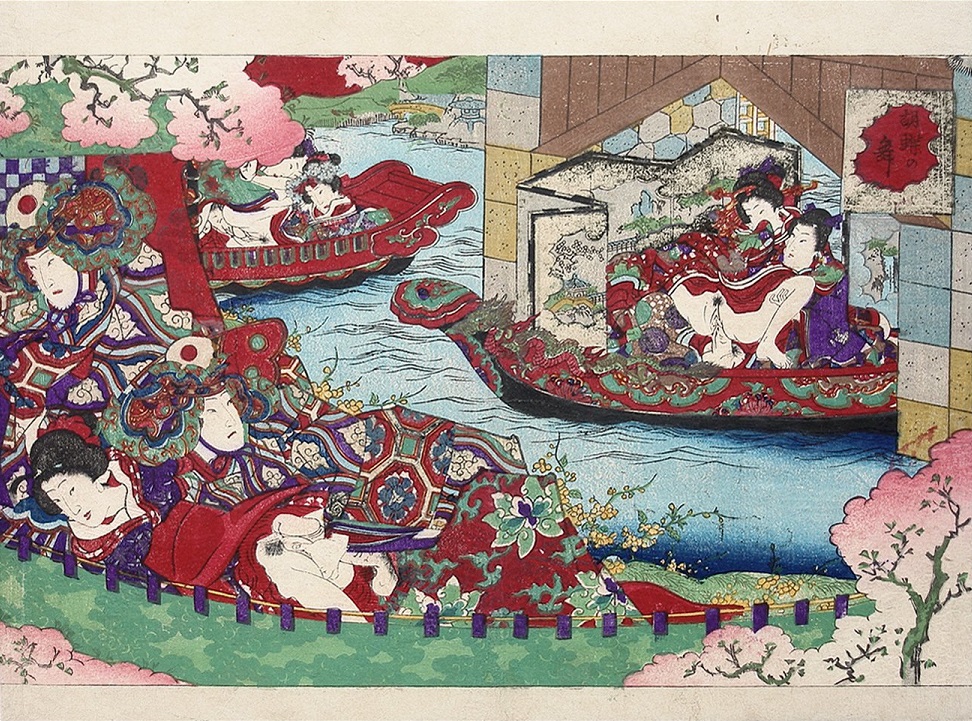 The Hedonic Butterfly Dance Performers in a Sex Party
This eye-catching panoramic scene featuring an orgy with numerous loving couples (eleven!) and a gagaku drum at the far left, alludes to The Tale of Genji. Spread over eight large pages (51 3/4″long!), the color palette is dominated by reds and purple and the extensive composition is surrounded by a pink frame of cherry blossom trees.
Boats
On the far right corner of the design that portrays the couples on the boats the cherry blossom is omitted in order to draw the viewer into this specific area. The print is elaborately printed with lavish metallic and lacquer and burnished embellishments throughout.
Voluptuous Diadems
All the female protagonists who are on the shore wear a butterfly costume. They are Butterfly Dance (Kocho no mai) performers that shortly before completed their act for the ladies at the Mikado's court. Now they are making love to the male members of the imperial court who still wear their voluptuous headdresses and diadems.
Repetitive Existence
The Butterfly Dance is a typical example of the entertainment on how the ladies of the Mikado's court came through their repetitive existence. These were private performances exclusively for the Empress and her principal assistants. The dancers personate these insects and mimick their motions while singing devotional ballads for the various flowers accompanied by a musical band.
Floral Monikers
An important part of the act is a spirited dialogue, in which the performers ingeniously reprimand, using floral monikers, the various court ladies, to the amusement of their royal superior.
Broken To Pieces
The Empress or Emperor (Mikado) is always attended by the ladies of his or her court. It is said they never eat twice from the same dish, which are broken to pieces as they are removed.
Click HERE for more striking shunga art by Koikawa Shozan…!!!
This piece is available for sale. You can inquire us HERE about the price…!!!
*  "Genji's World in Japanese Woodblock Prints" (2012) by Andreas Marks