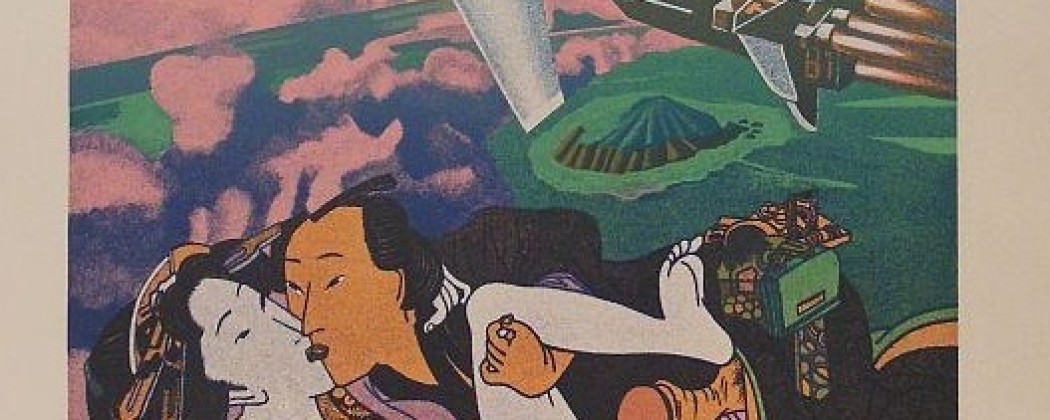 Gudmundur Erró: Thunderbirds Meets Shunga
The Icelandic artist Erró (1932), his real name is Guðmundur Guðmundsson, is well-known for his Pop Art compositions of illustrations inspired by comic books and commerce. He studied art (engraving, fresco and painting) at the academy of Oslo. After his study in 1958, he went to Paris where he is still based. His work is often compared to the earlier Pop artists such as Roy Lichtenstein and Andy Warhol.
His Process
Everywhere Erró goes, he collects images from the media, cartoons, posters, papers) which he then selects, and brings together in an original, often humorous, way. In an interview he said that during his travels he searches everywhere from discount stores to kiosks. In the process he accumulates a lot of material, and when he comes across a lot of images with a similar theme, it's a signal to start a series. Then he merges ("marries" in his words) them in order to make them into collages and paintings.
Disfigurements
For Erró painting is a place of experimentation, combining the old with the new. It's a private form of utopia, the pleasure of contradicting the happiness of being alone against all, and the joy of cause. He tries to reveal and attack the disfigurements of our society, such as the consumer directed erotic mercantile revolutions, and the Americanization of the West.
Thunderbirds and Shunga
The following lithographs are from a series by Erró called 'Made in Japan' (1972) and show us a joyful amalgamation of war, s.f. (the t.v. show Thunderbirds) and shunga (mainly Utamaro and Hokusai)…
Inspired by Utamaro's design from his 'Poem of the Pillow (Utamakura)' series. More about this design in the following post.
Below two erotically-charged paintings by Erro…
Click HERE and start exploring our special section on modern shunga…!!!
Source: Galerie Saint Martin