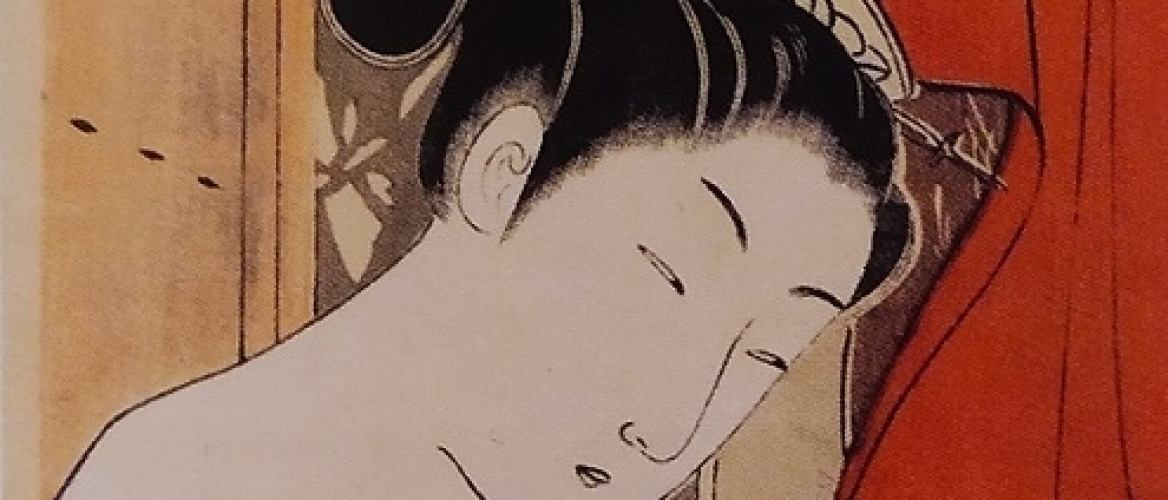 Harunobu's Risqué Portrayal of a Bathing Woman and a Toad
There is a genre of ukiyo-e print halfway between shunga and non-erotic subjects known as a 'risqué picture' (abuna-e), in which a woman's naked skin is revealed for contemplation, as well as sometimes her pubic hair and sex organs. These were often designed in the format of the long, narrow 'pillar print' (hashira-e), intended to be mounted as a hanging scroll and displayed hung on the wooden pillar of a room.*
Gawking Toad
The dazzling example here depicts a completely naked female beauty who has hung her robes over a standing screen and is just about to get into a large wooden bathtub. In a comical touch, a toad is shown gawking up at her. Both shunga and risqué pictures frequently encourage adult fantasy in this way, by setting up story lines in the picture that encourage us to laugh.
Scalloped Cloud
Harunobu was the first artist to exploit the new technology of full-color printing and it is noticeable here that the composition is filled with color, apart from the unprinted areas where the white of the paper is used for the woman's skin and the scalloped cloud at the top. This technique of decorating the top of a picture with a cloud or mist has been used since ancient times in Japan and is often found in Harunobu's works – an indication of just how much he revered classical painting.
Elongated Body
The dynamism in the composition is created by the contrast between her curved, elongated body and limbs and the rigid interior elements. This effect is further reinforced by her over-the-shoulder glance and the toad whose upward gaze emphasizes the narrow format.
Click HERE for an extensive article on the great Harunobu…!!
*For this reason hashira-e were prone to wear and tear and therefore are quite costly nowadays if in a good condition and with fresh colors (such as the above piece!).
Sources: 'Shunga, Sex and Pleasure in Japanese Art' issued by the British Museum
'Japanese Erotic Fantasies: Sexual Imagery of the Edo Period' by C. Uhlenbeck a.o.
Who is your favorite ukiyo-e artist? Leave your reaction in the comment box below…!!