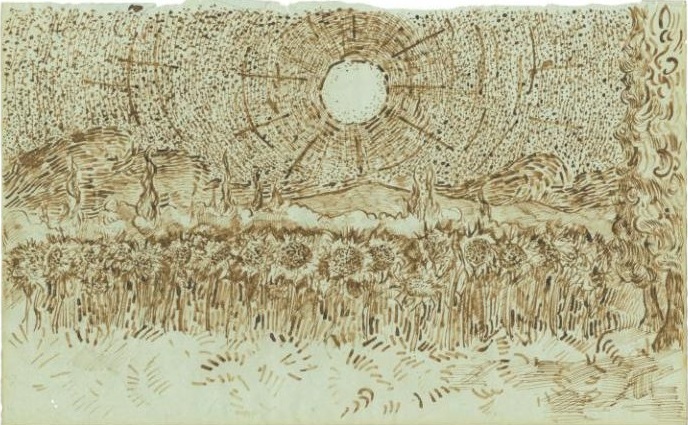 Is this Really a Lost Sketchbook by Van Gogh? (P1)
Riot Around Cashbook with 65 Drawings
A sketchbook with 65 newly discovered drawings, possibly drawn by Vincent van Gogh (1853-1890), has caused  a lot of commotion in the international art world.
Bogomila Welsh-Ovcharov, the author of the recently published book 'Vincent van Gogh. The Lost Sketchbook of Arles', is convinced the drawings are authentic. But the Van Gogh Museum in Amsterdam has a different view.
The drawings, including a self-portrait (Fig.1.) and a field of sunflowers (Fig.2.), shed a new light on the Dutch painter, as a drawer. The British Van Gogh expert Ronald Pickvance even calls it the most revolutionary discovery in the entire history of Van Gogh's oeuvre.
Crazy
An unknown sketchbook of Van Gogh from his tumultuous period when he lived in Arles and Saint-Rémy, that suddenly emerges. It sounds to good to be true.
"Off course, initially I was sceptical when I was approached three years ago to come and look at a drawing of Vincent van Gogh in the South of France. To find such a big treasure is indeed the dream of every art historian."
But the Canadian professor emeritus of art history Welsh-Ovcharov soon realized that the authenticity was beyond doubt. "That drawing was unmistakably the work of one of the greatest modern artists."
Then the bombshell was dropped. The Van Gogh Museum came with an official statement in which the sketchbook was consigned to the wastebin. They claimed it were imitations.
Welsh-Ovcharov reacted indignant. She says that she has stopped by the Van Gogh Museum and showed them 10 drawings. "I wanted to lay them open for a collective discussion. Controversy is part of this game, but they remained silent, a total lack of interest. I thought: either they think I am crazy, or they think I have a contagious disease. I think it's fine if someone disagrees with me, but at least enter into the discussion. I am still 100% convinced that these drawings are by Van Gogh."
Welsh-Ovcharov explains some of her findings in this video:
Rivalry
Her publisher, Bernard Comment, does not have a good word to say about the Van Gogh Museum. "They should act more humble and with more respect. You don't put aside experts such as Welsh-Ovcharov and Ronald Pickvance like this. I think it has to do with rivalry and jealousy."
Bart Hofstede, cultural attaché of the Dutch embassy in Paris: "I don't know if this tug-of-war is beneficial to science. I don't think the Van Gogh Museum has to have a monopoly."
Bogomila Welsh reacts grimly on the arguments of the Van Gogh Museum; they claim that the drawings are not authentic because Van Gogh never used brown ink:
"Van Gogh talks about this colour, sepia in his letters. That he never used it before, doesn't mean that he never has used it. There are more kinds of ink!"
On the question that she may have fallen victim to a well designed forgery she replies: "In that case the forger would be extraordinary talented."
Next time we'll check out the reaction of the Van Gogh Museum. Click HERE for part 2!
Who do you believe? Let me know your thoughts in the comments below!
Source: De Telegraaf