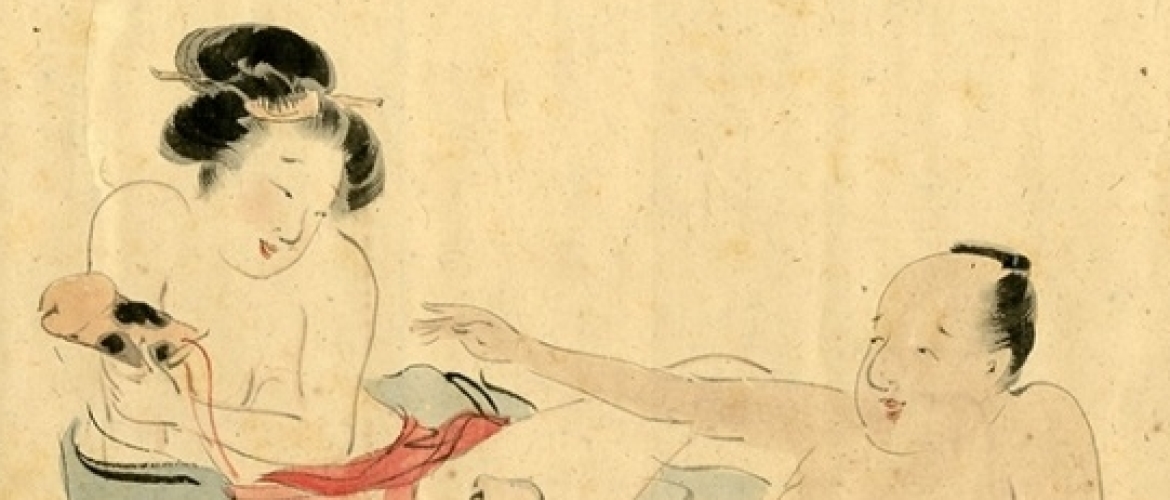 Rare Scroll with 12 Shunga Paintings by the Nihonga Artist Morimura Gito
Morimura Gitō (1870-1938) was a Nihonga artist from Aichi Prefecture, who studied under Okumura Sekiran and Kimura Kaneaki. He was known for his landscapes and figure paintings, but we came across a hanging scroll from the Meiji era in which he takes a rare foray into the erotic genre of shunga.
Little Dog
The scenes in the scroll are intimate and homely with an emphasis on everyday actions. Gitō's subtle sense of humor is evident in these twelve paintings like the little dog that crawls out from under the blanket of the kotatsu heater (Fig.2), a female lover comparing the size of her lover's member with a tortoise-shell harigata (Fig.5), the grimaces of the startled young monk watching an older colleague making love to a courtesan and the angry Buddha depicted on the painting hanging next to him, or the young male lover being pulled back by a chubby courtesan while licking his cheek (Fig.12).
Click HERE for an article on a rare scroll featuring sensual silhouette paintings…!!
Let us know what you think about shunga art in the comment box below….!!