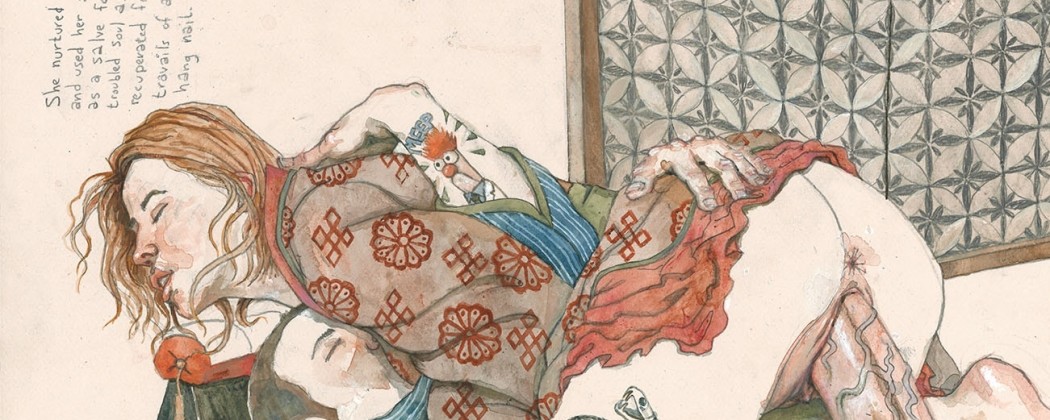 Amusing Salute to the Muppet Show Character Beaker
In Jeff Faerber's new painting he focuses more on the contrasting patterns of all the fabric. Most of the elements are just intuitive, based on whatever happened to pop in his head. An amusing detail can be found on the forearm of the male protagonist that displays a tattoo of Beaker. the wailing lab assistant of the Muppet Show whose communication skills are limited to "Mee-mee-mee mee".
Jeff's remarks on his "newborn"…
"Beaker tattoo:  I just love beaker and the muppets in general. And sometime the explicitness of the art makes for a nice contrast with cartoon puppets!  No other reason than that.
I am always looking at shunga for ideas.  Usually (unless I am making an homage), I try to sample from enough different pieces that it does not look like I am borrowing from any specific piece.  For example, I might use the colors from one, patterns from one robe from another but convert to a different color scheme, a different robe pattern from another piece, and a tea pot from a fourth.
I also do the same with pornographic reference, I will mirror image it, take a head, a hair cut, move an arm just so that no one can tell exactly where the source is from. Often the titles are assembled like that as well.  I have a text document with snippets and phrases, or just single words. It probably reads like a mad man's poetry, but I slowly move phrases around until it starts to form a more cohesive thought (or at least cohesive to me!)."
Jeff
Click HERE for an earlier interview we had with the artist…!!