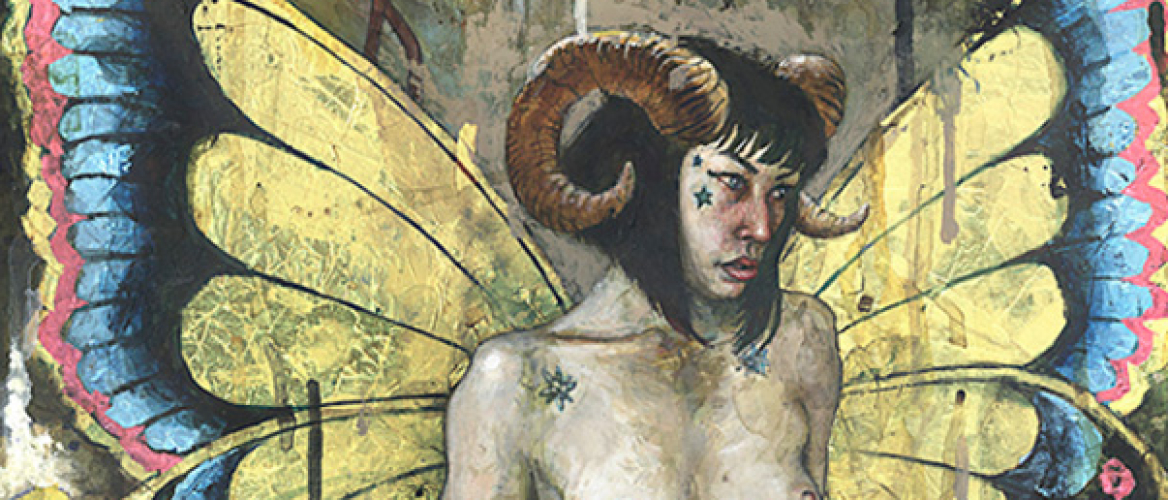 Jeff Faerber Painting Based on the Mysterious Outsider Art of Henry Darger
This work the American artist Jeff Faerber made in 2015 was based on the works of the secretive self-taught artist Henry Darger (1892-1973), and part of a group show that a friend curated.
Jeff Faerber:
"So basically I incorporated images of Darger's work as the small figures and flowers near the bottom, and then added butterfly wings and horns (something he also did) to a more realistic figure in the center.  I watched a documentary on him, and he lived a bizarre life that is open for lots of guesswork. He had a huge mythology he created so I decided to play in it for a bit."
Henry Darger
Henry Darger was born in Chicago and lost his mother and father at an early age. For this reason, he spent much of his childhood in Catholic shelters where the living conditions were anything but pleasant, not to speak of the neglect and abuse he would later incorporate in his paintings. After that, Darger led a secluded life as a security guard and handyman in a Chicago hospital. It was only just before he died in an elder's home in 1973 that his unsuspecting homeowners Kiyoko and Nathan Lerner happened upon a treasure trove, scattered in the furniture of Darger's apartment, of more than 30,000 handwritten pages and hundreds of illustrations that no one had ever known existed.
Torture and Carnage
Darger had said they could throw everything away, but the lyrics together form a number of novels. This includes the fifteen thousand page In the Realms of the Unreal, in which the seven Vivian sisters rebel against child slavery and Crazy House, in which brutally murdered children are found in a doomed house. In these bizarre mythologies – fantasies with clear biographical elements – dream images of children in idyllic flowered landscapes alternate with torture and carnage.
Self-Protection
They were illustrated by Darger himself with watercolor drawings and collages of magazine clippings. In this way he created a world for himself to replace the real world in which he did not feel at home. Not for art, not for fame or money, but purely for self-protection. That universe that he jealously guarded from everyone is now managed by the homeowners of yore and can be seen in the greatest museums of contemporary art such as the Museum of Modern Art in New York, the Museum of Contemporary Art in Chicago or the Musée d ' Art Moderne in Paris. Darger is considered an Outsider artist*.
Experimental Cartoons
The documentary on Darger, Jeff is talking about is entitled 'The Realms of the Unreal' (2004) by Jesssica Yu. The film sheds new light on his work and the makers turn some of his paintings into experimental cartoons. You can check out this complete award-winning documentary here below…
Click HERE to check out an earlier interview we had with Jeff Faerber….!!
*Outsider art is art by self-taught makers that has a naïve quality. These so-called outsider artists are neither trained as artists or work within the conventional frameworks of art production.
What do you think about Darger's daring Outsider art and Jeff Faerber's ode to him? Leave your reaction in the comment box below…!!