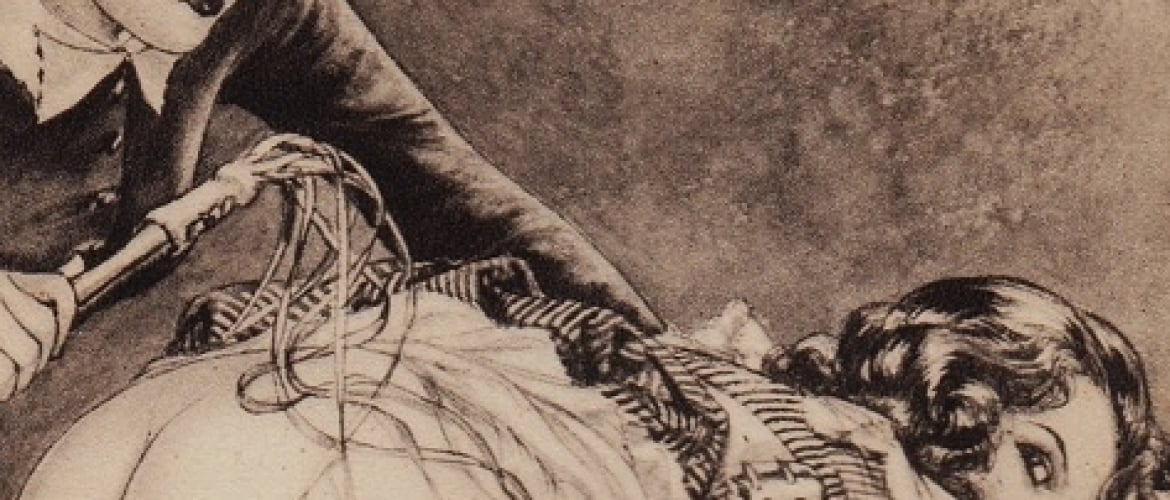 An Introduction to the Kinky Art Site Vintage Fetish Art
The popularity of BDSM, and the sex acts that fall within its umbrella such as kink and fetishes, is confirmed by the kink community FetLife with over 3.5 million members and the worldwide success of the book and film series Fifty Shades of Grey. Among these fans, is the Dutch Karen Smits. One of her sites Vintage Fetish Art offers a collection of rare vintage erotic/fetish art (over 4000 art works) produced in the 19th and 20th century.
A couple of days ago we had a talk about Karen's motives behind her various kinky projects…
Can you tell us something about your background?
Years ago I had to make changes in my (working) life due to a disability. I already had lost my job and felt the need to keep myself busy and challenged. I started working at home, at first as web designer and internet marketeer. That's where I developed skills I nowadays use as online publisher. My art sites are all dedicated to bdsm art, for almost 20 years I support the bdsm community (and those interested in bdsm) via websites, as volunteer for a bdsm platform and as kink aware professional.
Why did you start with the site Vintage Fetish Art?
When browsing for art for my Spanking Art blog I ran into a variety of vintage bdsm art, it made me curious. Who were these artists, was there more to find. I stored all art and info on my computer and one day realized I had built a collection worth sharing. That was when I decided to create a website dedicated to vintage bdsm art. So around 2006 my site went online, at that time with a different name and domain name. The more art I found the more I felt the need to create an online archive so that knowledge (and art) for these artists would not get lost. It is difficult to find enough art and info to create a page for an artist, I spent countless hours on the web browsing for art and info, then I also try to find the best quality possible so very often I am replacing a collection because I found images in a better quality or larger format.
What is your fascination with erotic art?
It's fascinating to see that sexual desires have always been there, art shows us. It makes it obvious that despite some taboos there are fantasies and there is a need for visual views of these fantasies. I can enjoy all kinds of erotic art, modern as well as vintage. Through another website Secretsbdsmart I support artists that create bdsm/fetish art.I think it is great when someone can freely express erotic fantasies through art and at the same time allow others to enjoy these artworks.
What is your favorite erotic art form and why?
My favorite form is Spanking Art. I can't explain it, I have always felt drawn to this form.
Who is your favorite erotic artist?
Cheri Herouard is my favorite erotic artist. He is known for his art for La Vie Parisienne, but under his pseudonym Herric he created a lot of spanking, bdsm and enema art. His style is cheerful, he shows the arousing of bdsm with smiles on the faces of his subjects. They don't show fear due to the challenging erotic acts like pain and pleasure, he creates characters that enjoy the act. It is something I can relate to personally, perhaps that's why I like his art so much. Many think of bdsm as cruel and non consent, to me it is about dynamics, the dance between love and desires and never without consent.
What do you think about shunga art?
Shunga is something I think I have to learn to appreciate, I can't honestly say that I love it but at the same time I find it a very interesting art form.
You can explore the site Vintage Fetish Art by clicking HERE…!!
Click HERE for an article including 58 seductive models of fetish photographer Gilles Berquet
Source: VintageFetishArt
What do you think about Fetish art? Leave your reaction in the comment box below….!!