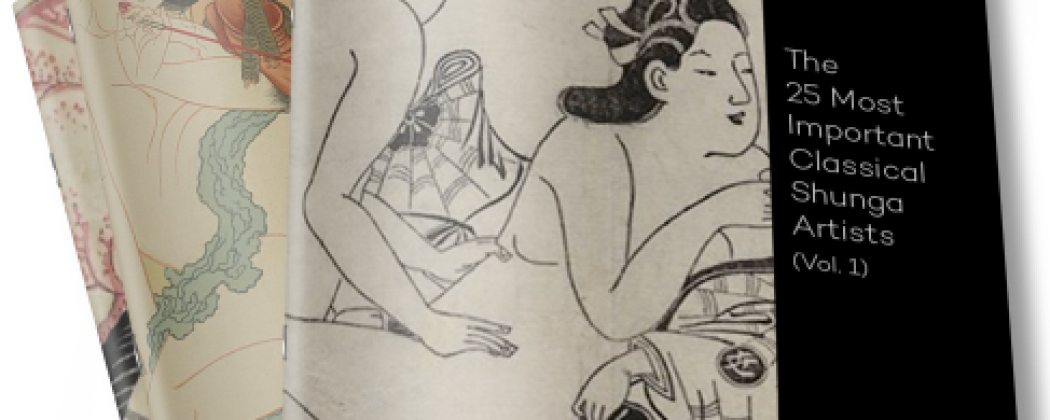 Free eBook on the 25 Most Important Classical Shunga Artists
We would like to end the year with a gift to thank you for your involvement with ShungaGallery in 2019. Approximately 60% of the members read the articles (far above average!) featured in our bulletin and also the feedback has increased. Therefore we want to offer you the first chance to obtain our new eBook called 'The 25 Most Important Classical Shunga Artists (Vol.1)'.
Most Influential
Inside the book you will find biographies of the most influential ukiyo-e artists who produced shunga. The artists treated in this first volume are presented in chronological order starting from the earliest known masters of the "primitive era" to the valued Kitao Masanobu.
Exaggerated Genitalia
Furthermore, you will discover the first known shunga master, and more about his great pupil. The similarity between Sugimura Jihei and the Dutch Baroque painter Johannes Vermeer. Answers to the questions about who was the first Japanese artist to depict exaggerated genitals and who was the greatest ukiyo-e artist from the Kyoto area. And who was the biggest networker? This and much more…
Join Our Mission
Since it is our mission to give shunga art a bigger stage, it would be really great if you would join us and share this eBook with your friends and acquaintances! Because the more members, the stronger our movement becomes…!!
Review
You could also help us a lot by letting us know what you think of the eBook by placing a reaction below. If you'd prefer to remain anonymous you can also add only your initials to the comment..!!
Click HERE to get your copy of the book!
The second volume will be issued early January 2020…!!