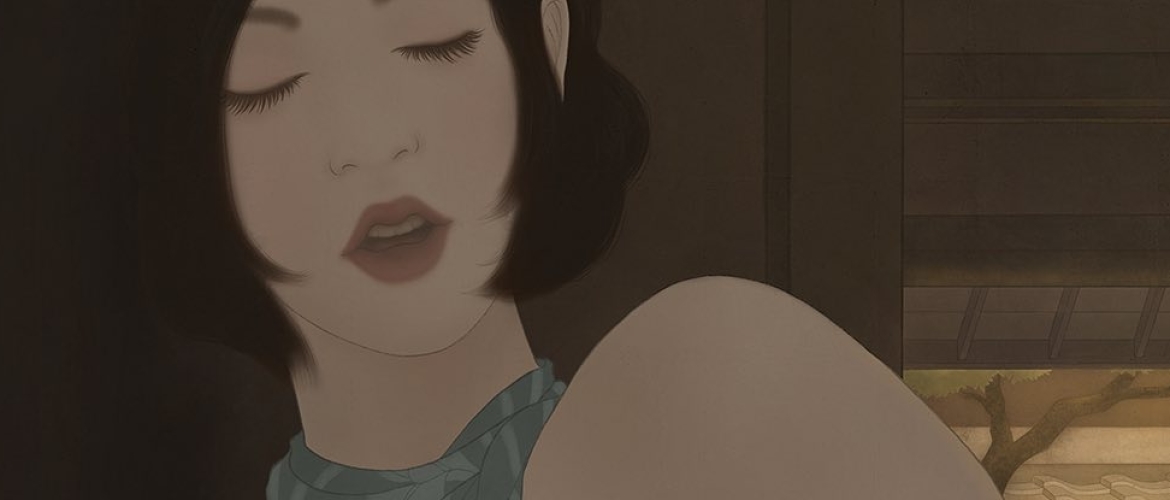 Senju Shunga's "Hikage" Inspired by Tanizaki's In Praise of Shadows
Inspired by Jun'ichiro Tanizaki's 'In'ei Raisan (In Praise of Shadows)', the essay much admired Senju Shunga's, this new painting entitled 'Hikage (Shade)' offers a more explicit scene than his previous works. In Praise of Shadows discusses traditional Japanese aesthetics in contrast with change. Senju loves its poetic and beautiful celebration of days gone by and how innovations not always improve our lives. The essay also discusses the virtues of traditional Japanese architecture and lighting.
Shadowy Corners
This latter theme fueled the artist's obsession for shadowy corners and candle lights dancing across folding screens adorned with gold leaf. On Instagram, Senju explains,'[…] painting shadowy scenes are not the easiest thing to do. Firstly, the Japanese arts where I do depend on for inspiration and guidance seldom bothers with light and shade in the way that western art does. Secondly, because I am a self taught painter I have to stubbornly try and try again until I can find some way to create what is in my artistic vision.'
Bobbed Hairstyle
Senju's newborn clearly refers to the latter Shin Hanga style prints of the early 20th century with subtle details such as the woman's bobbed hairstyle (see also Fig.6) and the scarf…
Click HERE for our most recent interview with the prolific Swedish artist..!!
This new Senju piece is now available in his store (we're not an affiliate)..!!
Source: Senju Shunga Instagram, commons.wikimedia.org/
What do you think about Senju's 'Hikage' piece? Leave your reaction in the comment box below…!!