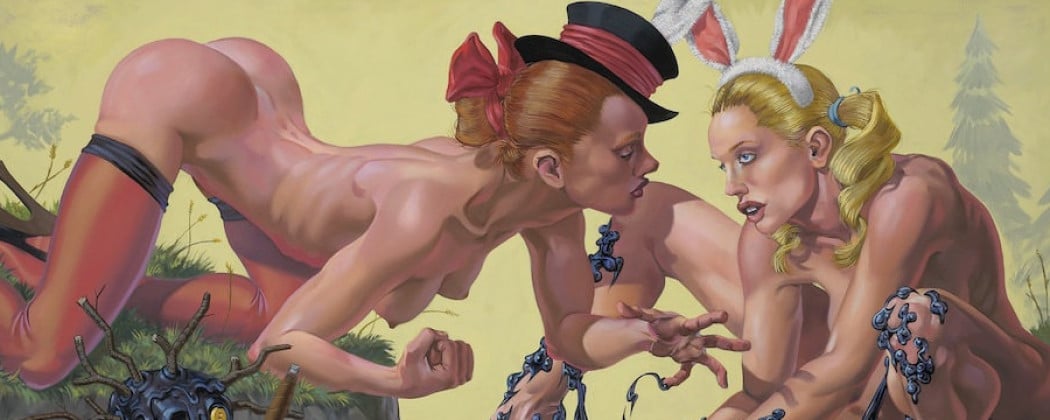 The Harsh Sensuality of the Amazing Pop Surrealist Van Arno
I am a big fan of Lowbrow art (better known to our younger readers as Pop Surrealism) and our site is dedicated to art of an explicitly sensual nature. And it is these two elements that are strongly represented in the artist whose work we'll examine extensively today. At least at first sight, but more about that later.
Flying Cats
The Californian artist (who I believe is unfairly out of sight of a larger audience) I'm talking about is Van Arno (1963-2021). The unique world he conjures up on his canvases offers a dynamic collection of Darwinian daydreams, werewolves (Fig.29), centaurs, 1950s sex symbols (Fig.7), starving pigs (Fig.4), forgotten rock songs (Fig.11), flying cats (Fig.16), a scrotum-licking sphinx (Fig.20) and infinitely more fascinating madness.
Bouncer
Arno was born in Chattanooga, Tennessee but grew up in St. Louis, Missouri. He studied under Lita Albuquerque and Carol Caroompas at the Otis Parsons School of Design in Los Angeles. During his study, he worked as a bouncer in nightclubs and adult video arcades to support himself.
Cultural Icons
In his early career he produced illustrations for album covers, video game box art, and poster for nightclubs around L.A. Then, in the late 80s, Van Arno became fascinated by the cultural and historical icons and made the transition into painting. He started to create large 'cut-out' paintings using black lines and luridly cartoon color, mixing cartoon imagery with portraits of a wide array of famous people from history and fictional characters from literature such as J.F.K., Herman Goering and Othello.
Olive Oyl
One of his earliest painting subjects and first muse was Popeye's girlfriend Olive Oyl (Fig.1). This series portrayed her as a waterfront floozy captured much attention.
Joan of Arc
Due to his strong interest in Mayan culture (a recurring theme in his work) he traveled to Yucatan in the early 90s, to see the ruins at Chichen Itza, Coba and Tulum. At the same time, he began to produce works depicting heroic figures and folk heroes from Christian, Mayan and American history (St. Francis, John Barrymore, Joan of Arc, Nat Turner, Nellie Bly) in cell vinyl on masonite.
12 Foot Tall Angel
In 1992 during Christmas, one of his secretly installed 12 foot tall Angel 'cut- out' could be seen hovering over Sunset Boulevard in Hollywood. Van Arno received local news coverage in the fall of 2000 when he painted a 36-foot billboard for the East Side Artcrawl entitled 'Abolitionist Goat War'. This work was an indictment of pimp culture.
Break the Rules
Offended by the immaculate, Van Arno pursues to break the rules of anatomy, physics, even lightning and gravity, in order for his paintings to gain a level of excitement and aliveness that simply is not present in something perfect. Like the German surrealist Michael Hutter, he also tackles the elements of religion and paints as he perceives it. He mixes his obsession with religion with the American history, evaluating and re-examining the American values.
Uber-Mannerism
A couple of years ago an art critic of Widewalls labeled Van Arno's style as "Uber-mannerism" since he goes a step further than Mannerism. Mannerism's style is characterized by artificiality and artiness, by a thoroughly pompous cultivation of refinement and technical ability, and by a sophisticated indulgence in the bizarre, such as the portrayal of the nude in complex and artificial poses. Van Arno kicks it up one more notch, and pushes his human figures into every possible pose, placing them in strikingly unusual compositions including lively colors.
Renaissance Masters
The complicated body positions show his profound knowledge of the human anatomy and the figurative repertoire varying from the Renaissance masters, through the Mannerists to the finest examples of contemporary comic books and illustrations. His renowned colleague Nicola Verlato describes him as follows: 'Arno is one of the most impressive manipulator of the human body I've ever seen in the painting field.'
Provocative Element
Van Arno's work, despite the many bared bodies that dominate his canvas, is not intended to be erotic. Artistic erotica doesn't interest him. In an earlier interview he said 'I do high impact figurative work. If the viewer finds it erotic, great…enjoy!' The graphic nudity is not the provocative element in his paintings, it is the situations in which he places them. The implicit meaning is as stimulating as the nudity. Van Arno: '[…]…implying more and showing less is powerful. Hitchcock said something to that effect. He felt the shower scene in Psycho should be kind of vague because the viewers imagination was more horrifying than anything he could put on film.'
Galleries Worldwide
His paintings have been exhibited at galleries worldwide including Jonathan Levine Gallery, Shooting Gallery, Copro Nason, Mendenhall Sobieski, and solo shows at "Feinkunst Kruger" in Hamburg, Germany and Galerie d'Art Yves Laroche, Montreal, Canada. Also, he has been frequently featured in Juxtapoz Magazine since 1999.
Patricia Arquette
Among the admirers and collectors of his work are Patricia Arquette (Pulp Fiction), Perry Farrell (Jane's Addiction), Mark Parker, Morgan Spurlock (Super Size Me) and Lydia Hearst.
Van Arno's lively, mesmerizing paintings will not disappoint the lusty eye so scroll down and get your eyes peeled…
Starving Pigs
Clothide refers to the story of a devout Christian girl, who infuriated her husband (a German Pagan prefect) when she tried to convert the Roman troops. He threw in a cave where he kept his pigs, and commanded her to convert them. If she succeeded they would be fed. Eventually, the starving pigs would eat her.
Mayan
This allegorical painting depicts how Mars and Venus the course of the Earth disrupt according to the Mayan calendar.
Church of Satan
Jayne Mansfield was one of the biggest sex symbols of the 1950s. She was also a follower of the occultist Anton LaVey and a devoted member of his Church of Satan. On the evening of June 28 in 1967, she was involved in a severe car crash after two appearances. It was rumored that she was decapitated, but later this turned out to be untrue. Van Arno alludes to that she had the comfort of a personal relationship with earth's oldest deity.
Pre-columbian
Pre-columbian culture is a topic the artist returns to repeatedly. This was the first time he experimented with cropping in order to make the figure look even bigger.
Elvis
The depiction refers to the lyrics of 70s southern rockers. In particular to Black Oak Arkansas's song Jim Dandy (to the Rescue) which Elvis Presley suggested to be in his band's repertoire. The composition is influenced by the rococo master Gambatista Tiepolo, known for his frenzied style.
Parasite
In this image the Soul is depicted as a long, green, tentacle-shaped parasite. Now it is harvested by the Savior, who will judge a person's life only on how big this worm has grown. The tableau depicts Van Arno's satirical view on the fusion between religious fundamentalism and market capitalism.
Astonishingly Dirty
"Erskine Caldwell's Tobacco Road was a powerful social-realist novel about rural poverty, and went on the be a gigantic hit, mainly because it was so incredibly dirty. This piece depicts the seduction of a coal miner by his over-sexed sister-in-law, who has designs on his turnips. Tobacco Road went on to become a comedic film by John Ford and a song written by John D. Loudermilk in 1960." (Van Arno)
Fox and Br'er Rabbit
In the Uncle Remus tale, the Fox constructs a "baby" from a lump of tar. When Br'er Rabbit comes along she addresses it amiably but receives no response. Br'er Rabbit becomes offended by Tar Baby's lack of manners, punches it , and becomes stuck. Here the Fox offers the captive Br'er Rabbit options for her demise.
More Intrusive
This horizontal piece (Fig.15) from 2016 has a different composition. It's a religious tale about a woman who is watched while bathing by two elderly men. It's been painted often throughout history, and it is frequently about intimacy violated by voyeurs. Van Arno felt observing a person whose life has deteriorated and is no longer able to behave logically is far more intrusive.
Moonbeam McSwine
The age old argument about how behavior is shaped, here depicted by two allegorical figures. Nature is represented by Moonbeam McSwine, a Li'L Abner character of impossible laziness, noisiness, and fragrance (she is accompanied by two stink badgers). Nurture presents the warm, suffocating embrace of civilization. Both figures are tied.
Black Plague
"The Scourge of Black Music has threatened the security of White America ever since the first undulating chords of peppy ragtime screeched out of the Victrola. Every subsequent generation has been certain that the latest jungle rhythm booming out of the latest mode of spreading cultural infection will, by God, be the one that finishes gentility off, forever and severing the last link to the Good Old Days, when people acted decent. The allure of this harridan needed to be documented, and her imaged reminds the viewer of medieval depictions of the black plague, as imagined by Thomas Hart Benton." (Van Arno)
Two-headed Giant's Skeleton
This one is inspired on an older piece by Van Arno, that was exhibited in his solo show at Corey Helford Gallery in 2012. portraying a two-headed giant's skeleton. Afterwards, he started to wonder what she might look like in a more captivating situation. Here, he posed her seated so that she could fill the entire picture plane.
Smoke Detector
This painting was made in the hallway of the artist's house including a model and a broken smoke detector. Up to now, this was his most challenging piece from the "Upright" series. For this series Van Arno paints from multiple reference photos that he shoots. On this one, the perspective in his hallway was way different on different photos. Correcting this was an ordeal.
Suicide Tools
The artist wanted to work with this voluptuous model. It was a hot summer day and this was the natural outcome. Yellow is, among other things, the color of happiness, optimism, sunshine and enlightenment. Van Arno plays with the cheerfulness of the colors that contrast with the depicted "suicide tools" (the razor blades, the kitchen knife, and the electric device) and the suggestive title.
Van Arno's "Werewolf" triptych (2009)…
The Ramones
An additional detail that appeals to me personally is the artist's recurring fascination for the legendary punk band The Ramones (Dee Dee in particular) which is one of my all time favorite bands (Fig.33 and 34).
St. Louis Prostitute
"A standard from the American Songbook, "Frankie & Johnny" told the story of a St. Louis prostitute, who shot the philandering boyfriend she was supporting.
Bring out our long black coffin.
Bring out your funeral clothes
Johnny's gone an' cashed his checks.
To the graveyard, Johnny goes.
He was her but he was doin' her wrong.
Drive out you rubber tired carriage.
Drive out your rubber tired hack.
There's twelve men going to the graveyard.
Buy a 'level comin' back He was her man buy he was doin' her wrong." (Van Arno)
The following video shows a visit of Thinkspace Projects to Van Arno's atelier in which the artist discusses his more recent "Upright" series…
Click HERE to check out an entertaining interview we had with Van Arno….!!
You can check out more of Van Arno's magnificent art on his site and his latest studies on Instagram..!!
Some of his paintings are available at the Corey Helford Gallery..!*
Source: A lot of the above pictures came from the Russian site ottomanka.ru
*We are not an affiliate, just a fan of the artist!
What do you think about Van Arno's Pop Surrealism? Do you have a favorite piece? Leave your reaction in the comment box below….!!