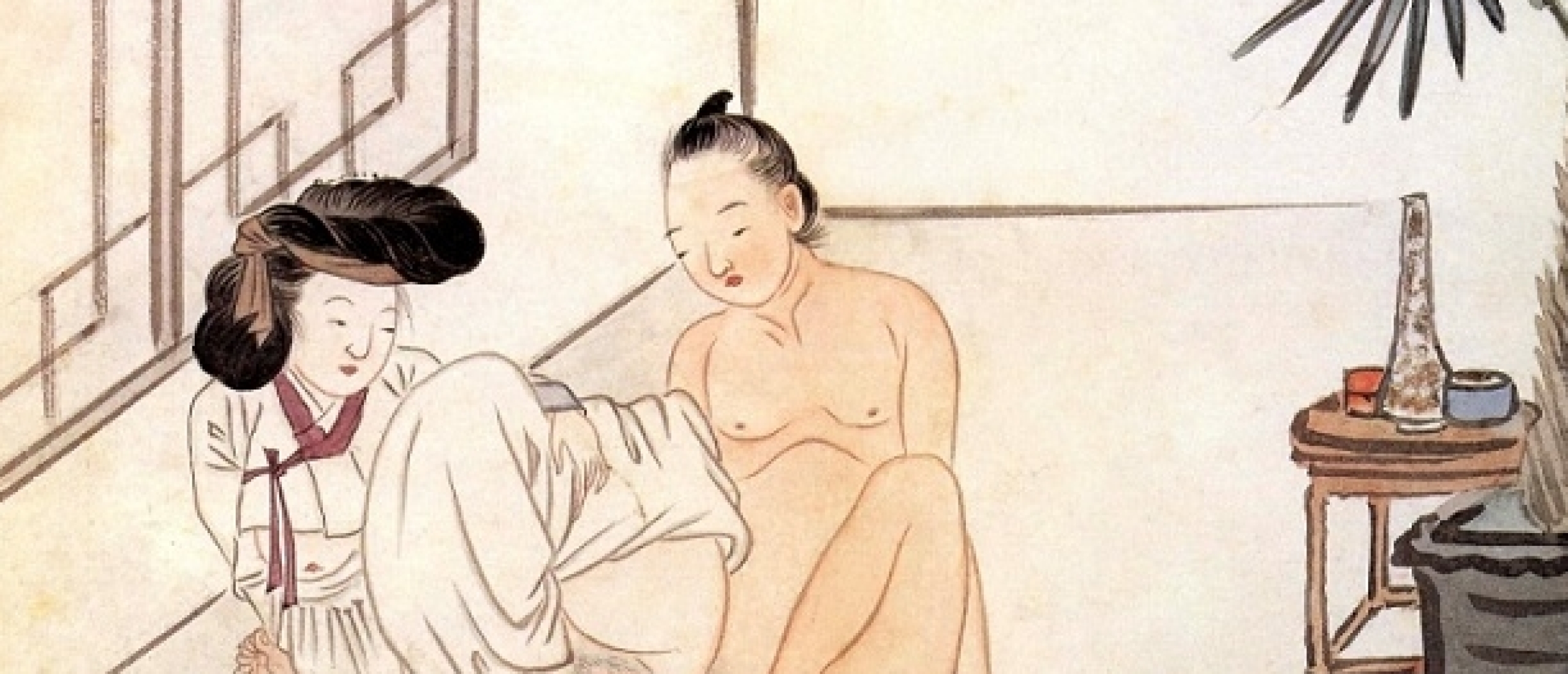 Chunhwa: Korean Erotic Paintings, Part Two, Shin Yun-bok (Hyewon)
In this article, devoted to Korean erotic paintings, we'll examine the works of Danwon's younger contemporary, Shin Yun-bok. 

Fig. 1. Hyewon. A Portrait of a Beauty (koreatimes.co.kr)
Expelled Because Of Chunhwa
Shin Yun-bok (1758-1813), known as Hyewon, depicted ordinary people engaged in everyday activities as Danwon did. He originated from a family of the Royal Court painters. Curiously, the artist's enthusiasm for erotic paintings resulted in his expel from the Royal Academy Dohwaseo. A younger contemporary of Danwon, Hyewon was deeply influenced by his images, though their subjects differed. He produced a lot of bijinga-like depictions of gisaeng. Allegedly, gisaeng females had been in Korea since the 10th century, while geisha emerged in Japan only in the 18th century, and initially, it was a male job. Hyewon's album of genre paintings Hyewon Pungsokdo was acknowledged as the National Treasure of South Korea in 1970.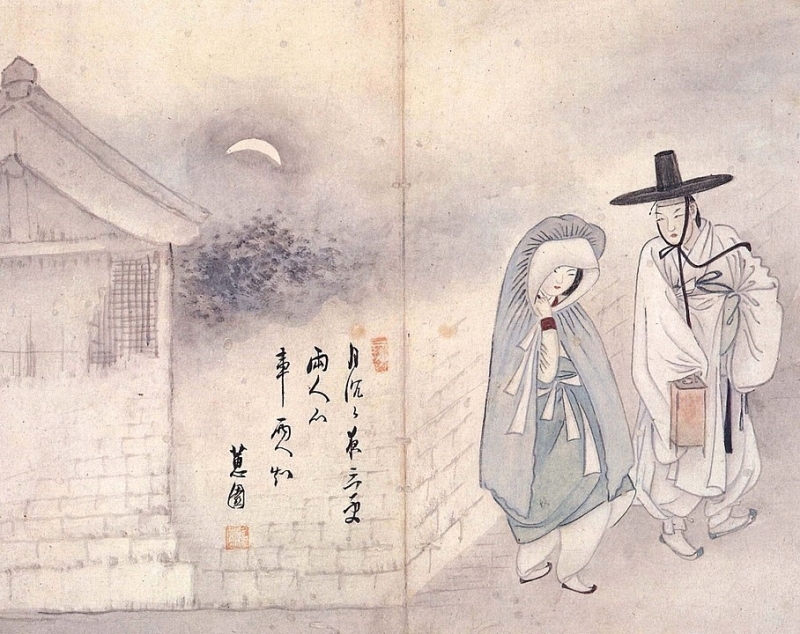 Fig. 2. Hyewon Pungsokdo, lovers under the moon (Wikipedia.org)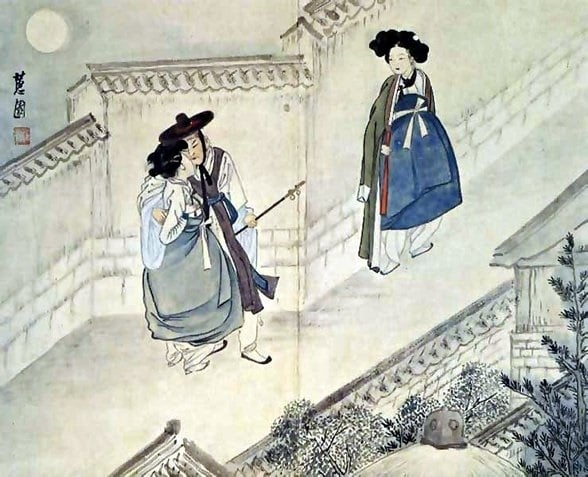 Fig. 3. Hyewon Pungsokdo, a secret meeting under the moon (Wikipedia.org)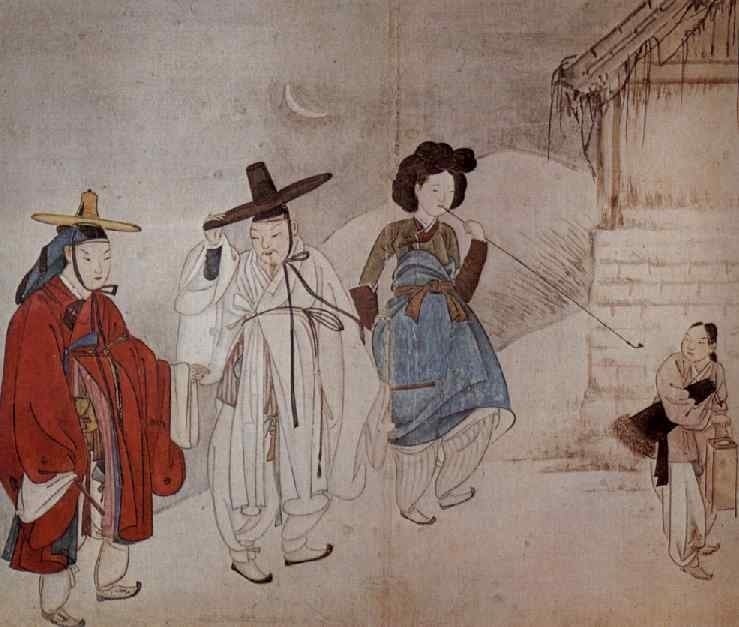 Fig. 4. Hyewon Pungsokdo, a secret trip at night (Wikipedia.org)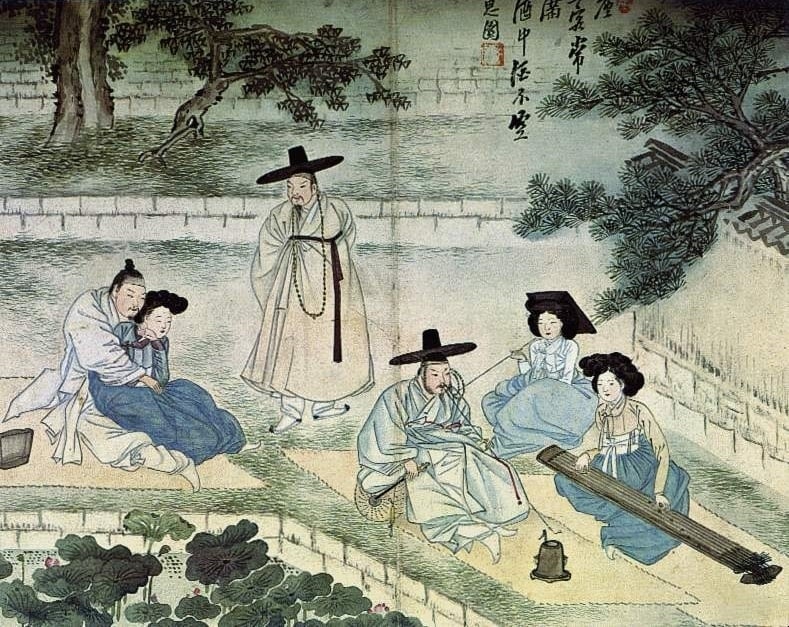 Fig. 5. Hyewon Pungsokdo. Resounding geomungo, praiseworthy lotus. Noblemen partying with gisaeng, one woman plays geomungo, Korean stringed instrument (Wikipedia.org)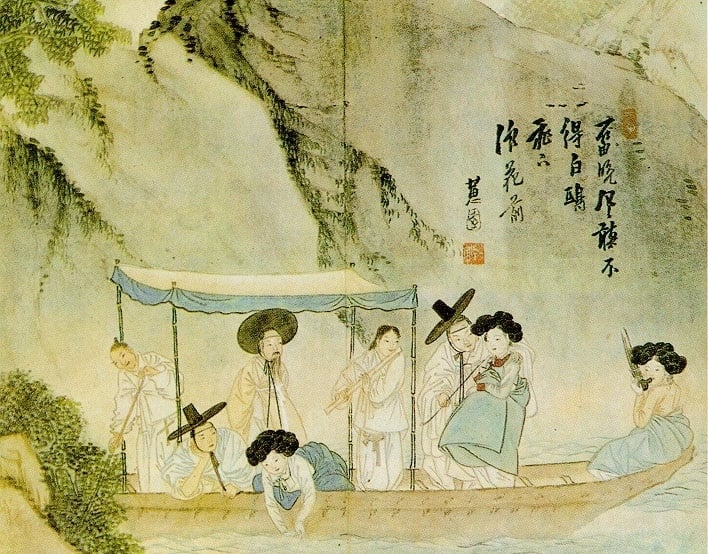 Fig. 6. Hyewon Pungsokdo. A boat party on the clean river (Wikipedia.org)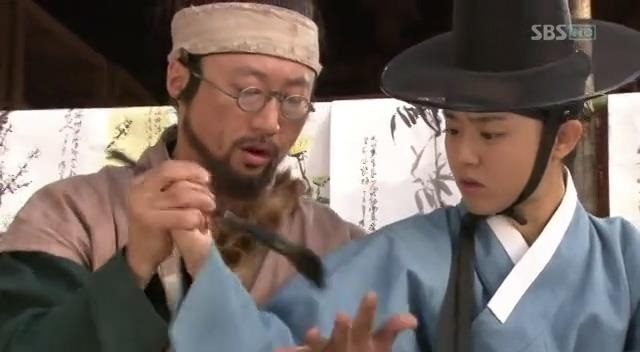 Fig. 7. The Painter Of The Wind, Danwon (left) and Hyewon (right)
The Painter Of The Wind
Scarce facts about Hyewon's life and personality are compensated with legends and mystifications surrounding this artist. Some historians suggest that he wasn't a student of Dohwaseo, and didn't meet Danwon in person. Let's mention that Danwon and Hyewon are the leading characters of a historical fiction novel The Painter of The Wind by Lee Jung-myung published in 2007 and adapted for the screen a year later. The novel is based on the suggestion that Danwon and Hyewon were on close terms (in the book, Hyewon becomes his student). Moreover, the novel portrays Hyewon as a woman. The central motif of the story is cross-dressing which is widespread in European culture (e. g. Portia from The Merchant of Venice).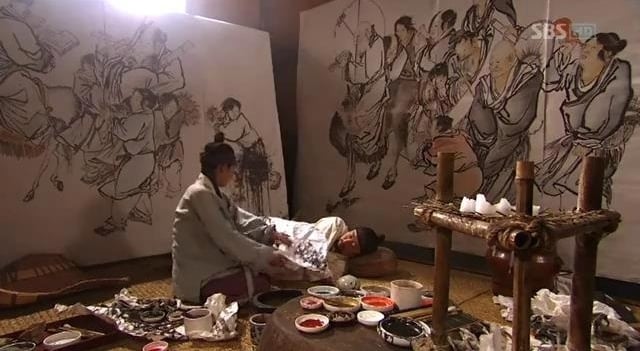 Fig. 8. The Painter Of The Wind. Danwon and Hyewon with unfinished Nineteen Taoist Immortals, Danwon's oeuvre (sacadalang.com)
Korean Portia
Born in a family of painters and having inherited their skill, Hyewon dresses as a man to be accepted in Dohwaseo. Yet one reason for her to be in disguise is the murder of her father, who investigated the death of another Dohwaseo member secretly commissioned to paint a portrait of the crown prince that was stolen afterward. After Hyewon has enrolled in the Royal Academy, Danwon begins to protect her against all rumors due to her enormous talent. Eventually, both painters become victims of a plot and get kicked out of Dohwaseo. The king secretly orders them to find the missing portrait of his father, and, while searching the treasure, Danwon realizes that he's fallen in love with his student and tries to part from Hyewon. At the same time, there's an expectable twist with a gisaeng who loves Hyewon whom she considers a man. At the end of the story, the true personality of Hyewon is revealed.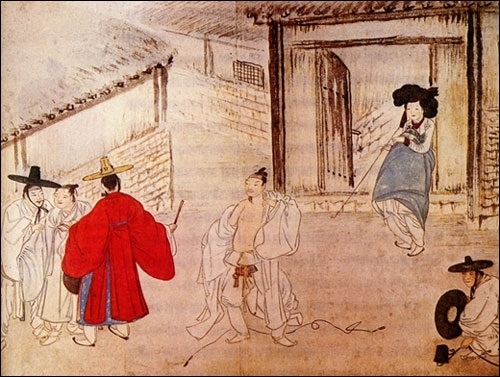 Fig. 9. Hyewon Pungsokdo. Who will be the hero at the brothel? (Wikipedia.org)
Who Will Be The Hero At The Brothel?
Now, let's turn back to Hyewon's paintings. Hyewon Pungsokdo is an amusing album of 30 images depicting daytime routine, summer parties of Korean nobles and gisaeng, and secret meetings of lovers at night. Though not demonstrating the explicit sexual activity, many paintings are mischievous enough, for instance, the one entitled Who Will Be The Hero At The Brothel? The image shows a scene with a courtesan standing at the doorway and watching a group of indecisive noble males while the young one undresses hastily right in front of the door.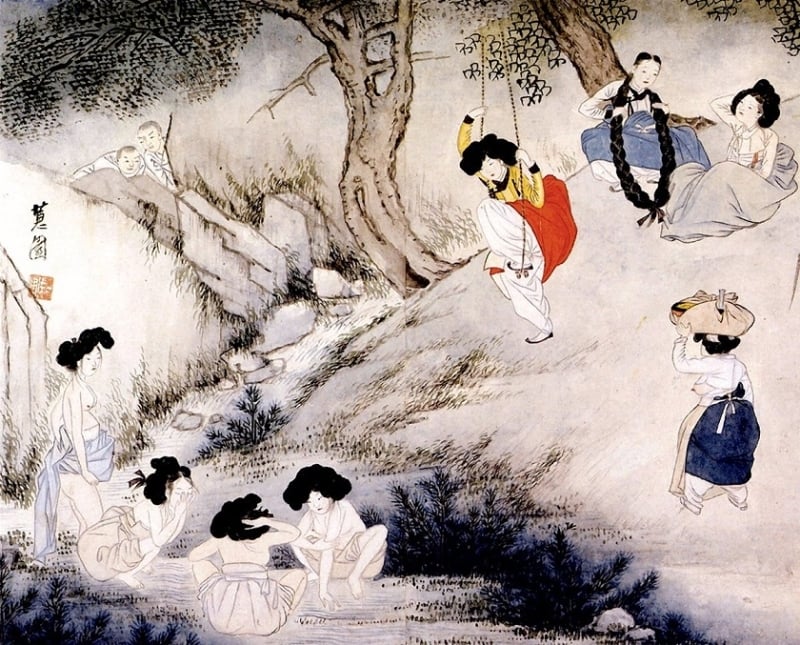 Fig. 10. Hyewon Pungsokdo. A scenery on Dano day (wikipedia.org)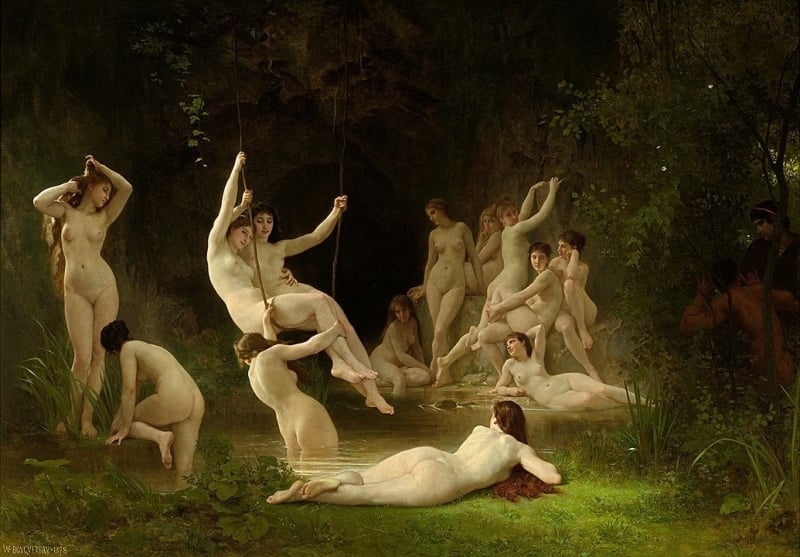 Fig. 11. William Bouguereau, The Nymphaeum, 1878 (Wikipedia.org)
Dano Day
Another amusing scene from Hyewon's album is Dano Day, the traditional Korean holiday celebrated on the 5th day of the fifth month of the Korean lunar calendar. During the celebration, women washed their hair in water boiled with a sweet flag plant to make them shiny. In Hyewon's painting, a group of females baths in a river while one woman is swinging, two others reclining on the ground, and yet one female probably carries food for the celebration. Probably all of them are gisaeng. The woman under the tree removed braids from her head, so we can see that the most lavish part of these hairstyles, called eonjun meori, was a wig. This way of making hair was very popular among married women of the high rank, and gisaeng tried to keep up with trends until the usage of wigs was prohibited by King Yeongjo. The presence of two males peeping at the women makes the whole scene resemble Bouguereau's Nymphaeum (fig. 11).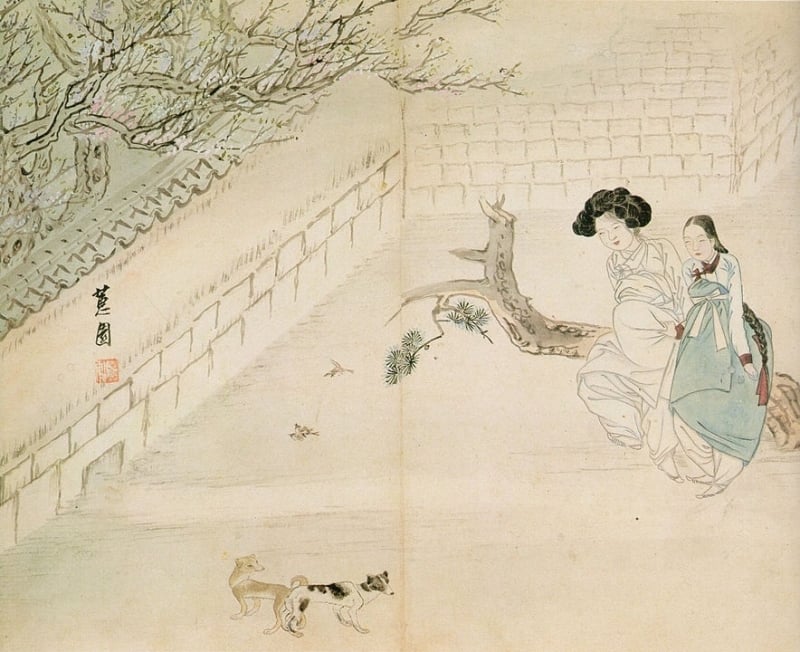 Fig. 12. Hyewon Pungsokdo. Widow's lust (Wikipedia.org)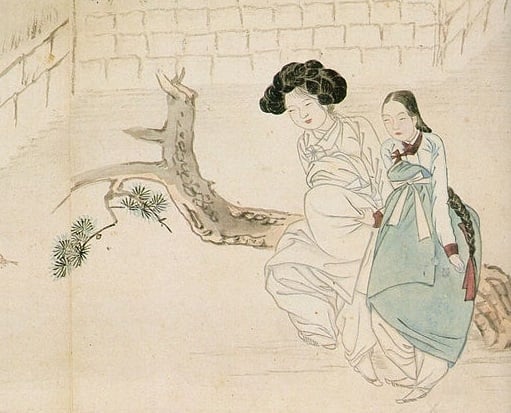 Fig.12a.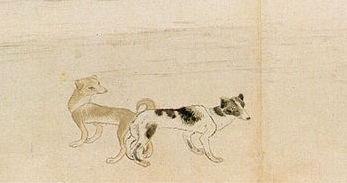 Fig.12b.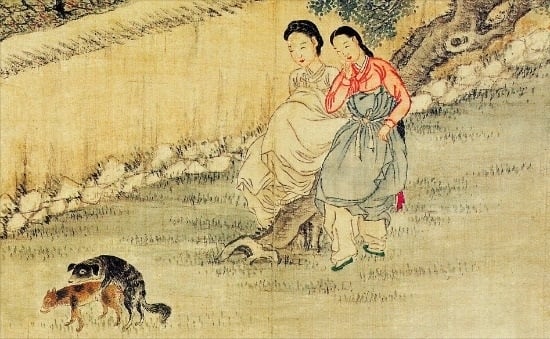 Fig. 13. Two women watching mating dogs, artist unknown (hankyung.com)
Widow's Lust
This painting shows a senior widow and a young girl watching two copulating dogs. The confused girl pinches the woman while the widow smiles at the scene. We've also come across another variation of this theme produced by an unknown artist (fig. 13): two females, married and unmarried (the one with a braid), sit on a tree trunk, as well, and watch mating animals.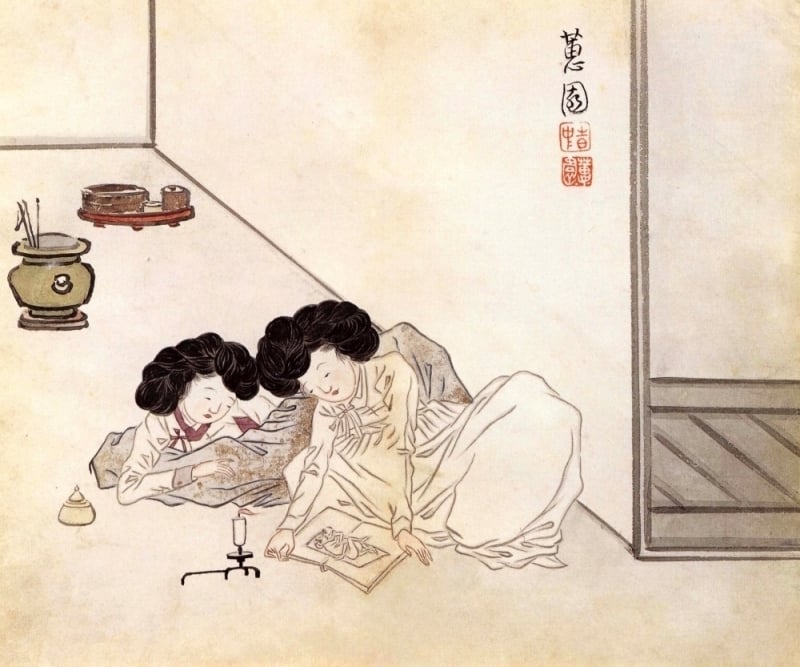 Fig. 14. Geon-gon-one-hoedo. Women watching Chunhwa (davincimap.co.kr)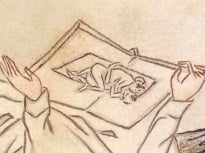 Fig. 14a. Detail. 
Watching A Manual
An amusing image from the book Geon-gon-one-hoedo attributed to Hyewon depicts two females, probably gisaeng, watching Chunhwa images. To tell you truth, the scale of the figures in the painting at which they look very much resembles Hokusai's Shunga, as soon as Chunhwa painters didn't paint the bodies so large. Excited women even lit a candle to get a better look at the image. It seems, that they study a cowgirl pose.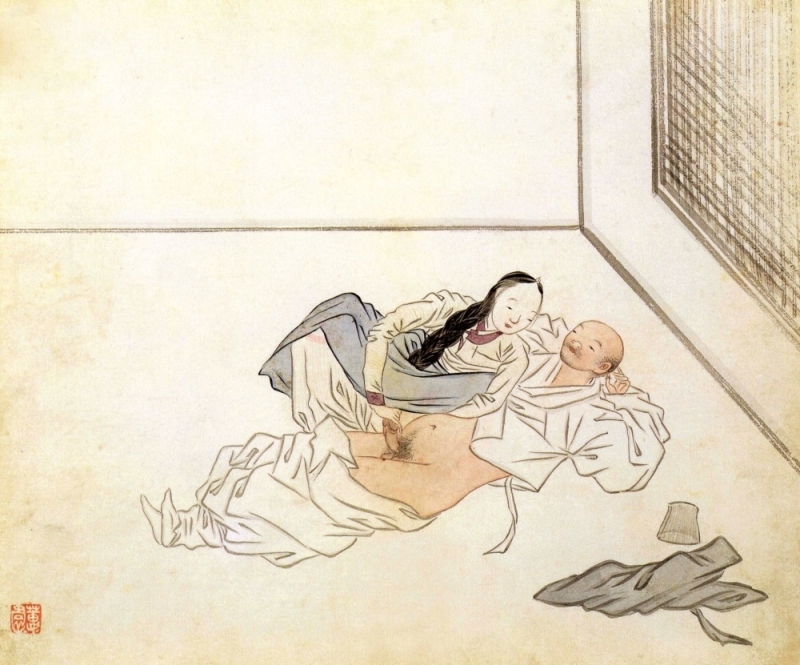 Fig. 15. Geon-gon-one-hoedo. Monk with a girl (davincimap.co.kr)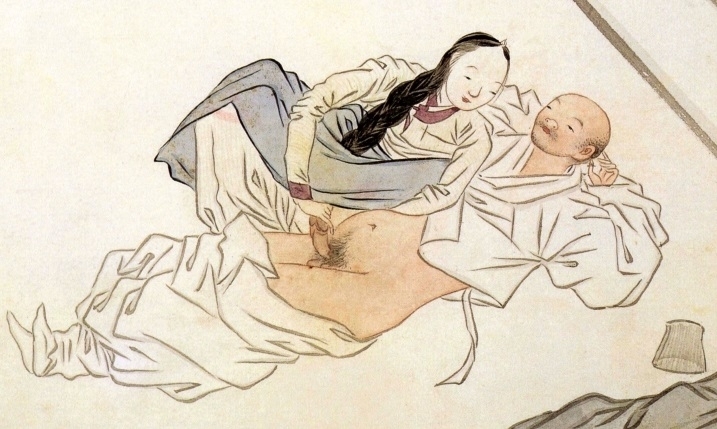 Fig.15a. Detail
Who Is A Seducer?
In the first part of this article, we've examined Danwon's depiction of a lustful monk impregnating a maid. The current painting attributed to Hyewon shows a sexual play of a maid and a monk too. Although there's a big difference between the two paintings: Hyewon's girl, who is said to be of a noble family, seems to be much more experienced as she shamelessly touches the monk's penis and tilts it toward her vulva. The girl also seems to masturbate with another hand. Such enthusiasm makes us wonder who is a seducer of the two.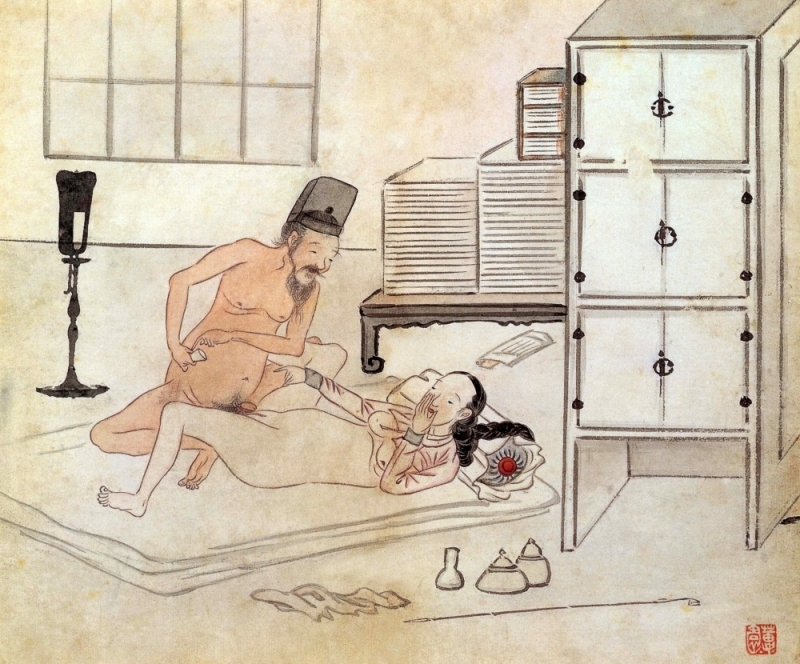 Fig. 16. Geon-gon-one-hoedo. Lustful scholar (davincimap.co.kr)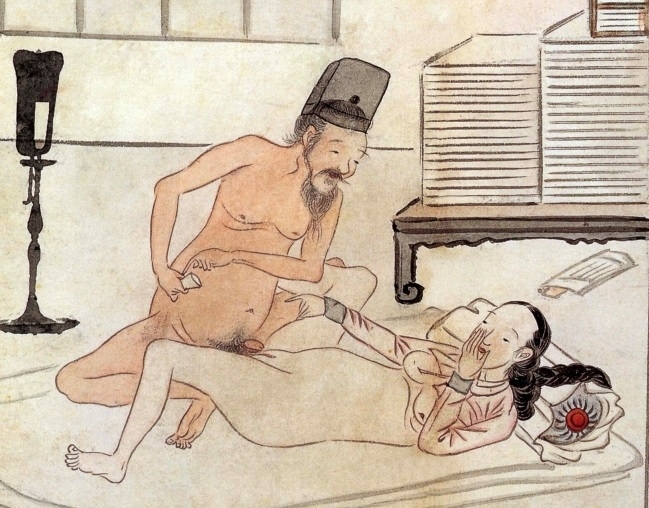 Fig.16a. Detail
Lustful Librarian
Previously, we've already discussed playful Korean scholars who frequently spent their time with gisaeng. As you remember, Danwon's scholar entertained himself with a help of two lesbians. The scholar in the painting of Hyewon looks much older, however, the age doesn't affect his lust. Surrounded by piles of paper, he copulates with a young girl right next to a large bookshelf. The girl wears only a short jeogori blouse which may mean that this is not their first round. The paper cup scholar holds in his hand, along with the facial expression of the girl, signifies that the noble seonbi even offered her a drink, though he's supposed to abstain from alcohol and carnal delights.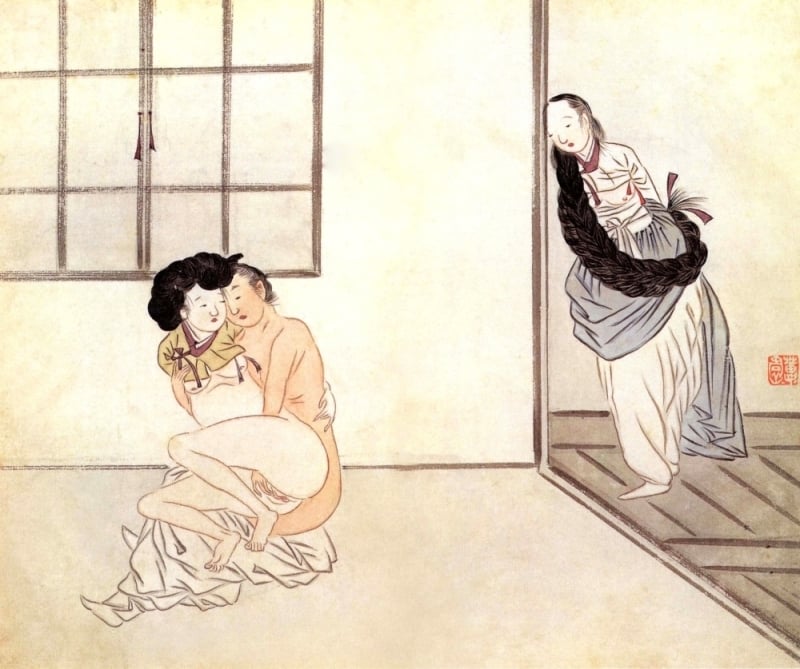 Fig. 17. Geon-gon-one-hoedo. A couple and a voyeur (davincimap.co.kr)
Young Voyeur
A voyeuristic motif is a constant component of spring pictures and erotic art in general. The married couple is engaged in a foreplay. The man caresses the woman's breasts, which can't be hidden under a short blouse, and touches her exposed vulva, while she stimulates his penis. They are watched by a young girl who's raised her skirts in arousal. 

Fig. 18. Left: Danwon, lovers (davincimap.co.kr); right: Hyewon's version (davincimap.co.kr)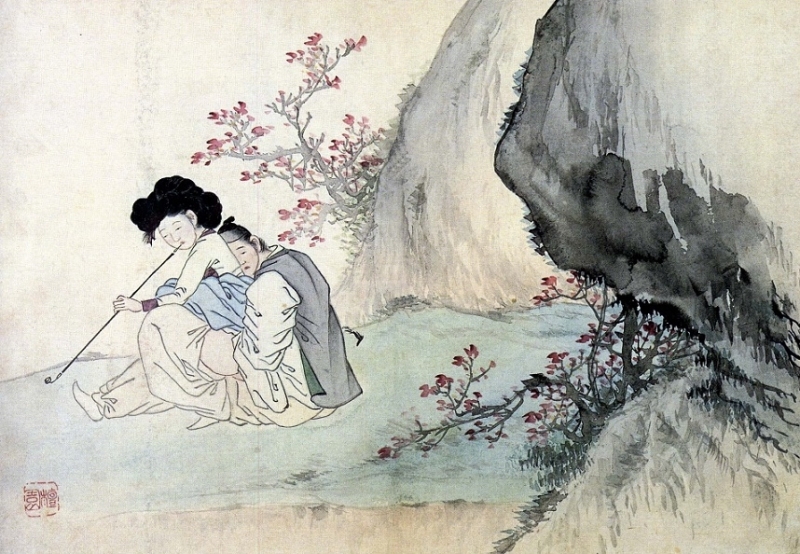 Fig.18a.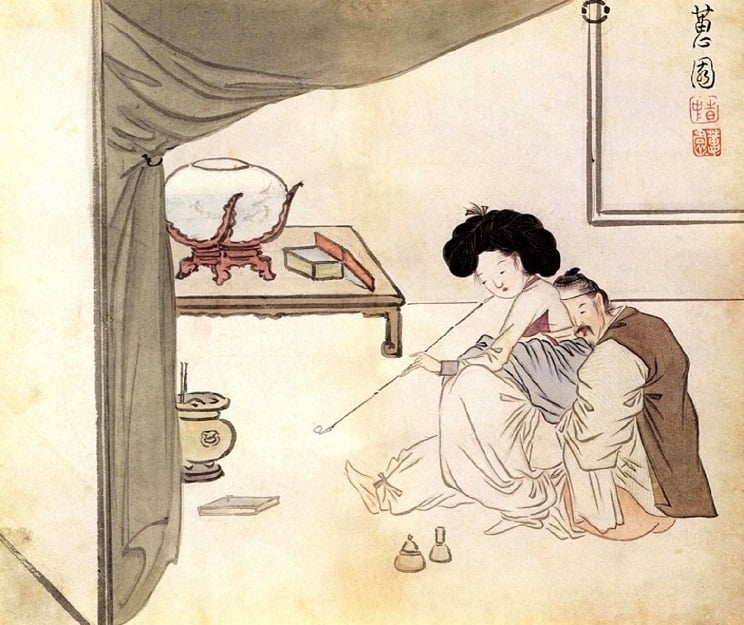 Fig.18b.
Danwon's Influence
As we've said in the beginning, Hyewon was deeply influenced by the works of Danwon, and at least one painting of the set was taken from Danwon's Cloud Rain Pictures. The original work shows a couple making love outside. The woman with her back exposed sits on the man's lap, which doesn't prevent her from smoking a long pipe. Hyewon placed the couple in a room and made the male look older. Unlike Danwon's beauty, his woman seems a bit distracted from her smoking.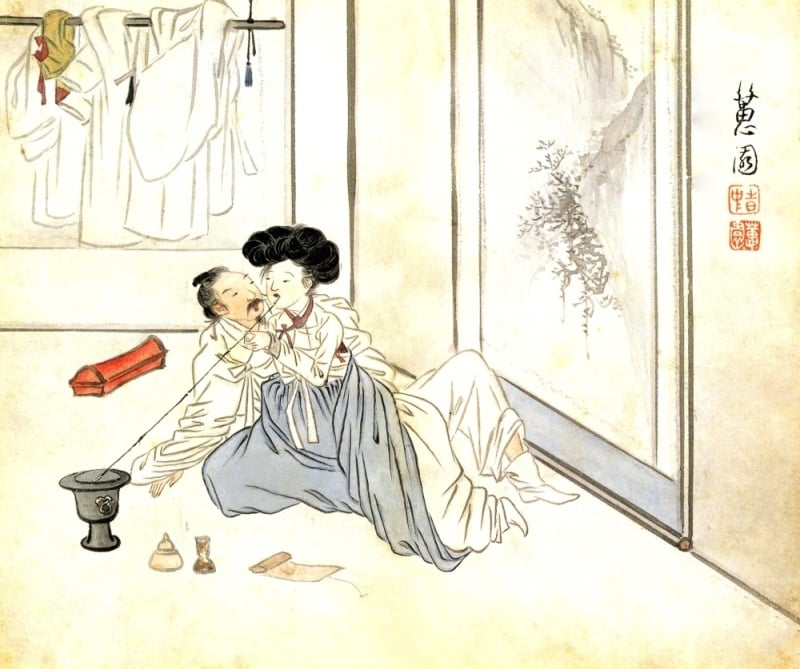 Fig. 19. The man makes advances to a smoking female (davincimap.co.kr)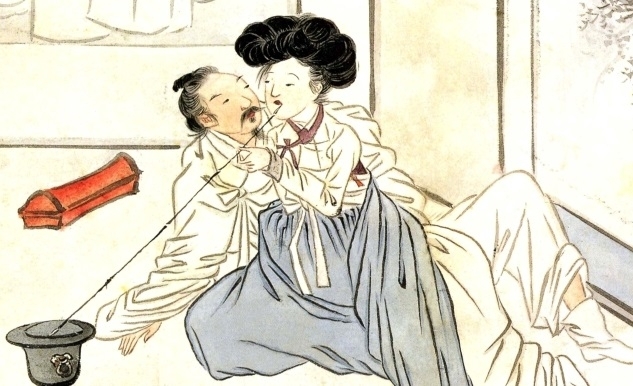 Fig.19a. Detail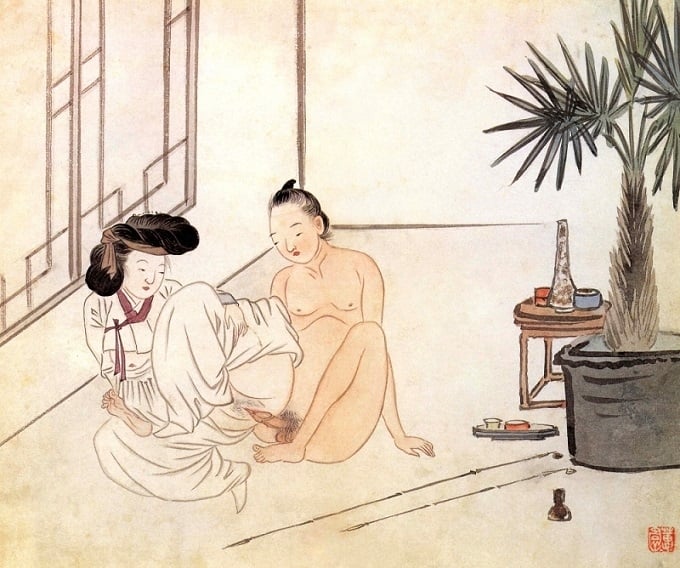 Fig. 20. Playful female demonstrates her vulva to a partner (davincimap.co.kr)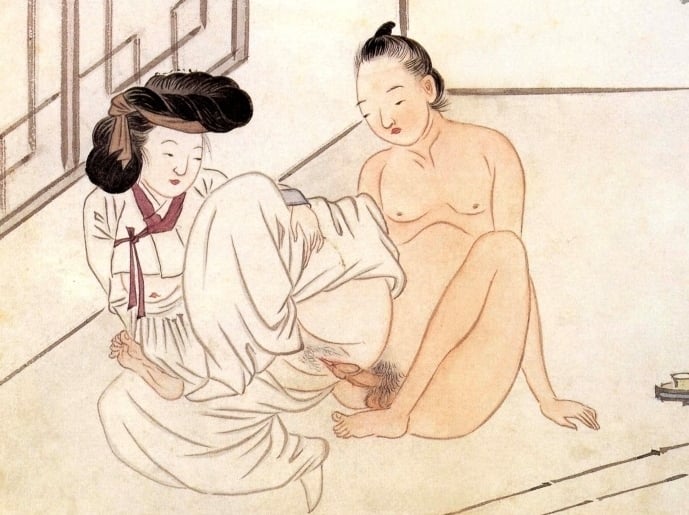 Fig.20a. Detail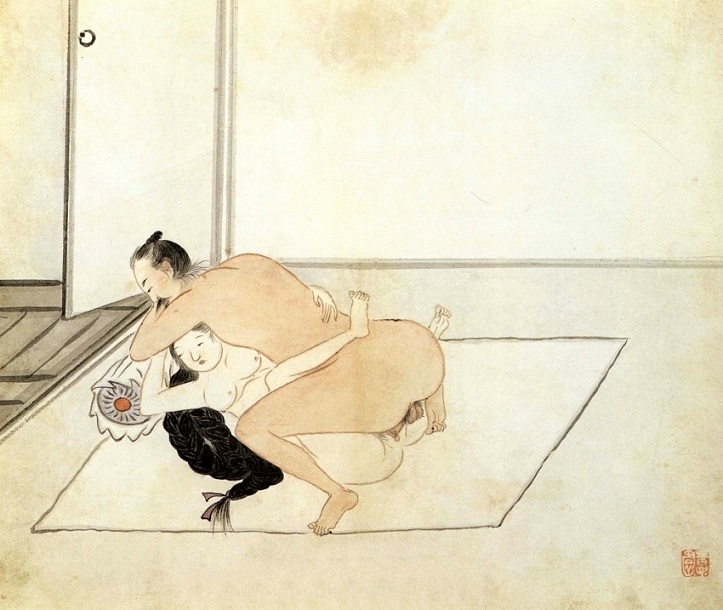 Fig. 21. Couple in a missionary pose (davincimap.co.kr)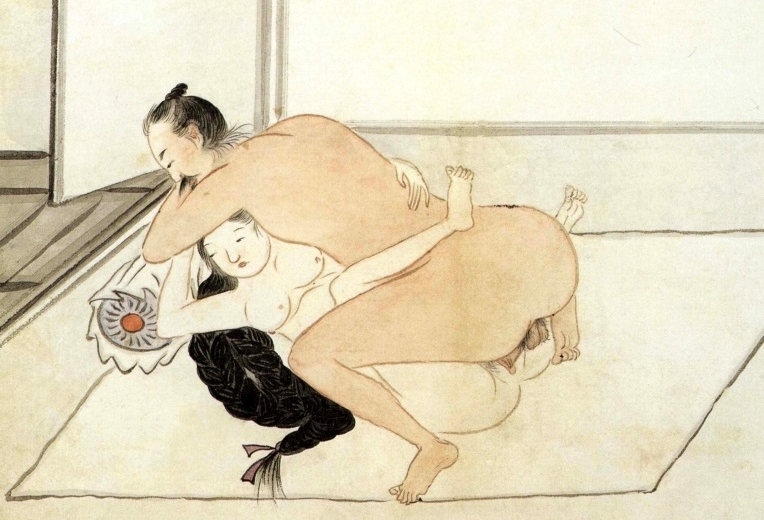 Fig.21a.
Sources: Wikipedia.org; davincimap.co.kr; dgupost.com; Michael L. Best. What are some differences between the Korean "Gisaeng" and the Japanese "Geisha"? (quora.com)
Click HERE to check out 7 erotic studies of a 19th century Chinese master artist
Do you think the aesthetic quality of Korean shunga is on a par with its Japanese and Chinese counterparts? Leave your reaction in the comment box below!