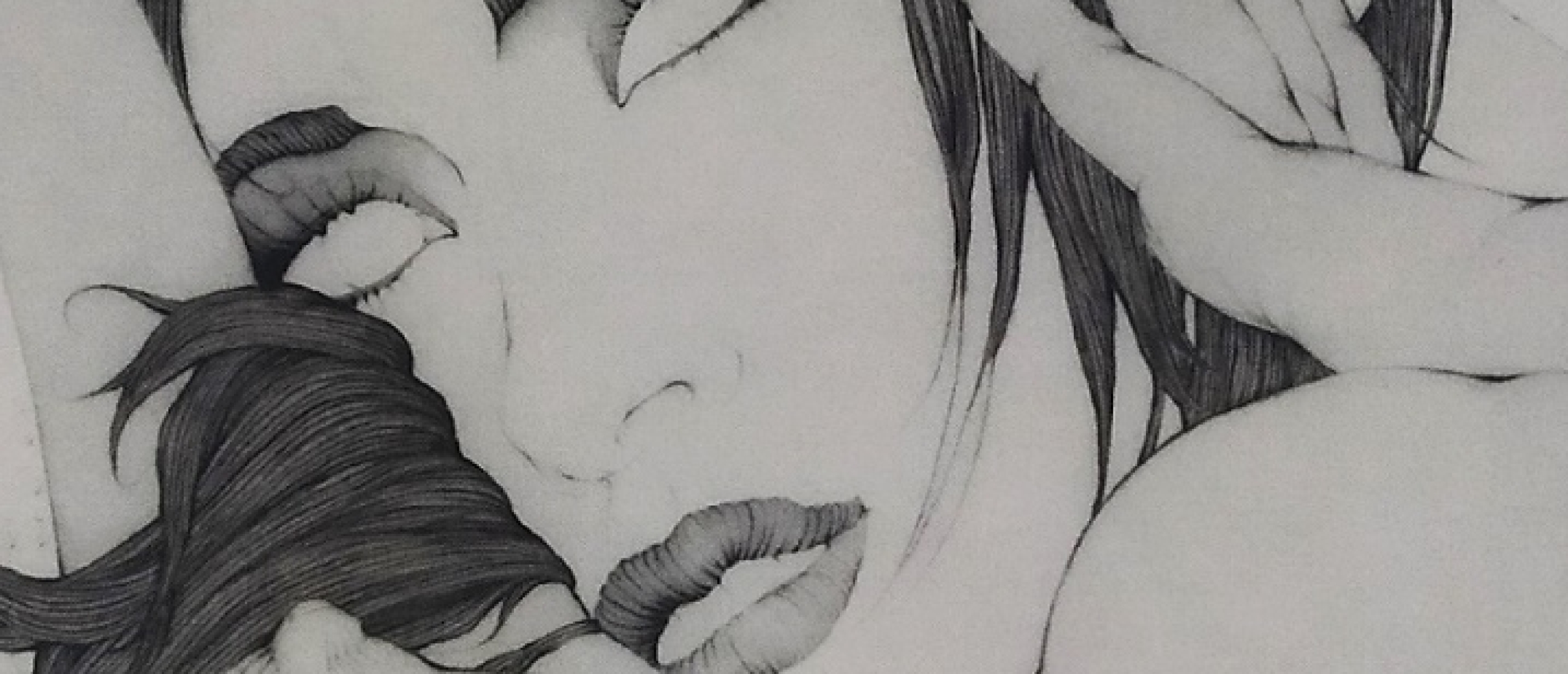 Jan Van Rijn's Visual Translation Inspired by Erotic Prose and Poetry
This weekend we had contact with the artist Jan van Rijn (1966) who told us about the progress of his new graphic novel entitled Querida, which is a transgressive fable on the transformation of a puppet into a liberated woman.
Cricket Performing Cunnilingus
Having already had a sneak peak, I have to say that I am very impressed with the compelling story that pulls you in right away and the illustrations are really fantastic - the giant cricket (!) performing cunnilingus is unforgettable.. On the publication of the book we'll keep you posted.
The following is one of the trailers for Querida...
In the Woods & On the Heath
Querida will be in the same format as Van Rijn's previous book In the Woods & On the Heath: Another Book of Prayers (2016) that offers a collection of 24 exceptional writers contributing 48 pieces of erotic prose and poetry, covering a variety of different perspectives on the subject, crossing the lines of straight, gay, lesbian, queer, fetish, high art, low brow, classic and contemporary.. It was only published in an edition of 100 copies. For an impression of this book we've included some examples below...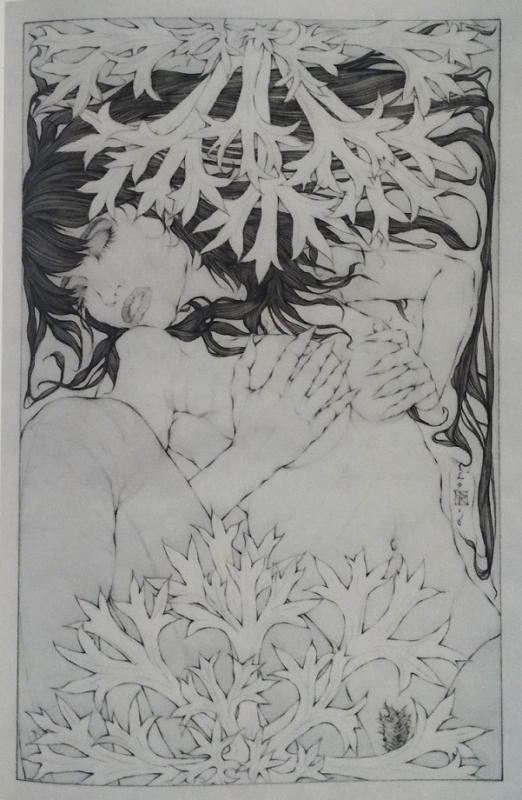 Fig.1.
BEN HECHT - RED ROPES
Candles lighted in her head. He was laughing and throwing himself against her. She felt blood come out of her and cover her with little flames. But he would let her close soon. After he had struck her and become like a fire she would crawl close to him and he would let her give herself, what was left of herself.
His hands knocked her down again and she lay without moving. He was still laughing and pulling at her. She kneeled and covered her face. Her head kept nodding at him.
Now she would die. He would devour her. Her body fell and rose as if he were swinging her around his head. His hands drove nails through her breasts. Her voice ran away from her and screamed. But she continued to nod her head and to come toward him out of the hiding places. His blows were binding her body with red ropes. But soon she would lie against him and give herself to his passion. She would feel his body burning from the blows he had given her. She closed her eyes and screamed. He grew larger and she was no longer able to understand the pain .... (from Fantazius Mallare)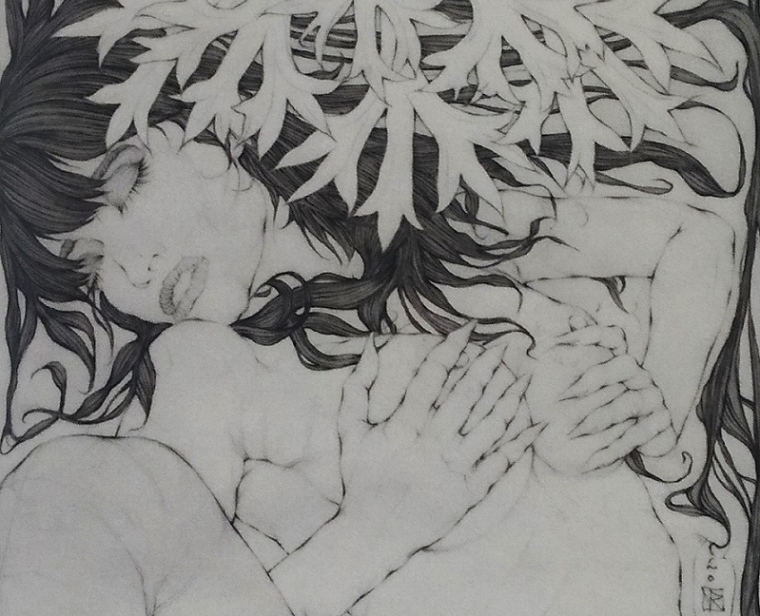 Fig.1a.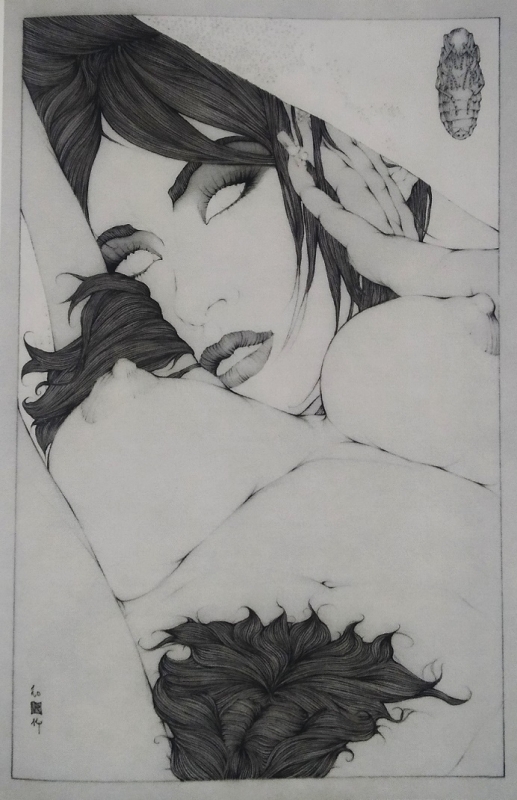 Fig.2.
NOMI RUIZ
WET POSSESSION
my wet possession
moist and full of riddles
scraping at the empty insides
trying to pry at the flame that resides within
that curled up vortex
squeezed into the flesh of another
every strand crept upon
delivered in the vacancy of anonymous mischief
every follicle screaming out
longing to be touched by a stroke of madness
how we take it upon ourselves to create
to give birth to fire
I lie here craving that horizon of flesh
brushing against that field of thigh
that wave of bone
beneath
brushing against the milky white of mine
that painstaking pleasure when you enter
like a swarm of bees tackling a honey comb
a savage beast coaxing and tearing at the wound
chivalrous yet taxing
deliberate yet owning up to the weakness of its cravings
I swallow all contempt
let it swim around in my gut
only to watch it grow into remorse
I kill the nurse in me
in hopes of becoming a patient
in hopes of being healed instead of healing
there is nothing left to give from the tomb that is my body
the sacrophagus which stores every faint memory
deliberately lets loose upon the carnage
which contains your heart
the unexpected avalanche
that seduces with the hopes of nurturing
and the idea of home
then devours you from the inside
until you are nothing but the vacant vessel of a tomb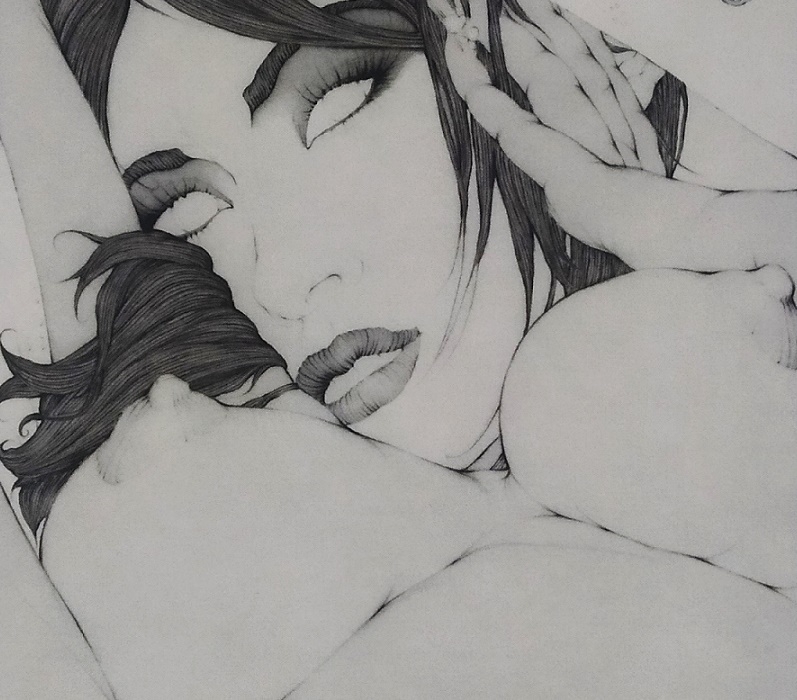 Fig.2a.
Fig.3.
VANESSA DE LARGIE
CHARITABLE
i'm open for business.
Wide open.
A voluntary vessel for male ejaculation.
The last two just left but I'm hungry for another.
Another fierce pounding.
There's no need to pay this
isn't prostitution, this is
charity. Please donate your sperm.
Stop staring at the merchandise!
Just show me what you've got.
Are you good enough?
Are you beast enough?
Destroy me and fill me up.
Be savage.
Make a mess.
Bruise.
Now unload, withdraw and ...
leave.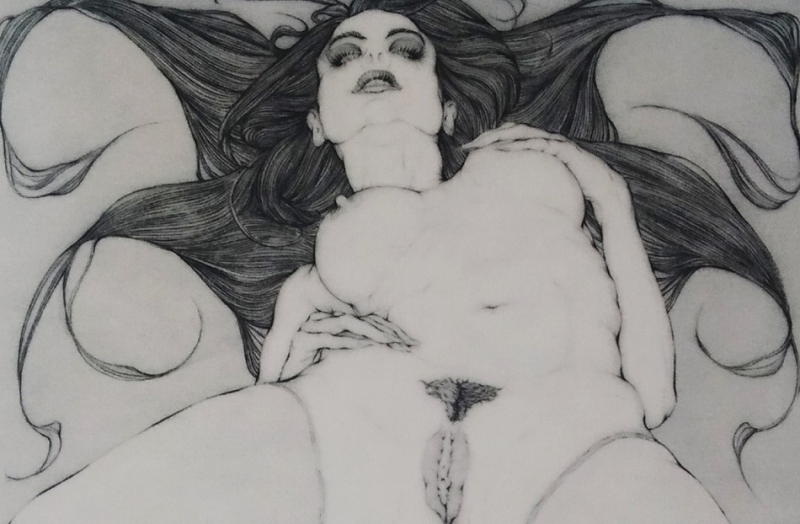 Fig.3a.
Click HERE for our engaging interview with Jan van Rijn....!!
More of Van Rijn's erotic work on the artist's site....!!
Source: In the Woods & On the Heath: Another Book of Prayers
Let us know your thoughts on Van Rijn's art in the comment box below...!!