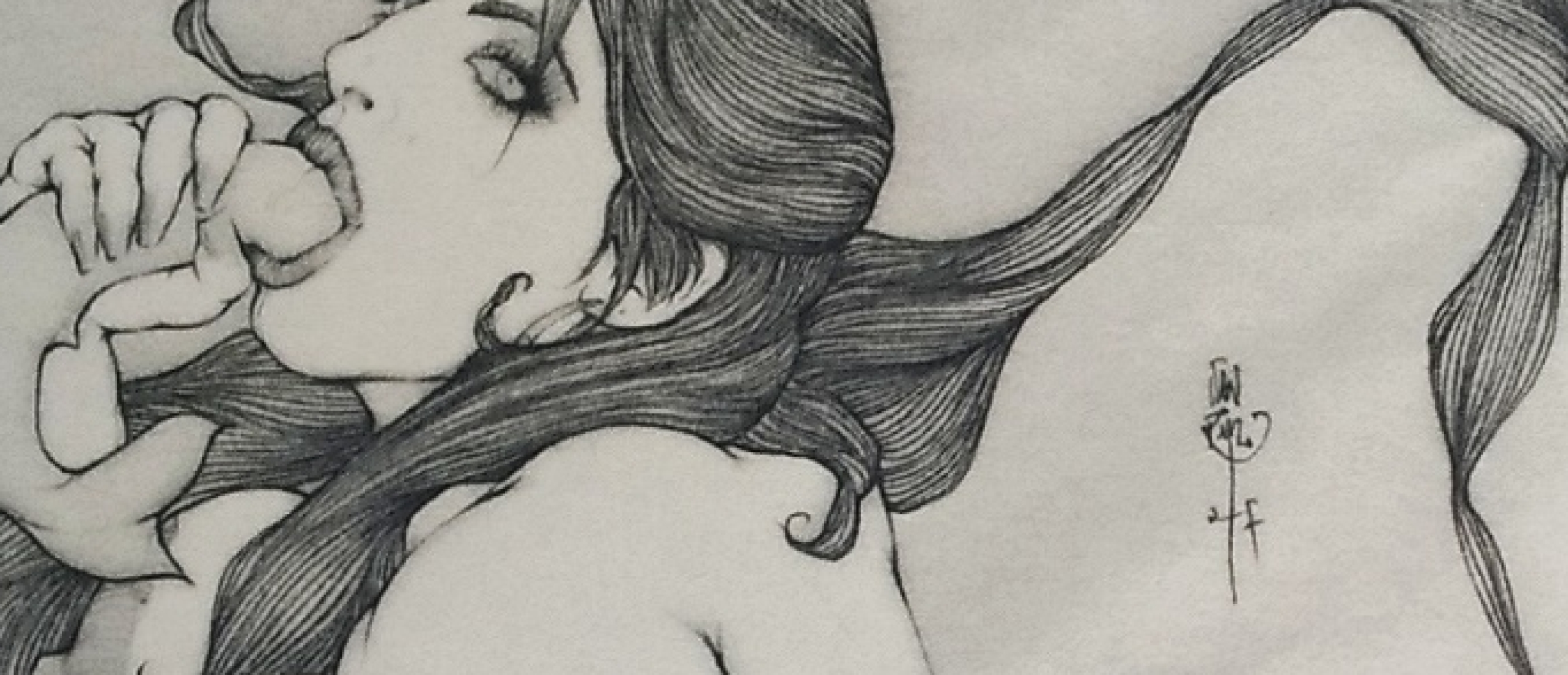 Sensual Fish Story From Voices From the Corridor
Voices From the Corridor is a collection of erotic tales and verses written by Annemarie Ryder and illustrated and published by Jan Van Rijn in an unspecified limited edition. Marvelous erotic text and exceptional, realistic illustrations in black & white and color. Beautifully imagined, designed and printed artist's book.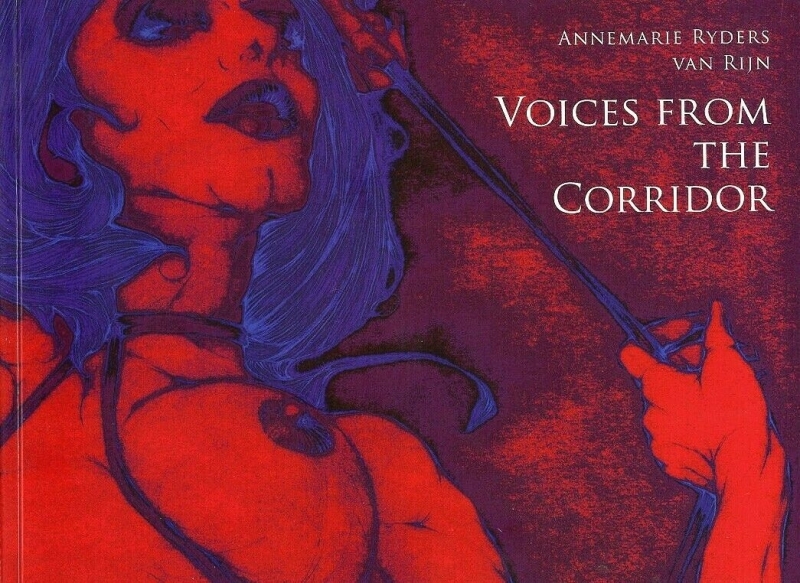 Fig.1. 'Voices From the Corridor ' with text by Annemarie Riders and illustrations by Jan van Rijn
The following eloquent review by Juxtapoz magazine in 2013 gives a nice insight of its contents:
Van Rijn newest erotic tome, The Voices from the Corridor, 'is a collection of erotic fast fiction, each one preceded by a drawing as a highlight and key.
The primary story element is the text, with the illustrations and graphic compositions used as essential stylistic devices to convey atmosphere as well as interpretation. So the book is really an illustrated narrative with features of Comics and Graphic Novel. The strongly sexual color of the motifs show distinct references to the scope of Pulp and Low Brow, not fetish fixed yet distantly related to Stantoons, Hentai and other sex comics but much more extensive and ambitioned in terms of the text.
The episodes depicted, at first seemingly disconnected and isolated, take place in an uncertain time and space within the environment of an erotic club of sorts of unclearly mysterious ambience. The narrator's character is one of the attractions of the place. She lives and works there, and in the course of events finds herself in a confusing plot of sex and mystery laced with shots of kinky gravel
The reader participates in the events like a voyeur, presented with quite an abundant panorama, lush and exaggerated like a look into a kaleidoscope. Yet, on the fringes of this view, places of increasing opacification and darkening are noticeable. Van Rijn's illustrations are the starting point and pivot of Annemarie Ryder's tales. Behind the alias hides a German author who has worked as a writer in various areas for more than ten years and has receives various awards. Humorous, ambivalent, full of surprising turns and paired with an extraordinary fresh and relaxed depiction of sexuality, Ryders here comes up with the lyrics to an enigmatically flowing tune, the remnants of a dream.
(Juxtapoz, 2013)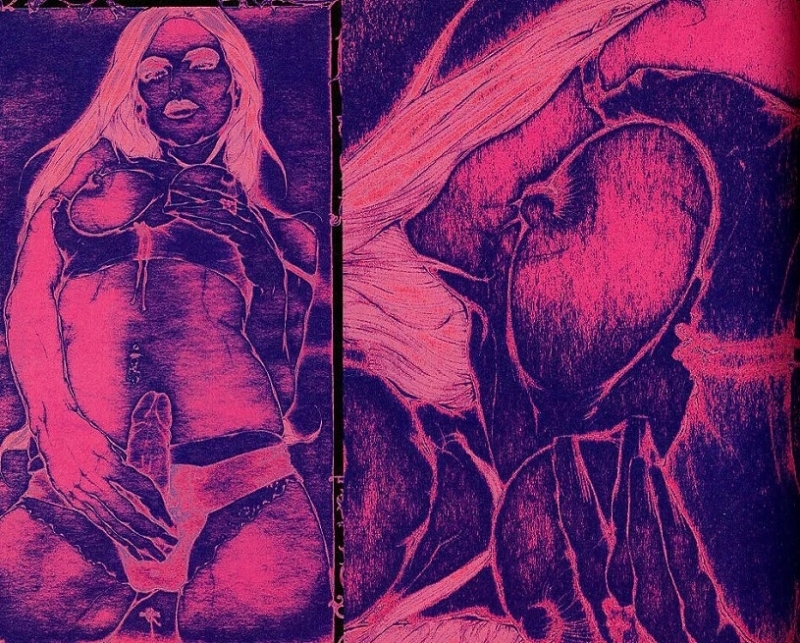 Fig.2.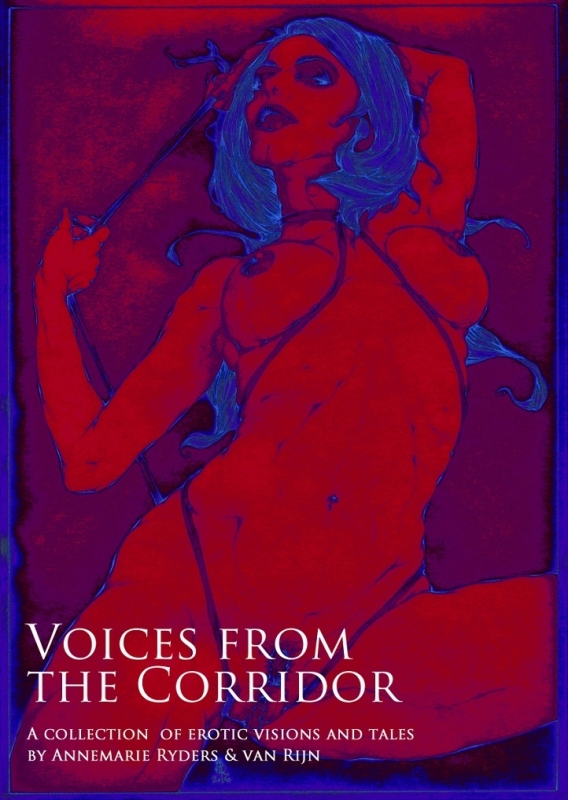 Fig.3.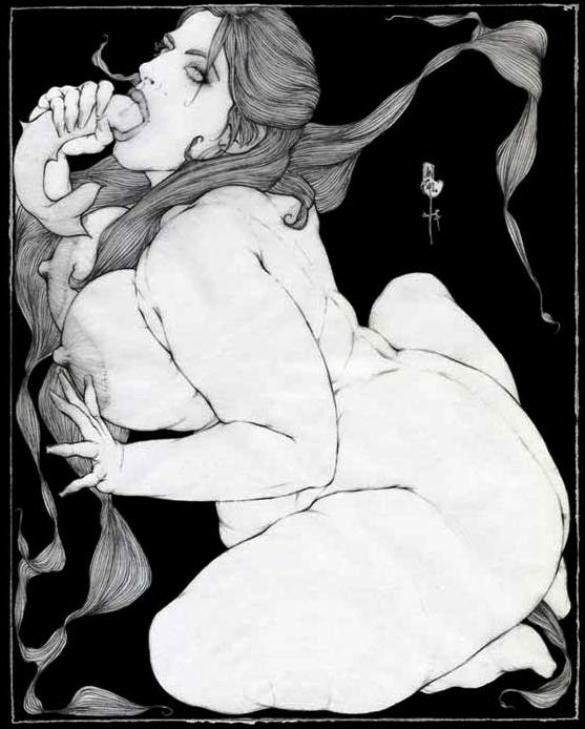 Fig.4.. (Illustration for the Fish story)
To give an impression of the contents in the book, we have added the following short story...
Fish
He is sitting at the head end. I know when is listening  His chair begins to creak when I talk about it. The thing he likes to listen to best.
I dreamed of fish, I say. I stare at the ceiling into the dim light. Tons of fish. They are unloaded on the beach. The buckets topple. Thousands of fish squirm above and beneath each other. They twitch, they trash their tails. I am naked.
His chair begins to creak.
I pause for effect. Stark naked. My body is wet. I approach the mountain of fish. An unbearable tension spreads between my legs, a pushing, a pulling. I have to do something against it. Relieve the pressure. With my thighs I touch the fish.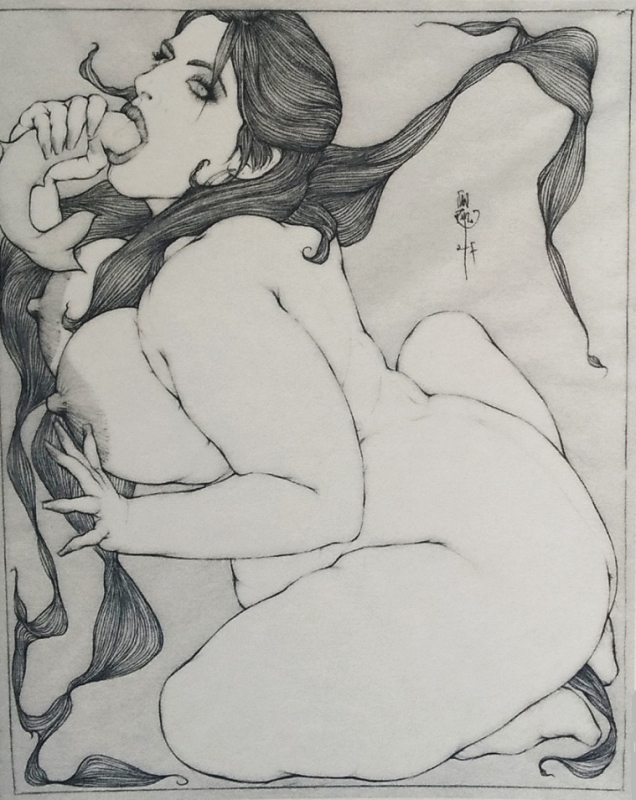 Fig..5.
I sit down on this mountain of bodies. They are cold and slippery. Some of the fish snap at me, they suck on my skin. But they are are not purposeful enough, they don't nibble where I want them. I take an especially shiny one in my hand, look at its mouth, this small ring which is going to snap, to suck. It can help me relieve that tension. I let it glide down between my breast, don't stop at my bellybutton, go on to the crack where the pearl lives which does not come from an oyster. It sucks. I move it back and forth a little, it's supposed to reach every inch of me.. Then I pull it off. dip it into me, move it back to the pearl. In turns. It sucks, it slips inside me, it smacks, it pulls all the tension, all the pressure out of me until its little body twitches in my hand. When I let it go, it is dead. I look at the streaks on the body, I take it to my mouth, lick it clean. It tastes like fish.
When I get up from the couch., my shrink looks exhausted. His small grey eyes behind the thick lenses twitch like fish eyes.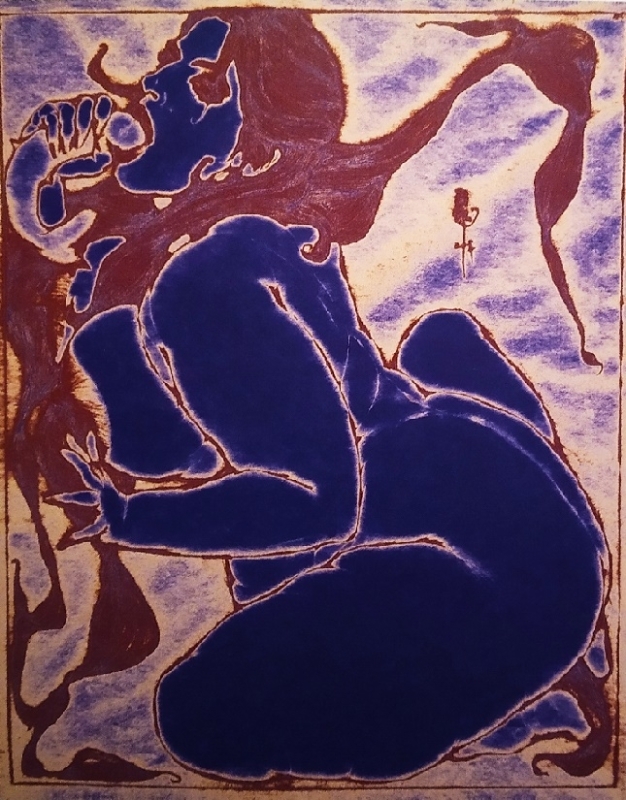 Fig.6.
The exclusive Premium version of this article includes all the images from the book + another sensual story involving a valley orgasm (!).
Click HERE for our earlier article on Van Rijn's In-Your-Face erotica or here for our rare interview with him.
The physical book of Voices From the Corridor can be ordered on this page (we're not an affiliate).