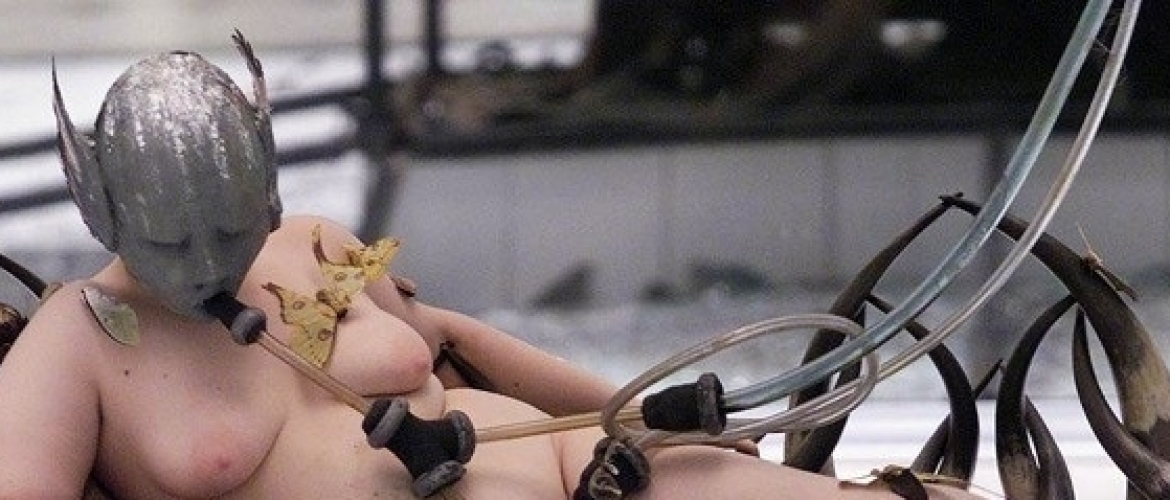 "The Beauty in the Difference"; Joel-Peter Witkin
The artistic career of Joel-Peter Witkin (September 13, 1939) has run a meandering, twisting parallel with fellow photographer and transgressive artist Robert Mapplethorpe whose 1989 exhibition The Perfect Moment sparked national debate in the USA, and ignited a culture war that continues to rage today. Although Witkin readily acknowledges, "people either love my work or they hate it," he has managed to side step the limelight of controversy in exchange for a quiet but steady infamy.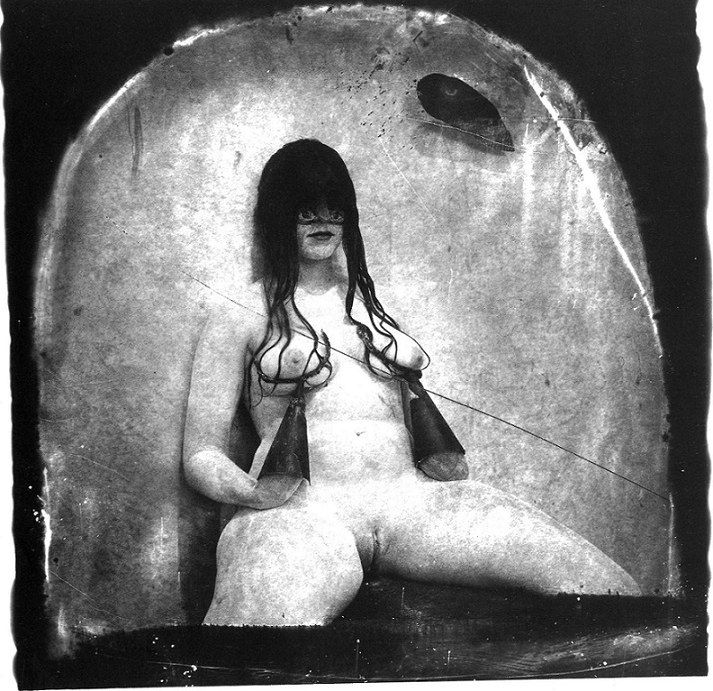 Joel-Peter Witkin "The Bra of Miro" 1982 (archive.org)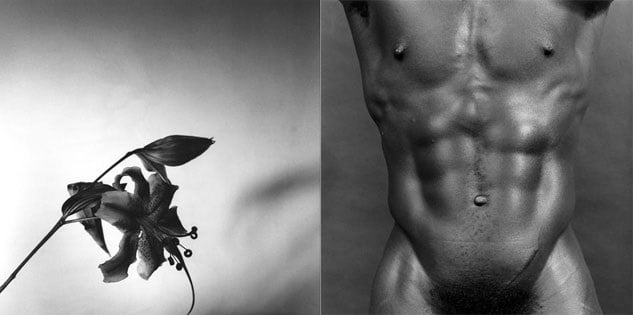 Robert Mapplethorpe, from "The Perfect Moment," 1989 (advocate.com)
Contrived Veneer
This may have a lot to do with Witkin's subject matter: morbid, gruesome, and often heavy with heretical religious symbolism. In contrast to the Grand Guignol of Witkin's mythopoetic world, at times as bizarre as Hieronymous Bosch, there is a quotidian familiarity to the subjects of Mapplethorpe's photography. With slick, NY elegance Mapplethorpe's XYZ portfolios subvert the symbol language of the everyday, the commonplace in order to expose the deviation/variation that often lurks beneath a polished, contrived veneer.
Long Breathing Tube
There is an ironic tension between the velvety grey tones, the professional finish, and the bold depiction of SM/Fetish sub-culture in, for example, "Joe, NYC" (1978) (a vinyl-clad figure, fully hooded with long breathing tube on hands knees.)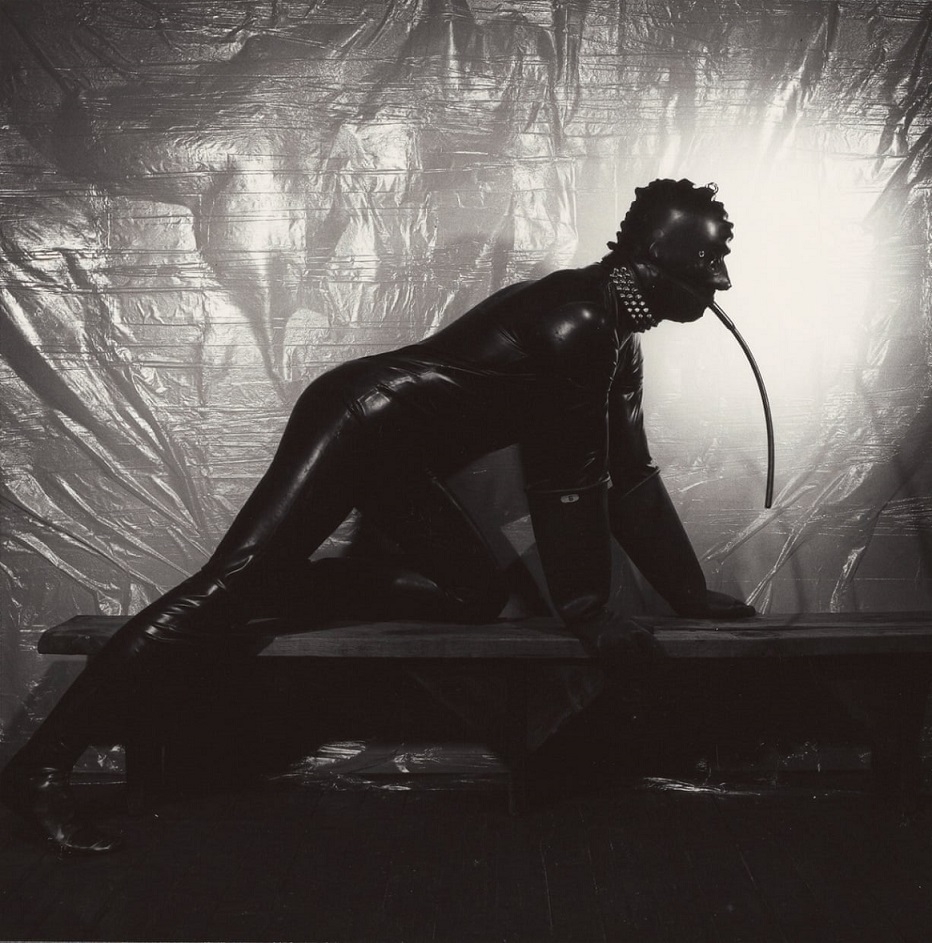 Robert Mapplethorpe "Joe NYC," 1978
Mapplethorpe's Exhibition
Perhaps nowhere in Mapplethorpe's exhibition is this tension rendered more explicitly than "Man in Polyester Suit"(1980), or in that same picture's presentation alongside dramatically illuminated and pristinely composed still life studies of fleshy, pendulant flowers.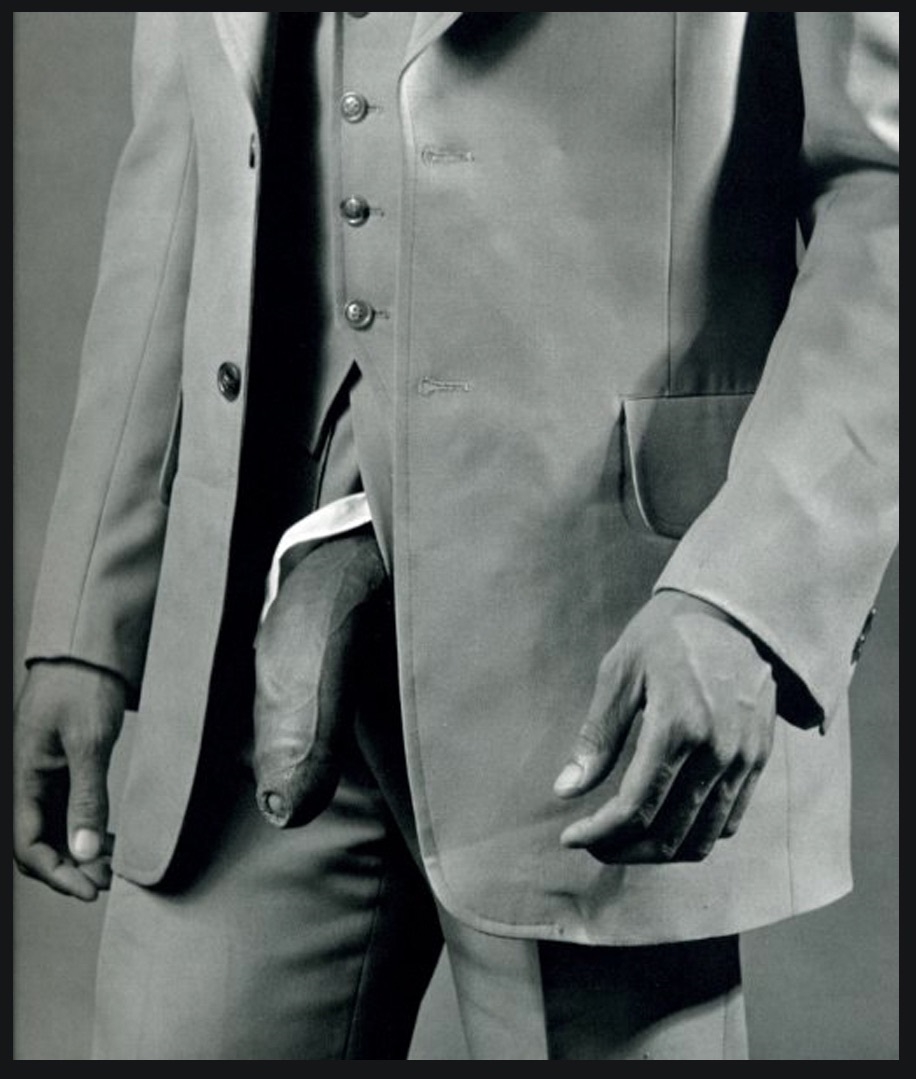 Robert Mapplethorpe "Man in Polyester Suit," (3.bp.blogspot.com)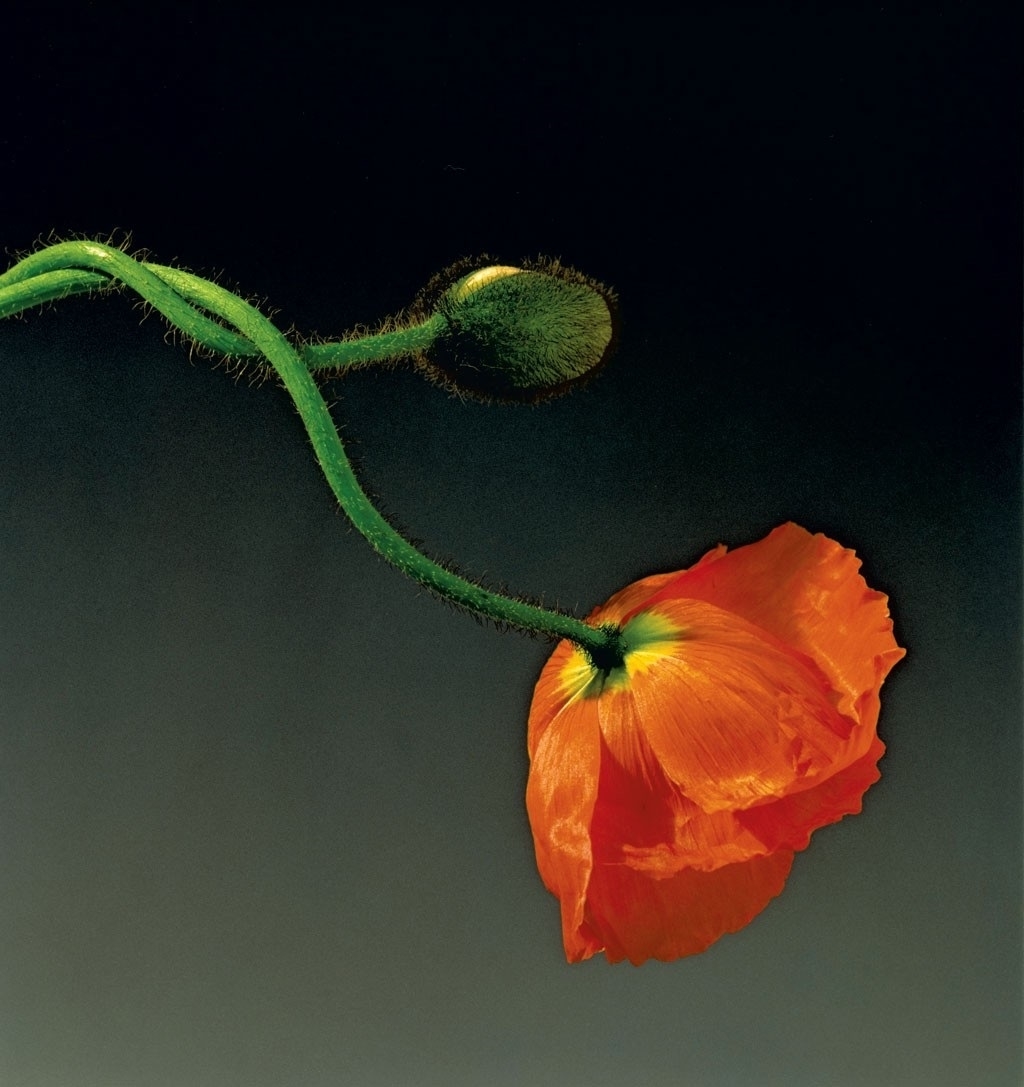 Robert Mapplethorpe "Poppy" 1988 (sevendaysvt.com)
Chemically Scarred
In contrast, Witkin's work appears coarse, gritty, gristly and grotesque, often stark, heavy with contrast, the surfaces distressed, scratched and chemically scarred, like graffiti on the brick wall of a ruined building, like old furniture or discarded objects.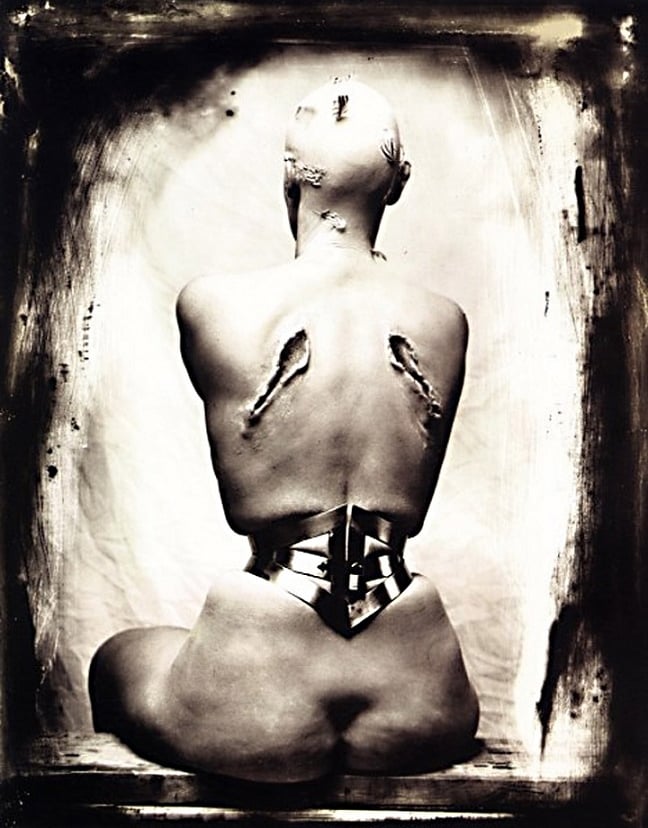 Joel-Peter Witkin "Woman Once a Bird" 1990 (archive.org)
Dwarvism
Reminiscent of antique photographs, silver prints and daguerreotypes, his photographs appear timeless, ghostly, otherworldly, his fascination with "outsider" subjects (including transgender and intersex persons, ​​those with lost limbs, congenital deformities, obese persons and those with dwarvism) ensuring we will find few familiar landmarks when entering Witkin's visionary realm. Evocative of carnival 'freak shows,' and echoing the early films of Alejandro Jodorowsky and David Lynch,
Oddities
Witkin's work has been labelled "exploitative," "offensive" and "heretical." But Witkin's camera eye invites us to look where we most want to look away and in so doing, shows us something of ourselves. Parting the curtains of Witkin's sideshow, we discover the 'oddities' are not monstrous or 'other'; through his singular and particular vision the artist is able to represent the humanity of his subjects, championing their subjectivity.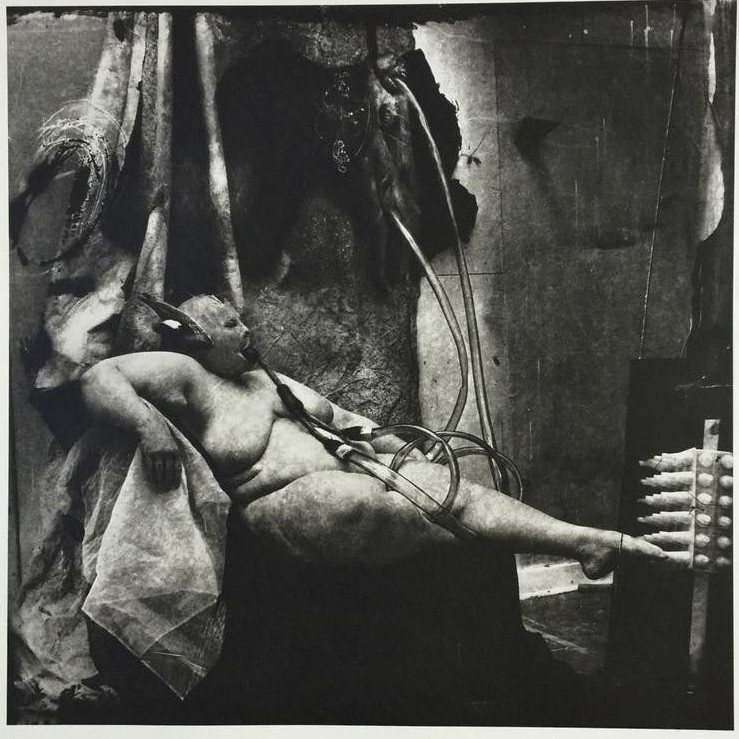 Joel-Peter Witkin "Sanitarium," 1983 (i.pinimg.com)
Sanitarium
For example, the astonishing vision of "Sanitarium" (1983), a hooded figure with tubes emerging from its mouth (calling to mind the fetish play of Mapplethorpe's photograph above), but here the figure is nude, an obese woman, reclining, recumbant. Her pose is classical, echoing Manet's 'Olympia'. She is relaxed, and despite the impersonal, industrial setting she appears at ease, confidant, self-possessed. In reference to this particular model Witkin claims she is a member of an elite subculture in which obesity is viewed as the pinnacle of feminine beauty, and she was quite proud of her figure. Indeed, the model in "Sanitarium" commands the 'stage', owns the field of the composition, in a way that Michelle Olley, when recreating this very same tableau for Fashion Designer Alexander McQueen's 2001 runway show VOSS, simply could not achieve.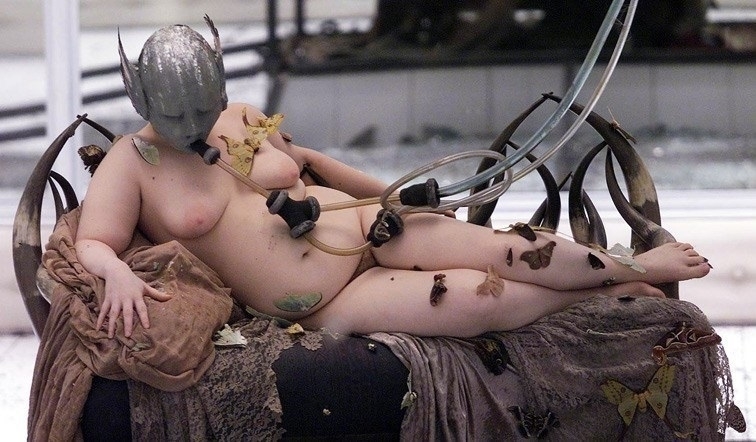 Alexander McQueen, "VOSS/Asylum" 2001 (DazedDigital.com)
Self-assured as the Mona Lisa
Similarly, "Woman on a Table" (1987) represents a woman disfigured at birth by spina bifida. Placed literally upon a pedestal, her nude body is covered only by her long blonde hair and one arm draped coyly across her breast, in a pose directly referencing Sandro Botticelli's 'Birth of Venus' (circa 1480). The model wears a half-mask, which appears to be printed with the facial features of this same Venus, and she smiles slightly; a smile as enigmatic, as self-assured as the Mona Lisa.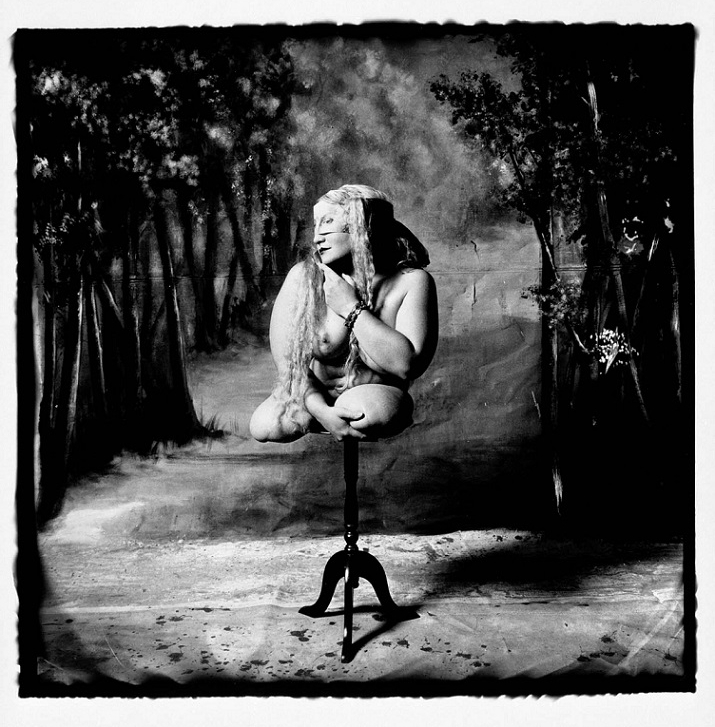 Joel-Peter Witkin "Woman on a Table" 1987 (steemkr.com)
Derision or Perversion
Witkin consistently strives to record "the beauty in the difference" of his "outsider" subjects, presenting them not as aberrations or oddities, not as objects of derision or perversion but as thinking, feeling, desiring persons simply displaying the edges of human variation. Before his gaze the most abject, discarded, ignored and invisible human beings find themselves seen, adored, accepted, venerated, even elevated as saints, deities, religious icons.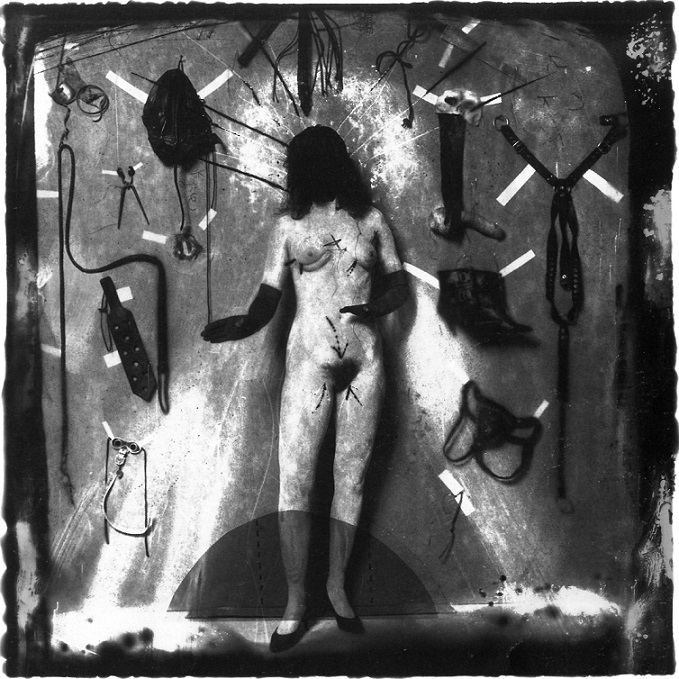 Joel-Peter Witkin "A Choice of Outfits for the Agonies of Mary" 1984 (archive.org)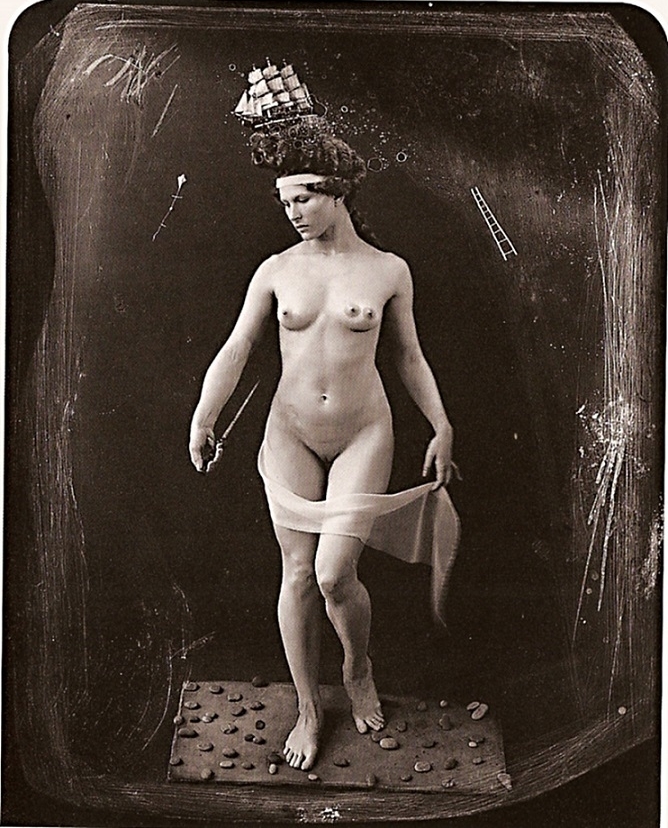 Joel-Peter Witkin "Beauty Has Three Nipples" 1998 (archive.org)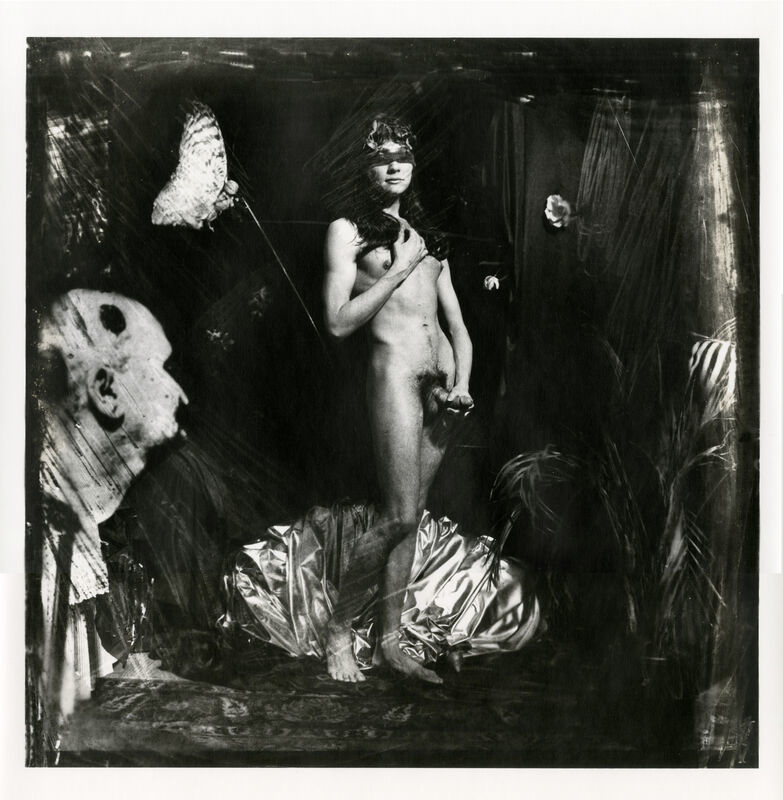 Joel-Peter Witkin "Birth of Venus," 1982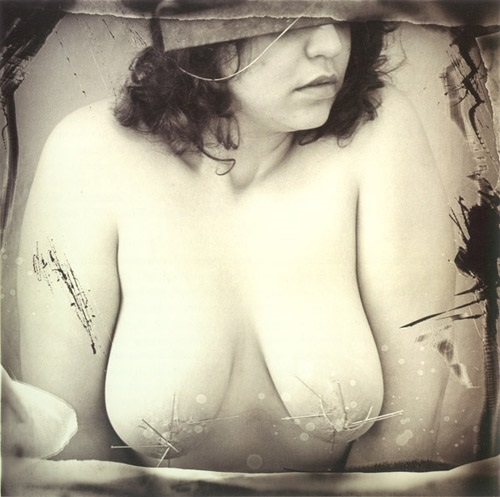 Joel-Peter Witkin "Mexican Pin Up," 1975 (archive.org)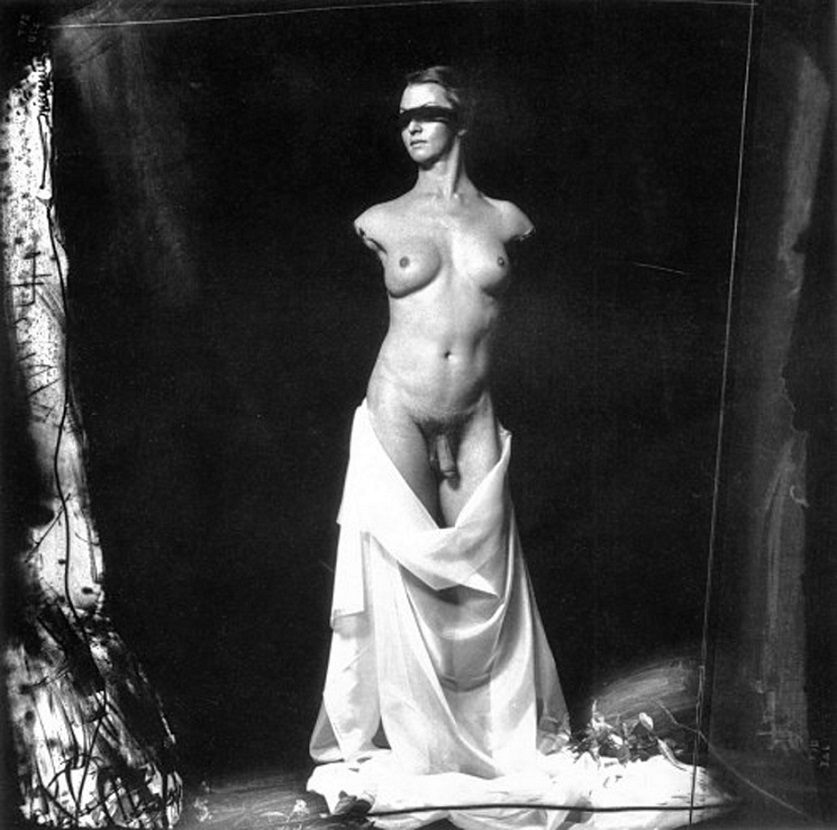 Joel-Peter Witkin "Madame X," 1981 (archive.org)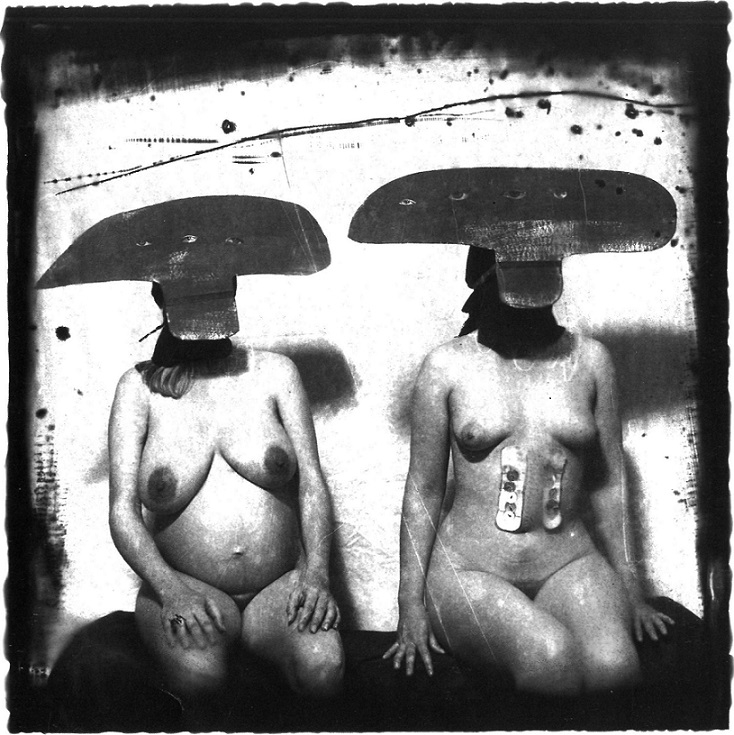 Joel-Peter Witkin "2 Women With Stomach Irritations," 1982 (archive.org)
Click HERE for the striking photography of the Dutch enfant terrible Paul Blanca who Robert Mapplethorpe considered his only competitor…!!
We're always looking for your feedback. Leave your reaction in the comment box below…!!