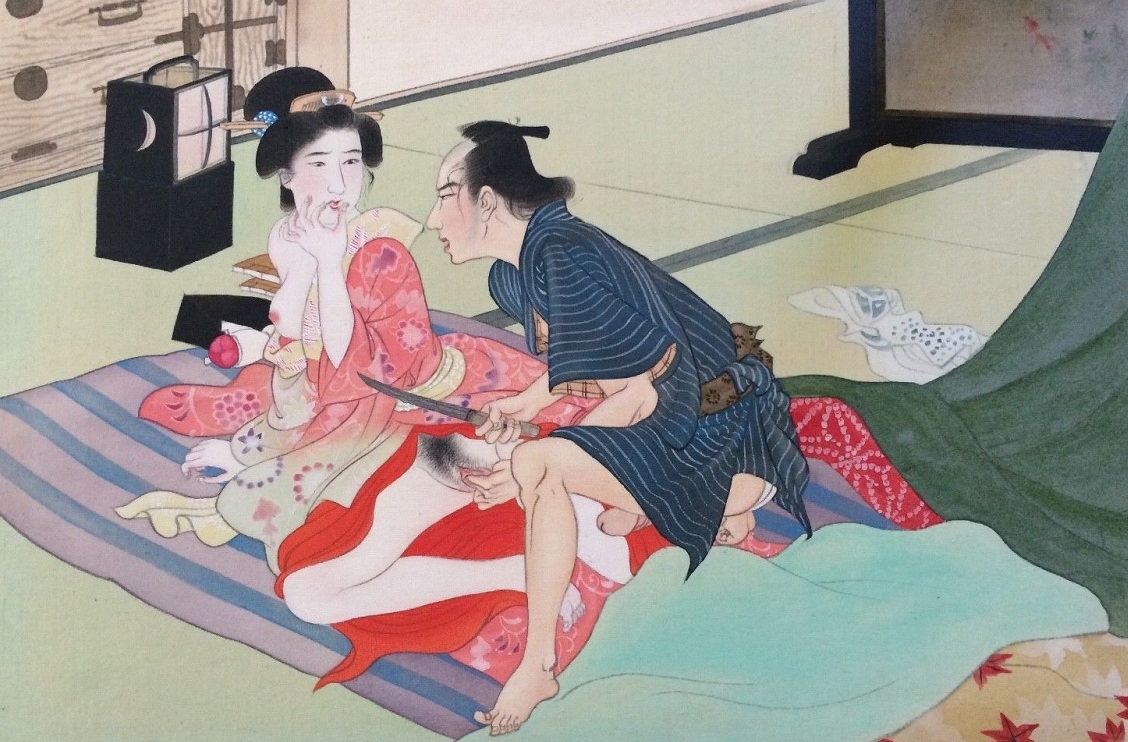 9 Attractive Taisho Era Shunga Paintings That Will Surprise You
Works from shunga's final days, the Meiji and Taisho eras, can be mainly divided in three categories. The first are the close imitations of the classical Edo designs. Secondly, the prints and paintings that were produced for the internal market depicting foreign customs and products. The third category were the shunga pieces that were created for Japanese soldiers particpating in the Sino-Japanese war, to increase their morale and show their dominance.
Taisho Era
The nice set of nine original Japanese erotic shunga paintings featured below is more of a combination between the first and second category and was produced during the Taisho era (1912-1926). They are painted on silk laid to boards and are mounted in a book in the oban format (14.5″ x 10.5″).
Purple Cap
The paintings (originally consisting of twelve) portray realistic renderings with the use of color pigments that are so characteristical of the Taisho era. The images below start off with a wakashu kabuki (recognizable by their purple cap) actor penetrating his secret sweetheart from the rear.
Threatening
In the following tableau we are witnessing the "indispensable" rape scene with a threatening intruder holding a wakizashi sword, who makes unwanted advances to a desperate young woman. The wakizashi, if worn together with the katana, was a clear indication that the wearer was a samurai or swordsman.
Nipple Sucking
The remaining pieces all feature the usual topics such as nipple sucking and love-making while drinking tea or underneath a mosquito-net. The skilled (unknown) artist paid a lot of attention to the details in the surroundings of the couples and to the typical hairstyles of that time.
Click HERE and check out some mysteriously sensual shadow paintings…!!