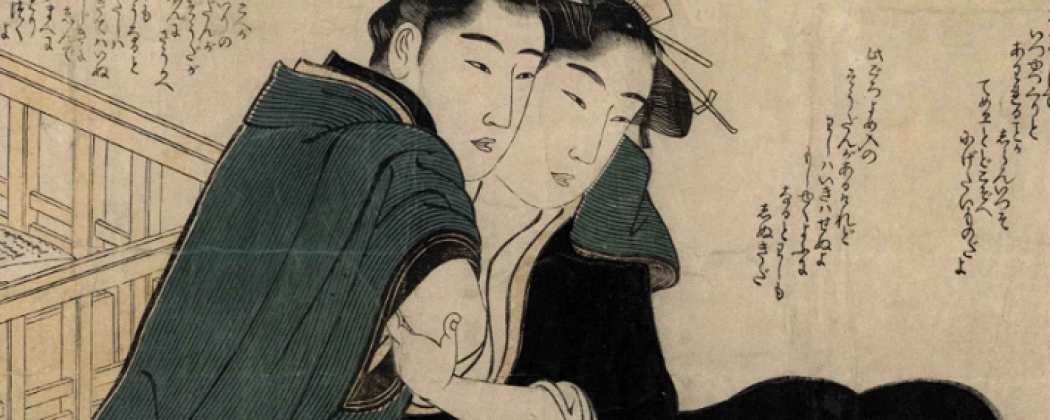 The Passionate Dialogue Between Two Adulterous Lovers
Shuncho had a preference for this type of setting in which the male and female protagonist caress each other's genitals while still wearing their clothing.
According to Hayashi (1976) this design comes from an album of twelve prints by Katsukawa Shuncho (act. c. 1783 to 1795), from the beginning of the Kansei era (c.1790).
The tableaux shows an adulterous lovers' rendezvous between a youthful male, a servant in a merchant's house, and a young unmarried female. Wearing a kimono decorated with motifs from the Tale of Genji (Genji mon) that allude to the various chapters in this book, she has received offers from suitors of her own social class but, even so, is prepared to reject them and sacrifice herself for her lover.
The dialogue is as follows:
Man: "I wish it always like this and we could be together without having to part immediately after. I wish I could run away with you somewhere!"
Woman: "A man recently asked for my hand in marriage, but I won't accept. If they make me, I'll kill myself!"
Man:"If what you say is true, if someone wants to marry you and you accept, I'll kill myself and my ghost will haunt you!"*
This is one of the favorite shunga designs of the Swedish modern shunga artist Senju Shunga. In the following video he shares his thoughts and insights (Swedish with English subtitles)…
Click HERE for more interesting articles on the work of Katsukawa Shuncho…!!!
*'Secret Images – Picasso and the Japanese Erotic Print' by Thames & Hudson