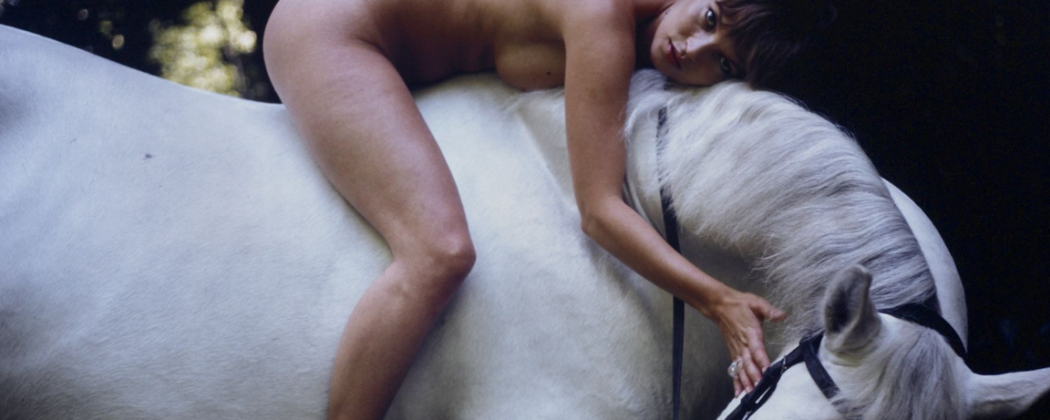 Photographer Nan Goldin: Drags, Drugs, and Sexual Dramas
Nan Goldin (b. 1953) is an American photographer, whose works are focused on sex, LGBT, drag, and HIV motifs. Her creative identity took shape in an atmosphere of permanent riot against a conservative Jewish family in which she was born. The suicide of her older sister Barbara, with whom she had a strong bond, made her leave parents at the age of fourteen. At that time, she not only began smoking marijuana and dating an older man but also entered Satya Community School in Lincoln, where she started her career as a photographer.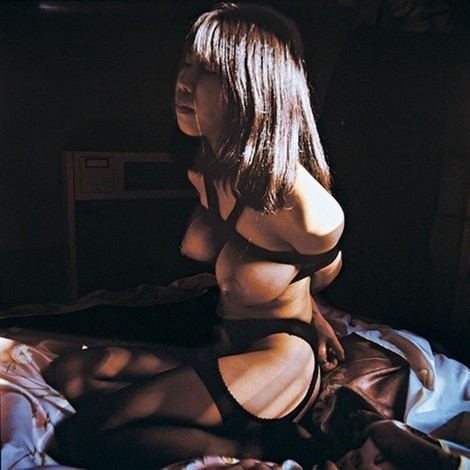 "Chisato in bondage", Tokyo, 2004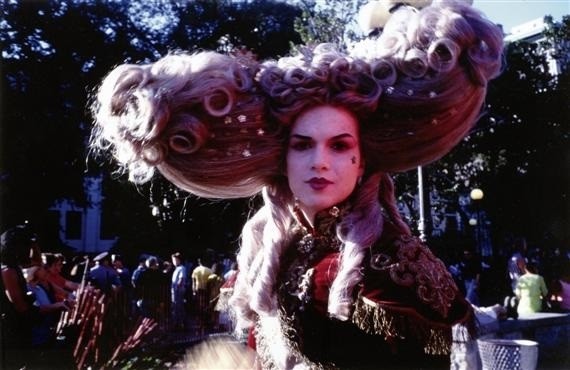 "Joey at Wigstock", New York 1991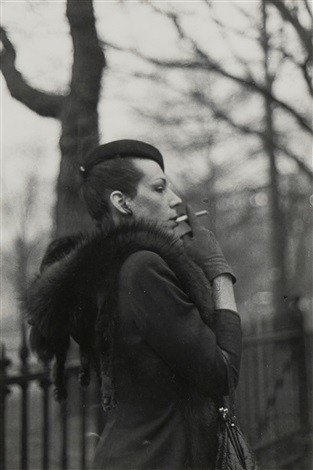 "Ivy in the Boston Garden", Boston, 1973
In Love with a Drag Queen
Being 18 years old, Goldin lived in Boston and photographed local gay communities. She admired the lifestyle and the braveness of drag queens who were not afraid of exposing their real selves. Goldin also admitted afterward that she was romantically in love with a drag queen during this period. The concept of drag connected with immense inner freedom and strength couldn't not attract the artist who fights for the right to self-expression. These photos became material for her first show in Boston in 1973.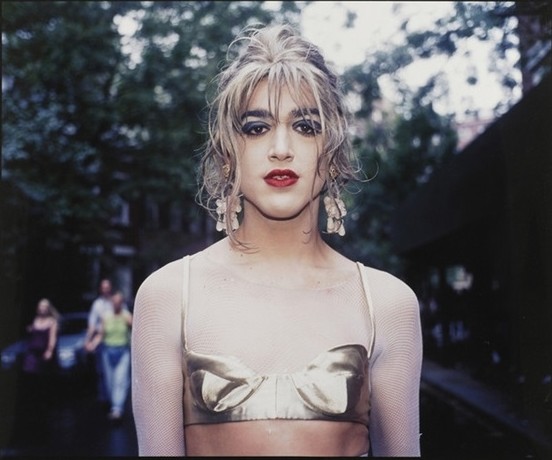 "Jimmy Paulette After the Parade", 1991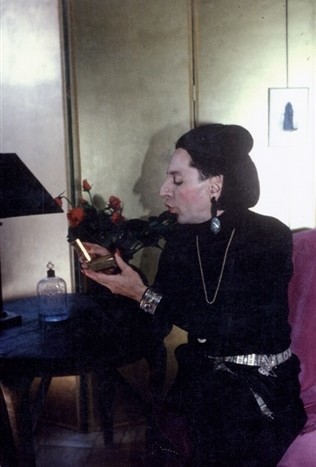 "John Edward Heys applying maquillage for first Diana Vreeland portrait sitting", N.Y, 1984.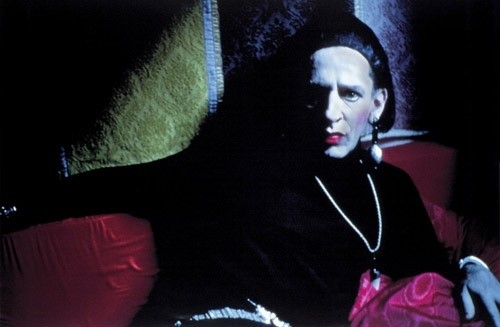 "The actor John Edward Heys as Diana Vreeland", New York , 1990
Photographic Diary of Junkie Culture
In the 1970s, Nan Goldin moved to New York City. A post-punk music scene became an object of her photoshoots together with the gay community. During this period, Goldin was into the hard-drug subculture, and her slideshow "The Ballad of Sexual Dependency" consists of the shoots of drug use and sex acts of homo and heterosexual young couples.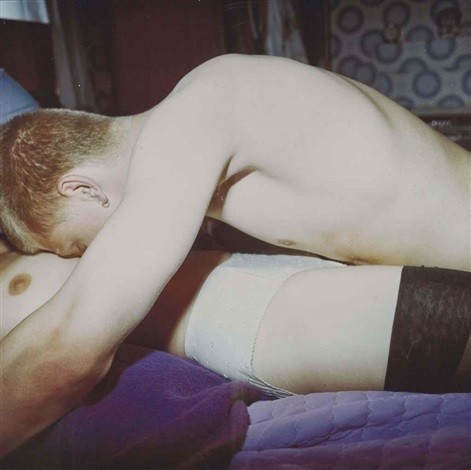 "Skinhead having sex", London, 1978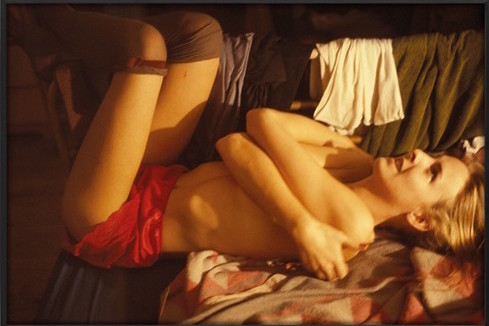 "Greer on the Bed", NYC, 1983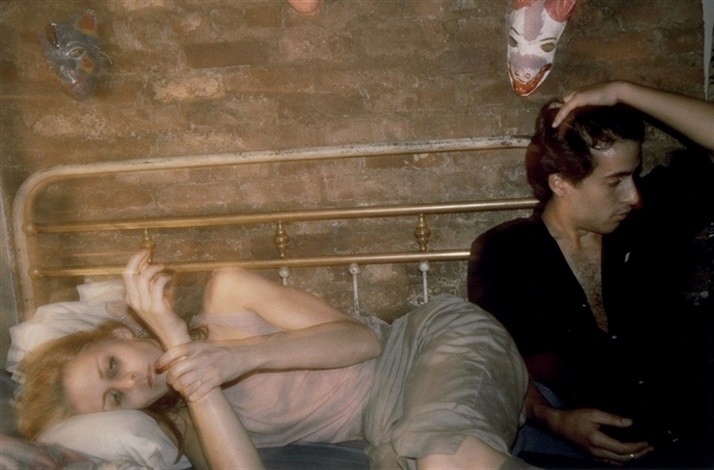 "Greer and Robert on the bed", 1982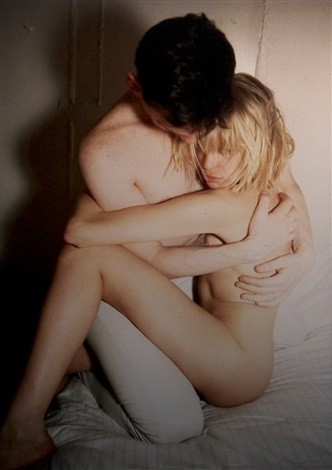 "Patrick and Teri on their wedding night", NYC, 1987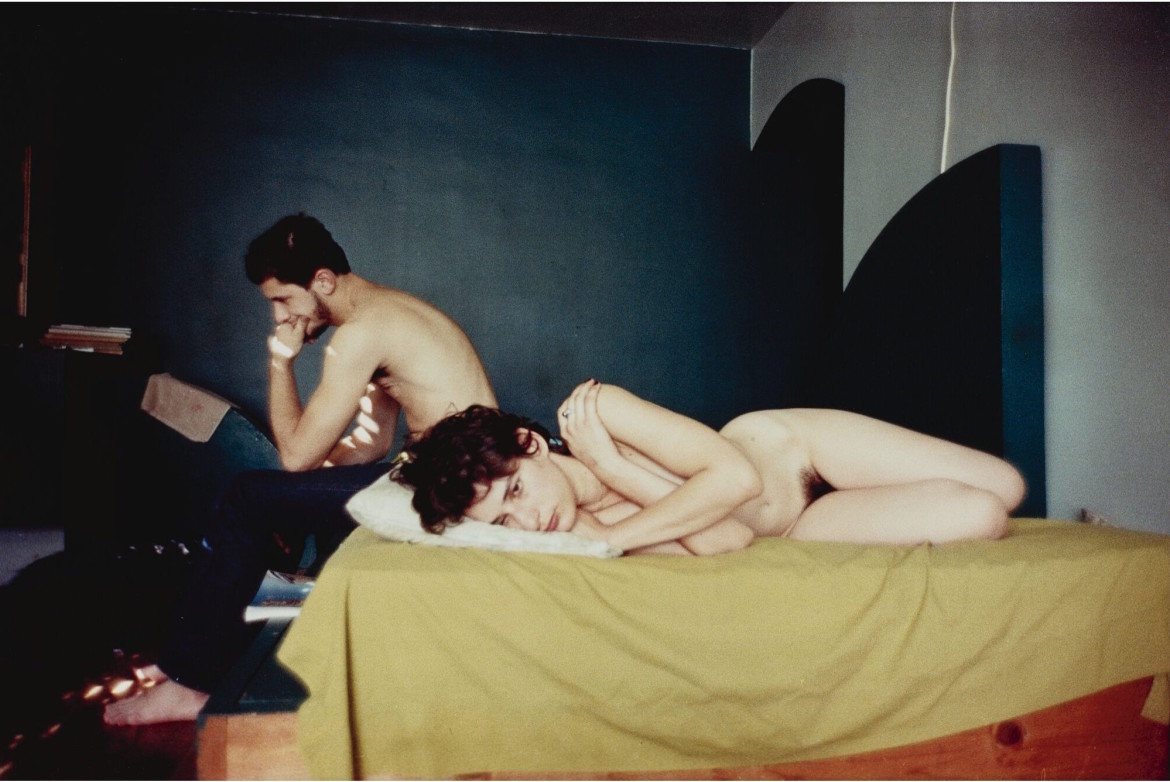 "Couple in Bed", Chicago, 1977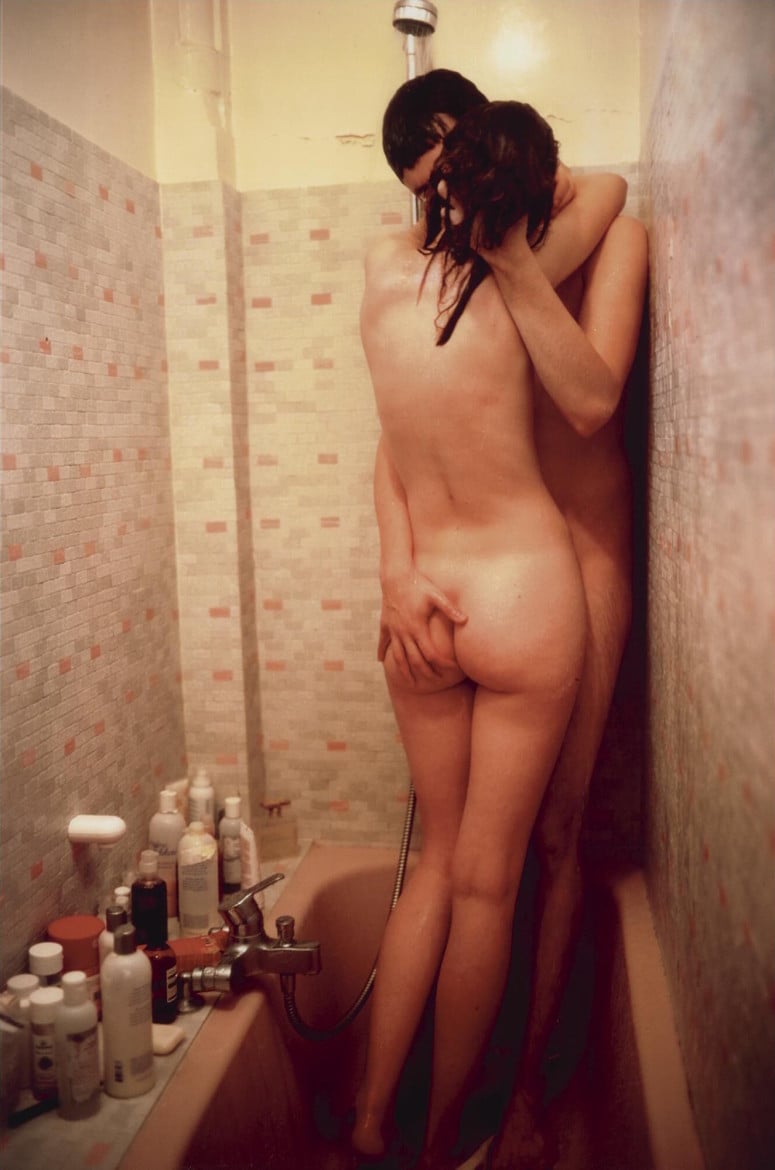 "Simon + Jessica in the shower", Paris, 2001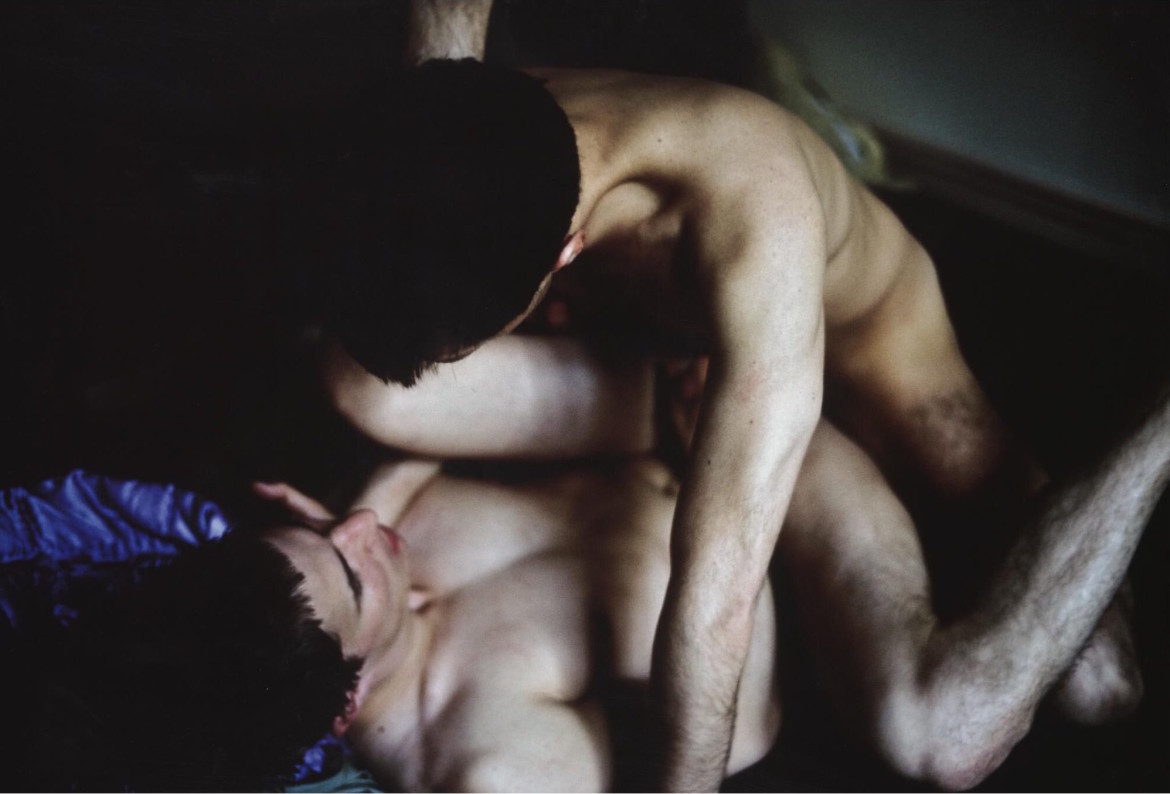 "Jens entering Clemens (after Caravaggio)", Paris , 2001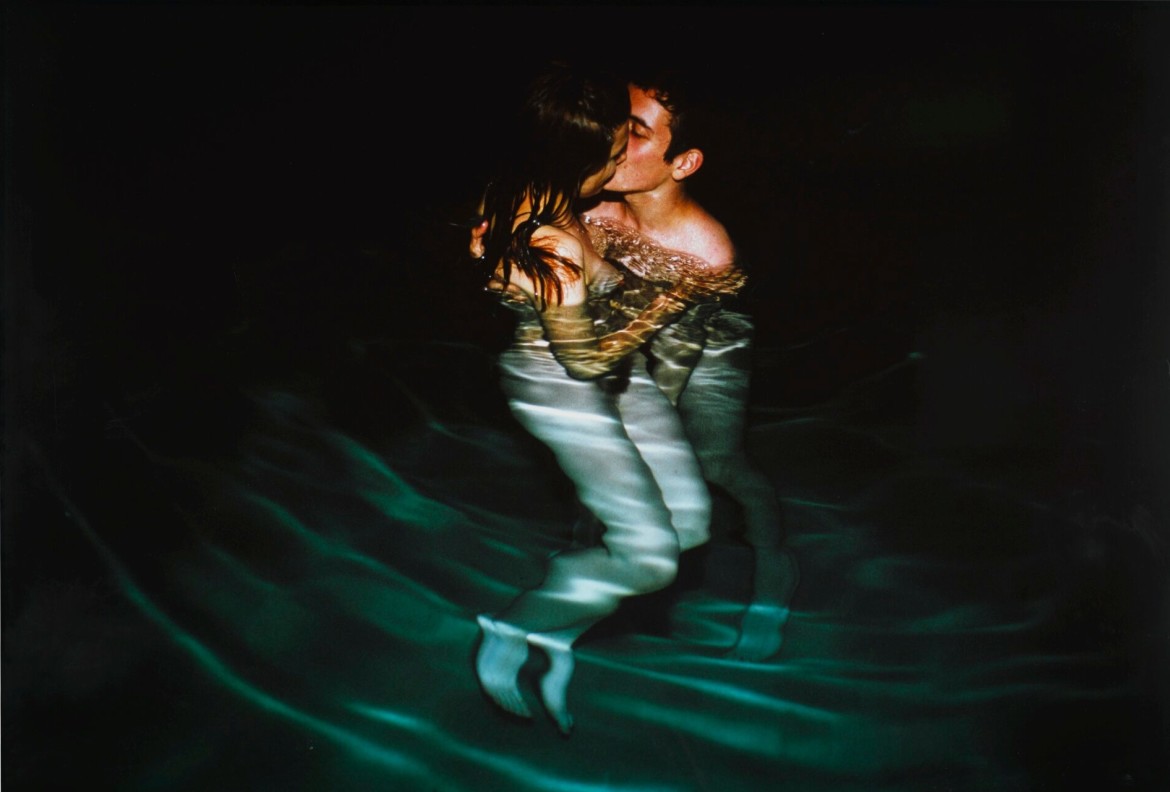 "Simon and Jessica Kissing in Yvon's Pool", 2001
The photographer called this series "a diary, [she] lets people read." Some critics accused Goldin of romanticizing the image of the drug culture, which she admitted later, saying "I had a totally romantic notion of being a junkie. I wanted to be one." For some time, Goldin herself was suffering from an opioid addiction after being prescribed medical treatment for her wrist. When Goldin underwent a rehab, she founded a campaign called "Prescription Addiction Intervention Now" (P.A.I.N.) against producers of OxyContin.

"The Lonely Hunter", 2008-2009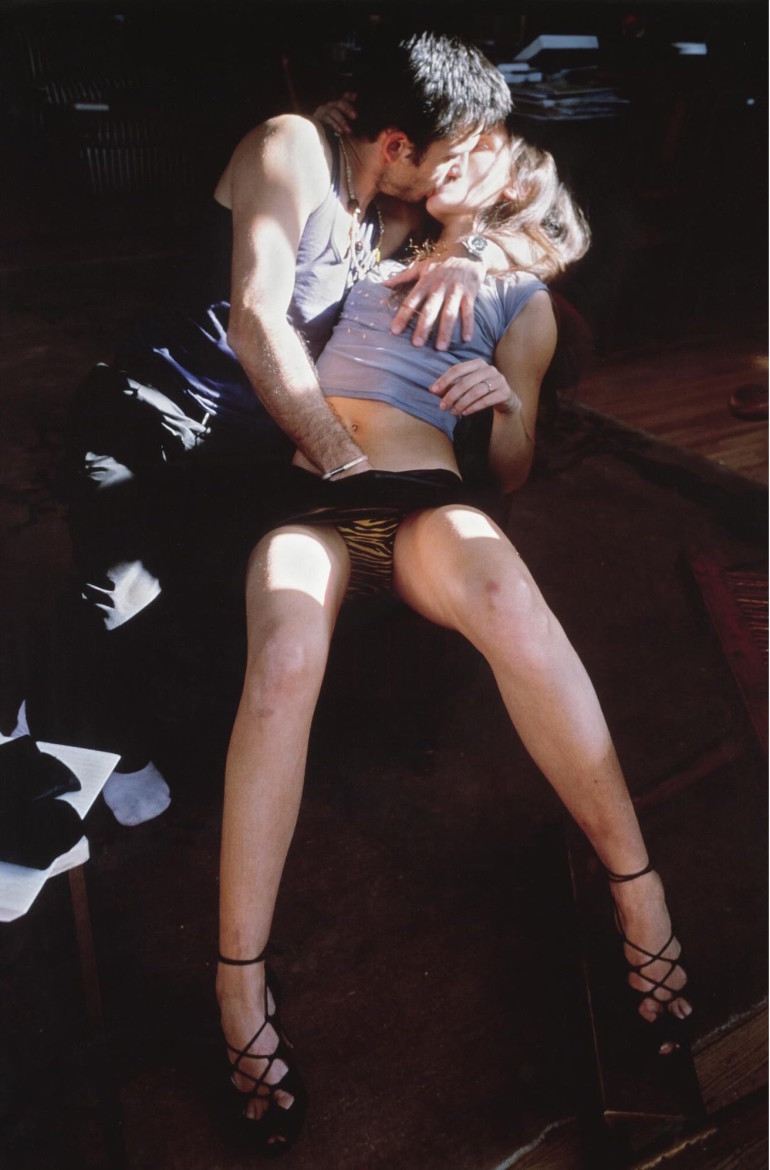 "Joana and Aurele making out in my apartment", 1999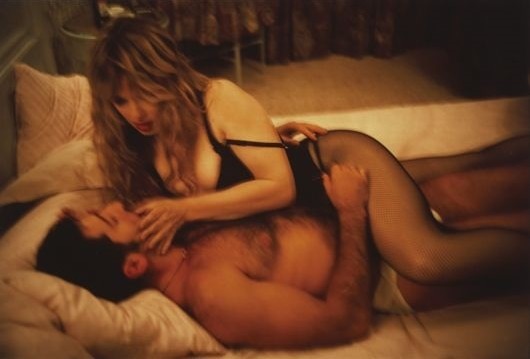 "Joey and Andres in bed", Hotel Anschisfer Hof, Berlin , 1992
"Rise and Monty Kissing", New York City. 1980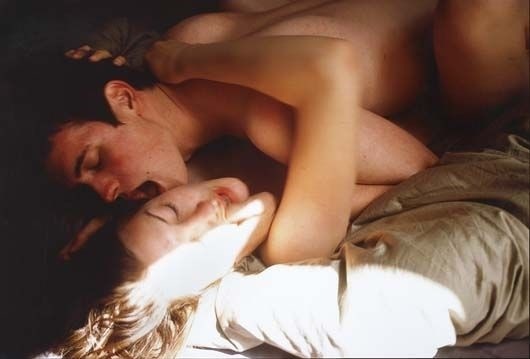 "Simon and Jessika Making Love, Jessika Coming", Paris, 2001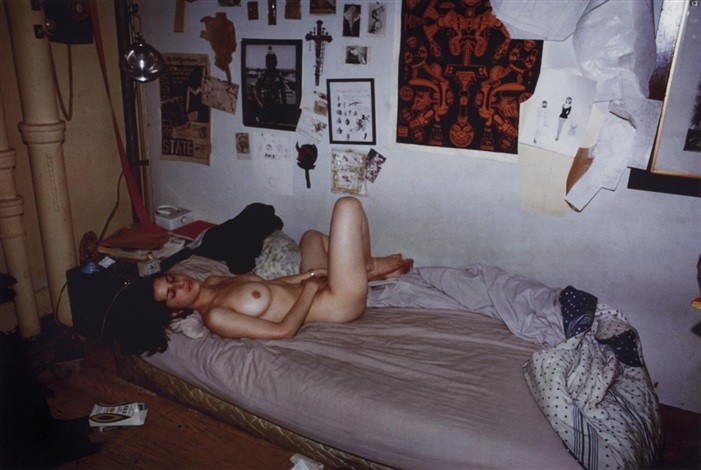 "Roommate", New York City 1980 ("The Ballad of Sexual Dependency")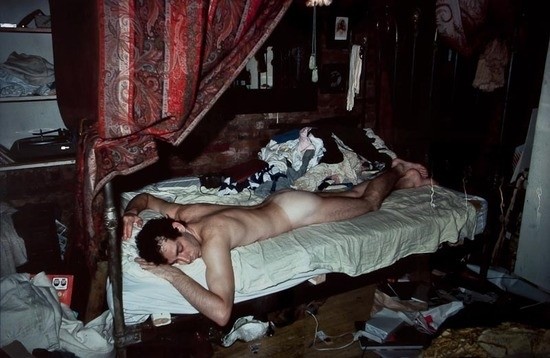 "Kenny on his bed", NYC , 1979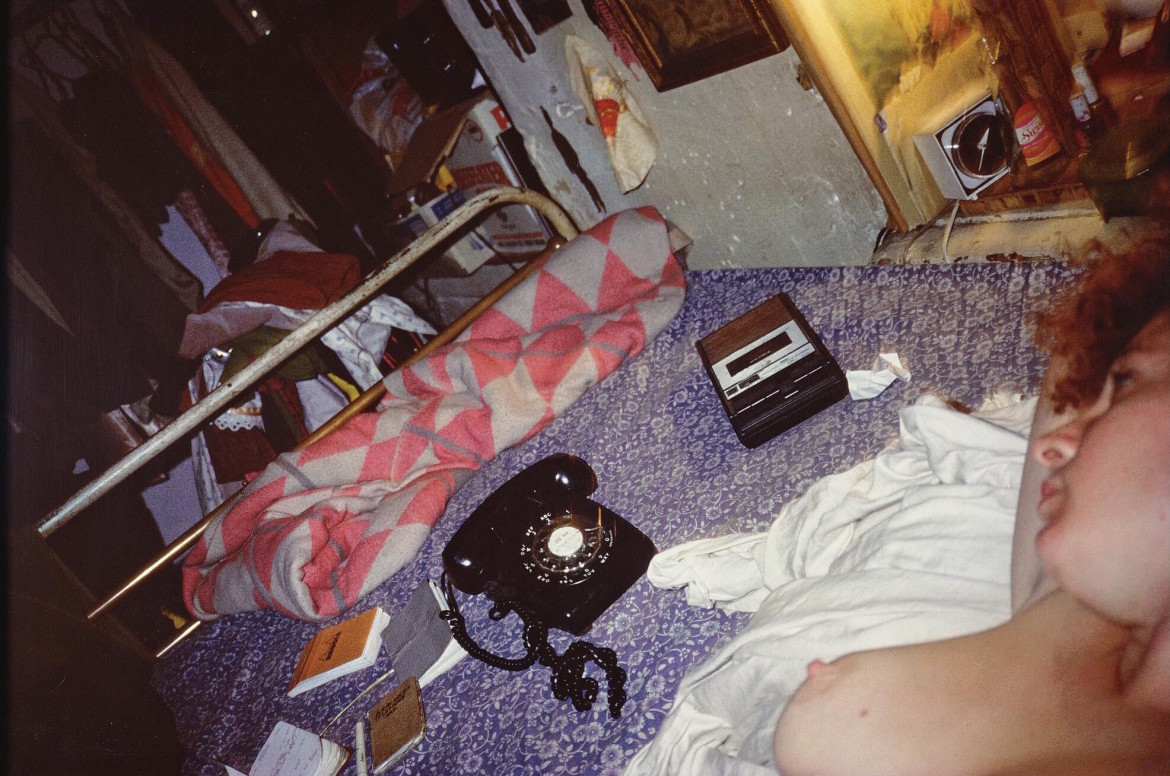 'Nan in Bed", 1980s
"Beautiful Moment, Do Not Pass Away!"
Looking at the photos, we can put into question their nature and function. The slideshows of Nan Goldin, what are they, the works of art or a way to memorize people who, being drug-addicts in the 1970s, had passed away by the 2000s? What's the difference between our family photo albums, which we also use to memorize something, and these diaries or documentaries shot by Goldin? The answer as it seems lies in the honest uncensored approach of the artist to the objects of her serieses. There are no forbidden and avoided topics in Goldin's photos. She doesn't afraid of showing her life and identity on the public, which was proved by a remarkable photo "After Being Battered, 1984," where we can see her bruised face. While being among the drag queens, Goldin developed her braveness and uncompromising attitude to life, art, and society.
"Nan and Dickie in the York Motel", New Jersey, 1980
"Self-Portrait After Being Battered", 1984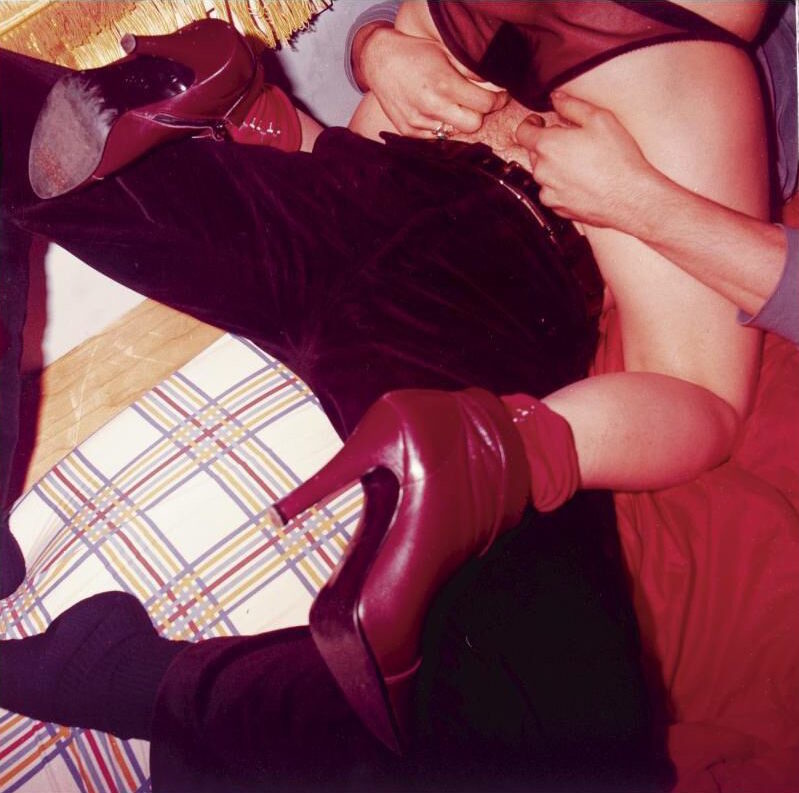 "Me on Top of My Lover", 1978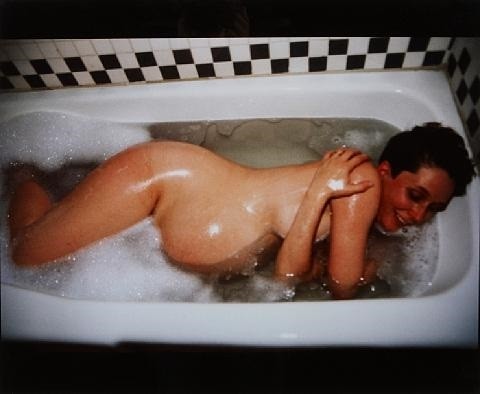 "Butch in Bath", ca. 1990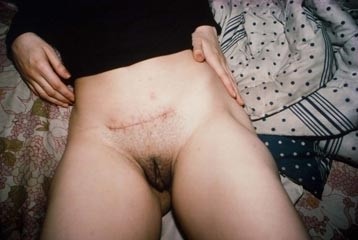 "Ectopic Pregnancy Scar", 1980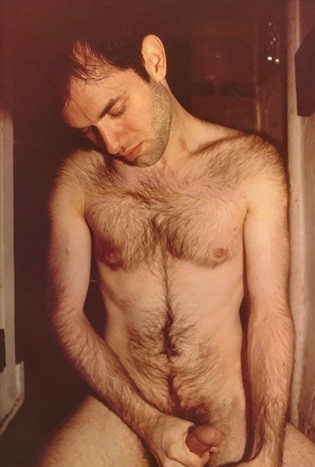 "Bobby masturbating", New York City [Bobby at home], 1980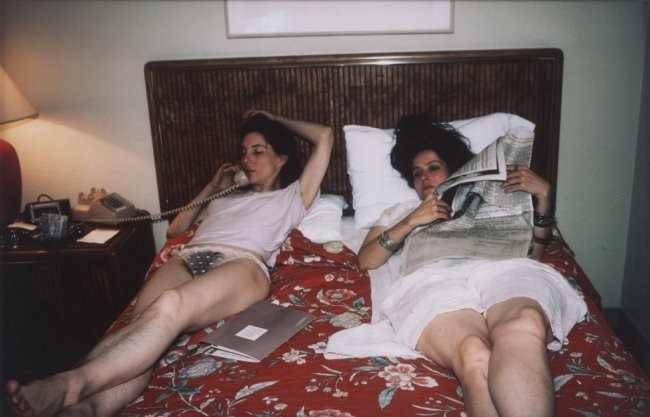 "Kiki and Maggie at the Sonesta Hotel", 1985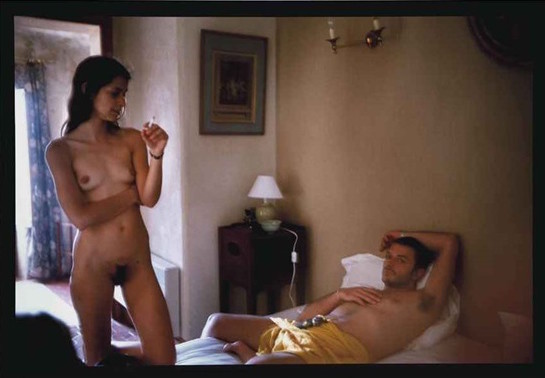 "Joana talking to Aurele in bed", Chateaneuf de Gadagne, Avignon , 2000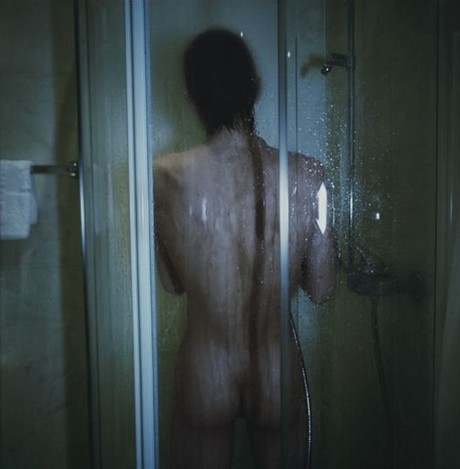 "David H. in the Shower", Lausanne , 1998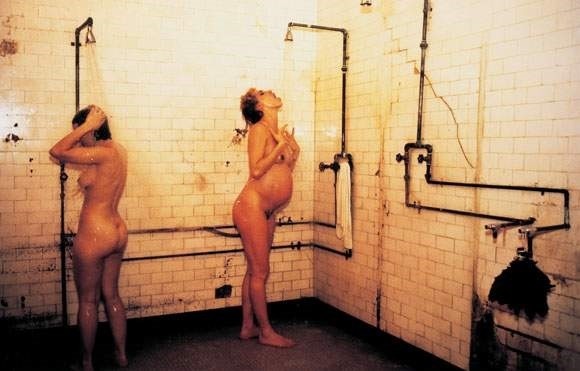 "Rebecca and Janet in shower", Russian baths (from the Ballad of Sexual Dependency), 1985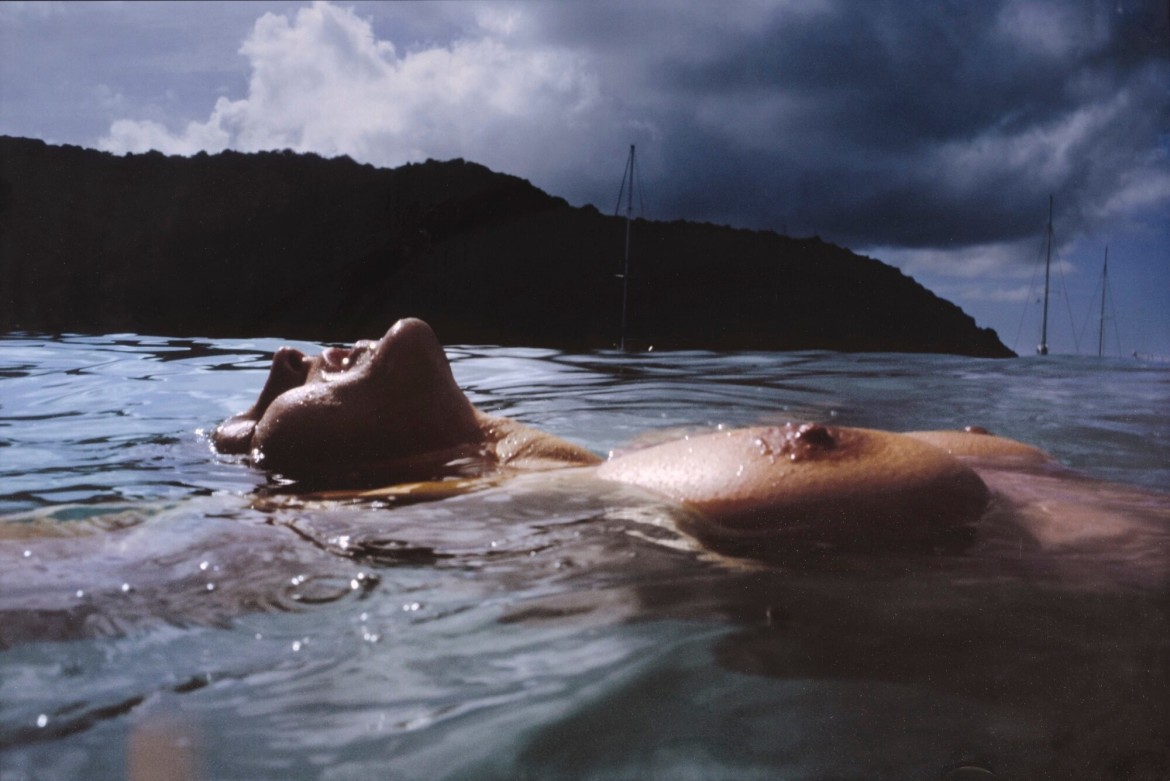 "Valerie Floating in the Sea", Mayreau Island , 2001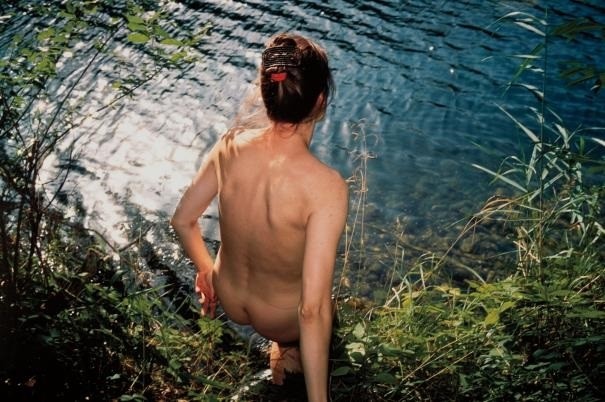 "Geno by the lake", Bavaria , 1994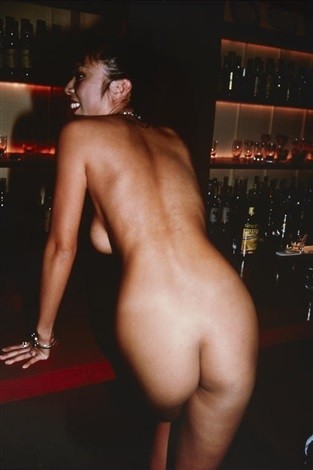 "Mash naked at the Bar Rouge", Tokyo , 1998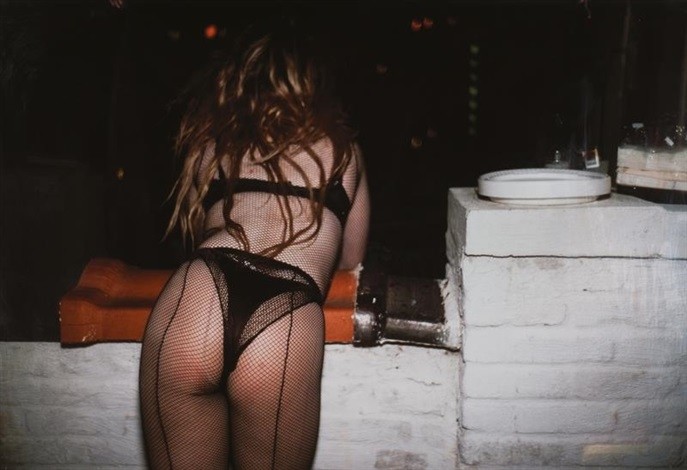 "Joey on my Roof", NYC , 1991
Censorship
Due to the explicit content, the exhibitions of Nan Goldin were censored in Brazil in 2011. Some of the photographs displayed sexual acts performed in kids' presence.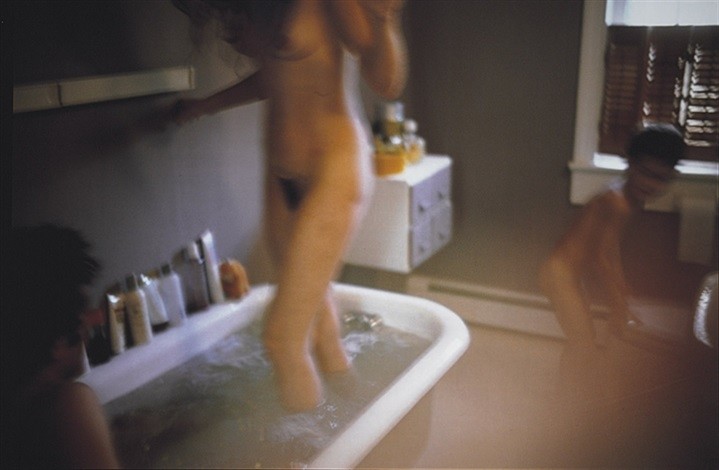 "The French Family before the Bath", Sag Harbor, 2000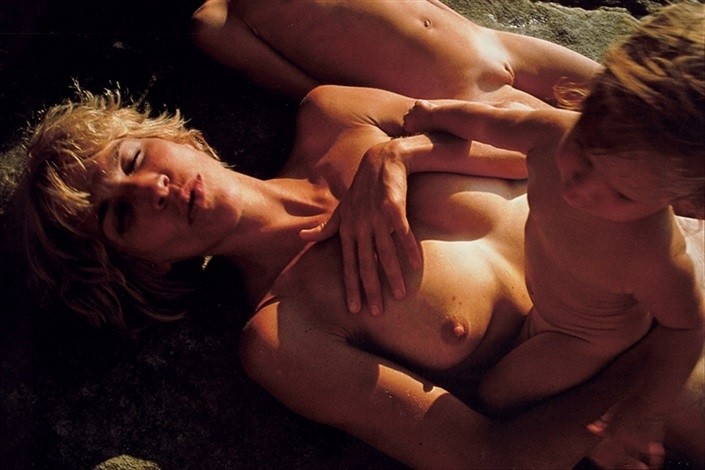 "Rebecca, To and Assunta on the beach", Positano, Italy , 1986
Marble and Oscar Wilde
The spectator may get the feeling that Goldin's photos are a sort of documentary, but things are not so simple. In some of her works, Goldin also explicates the aesthetic side of what she does. For example, the juxtaposition of the naked female body and a marble sculpture allows drawing a comparison between art and life or, we should say, between art and art.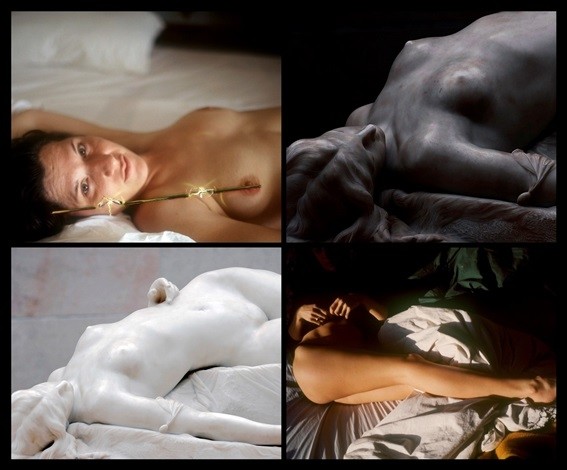 "Marble Quartet", 2013
This collage makes us think about what was the starting point. Did the artist make nude shots of the woman and then decided to conjoin it with the shots of the sculpture or did she first see the sculpture and, being inspired by the marble figure, made the shots of the woman? The latter case correspondences with a thesis of Oscar Wilde that nowadays reality stopped being a basis for the art and, on the contrary, it is the life that is enslaved by the art and imitates it (essay "The Decay of Lying," 1891). Other works of this kind are "Veils" and "Hair".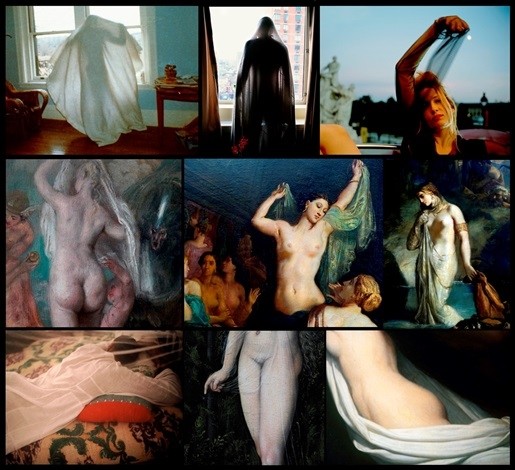 "Veils", 2014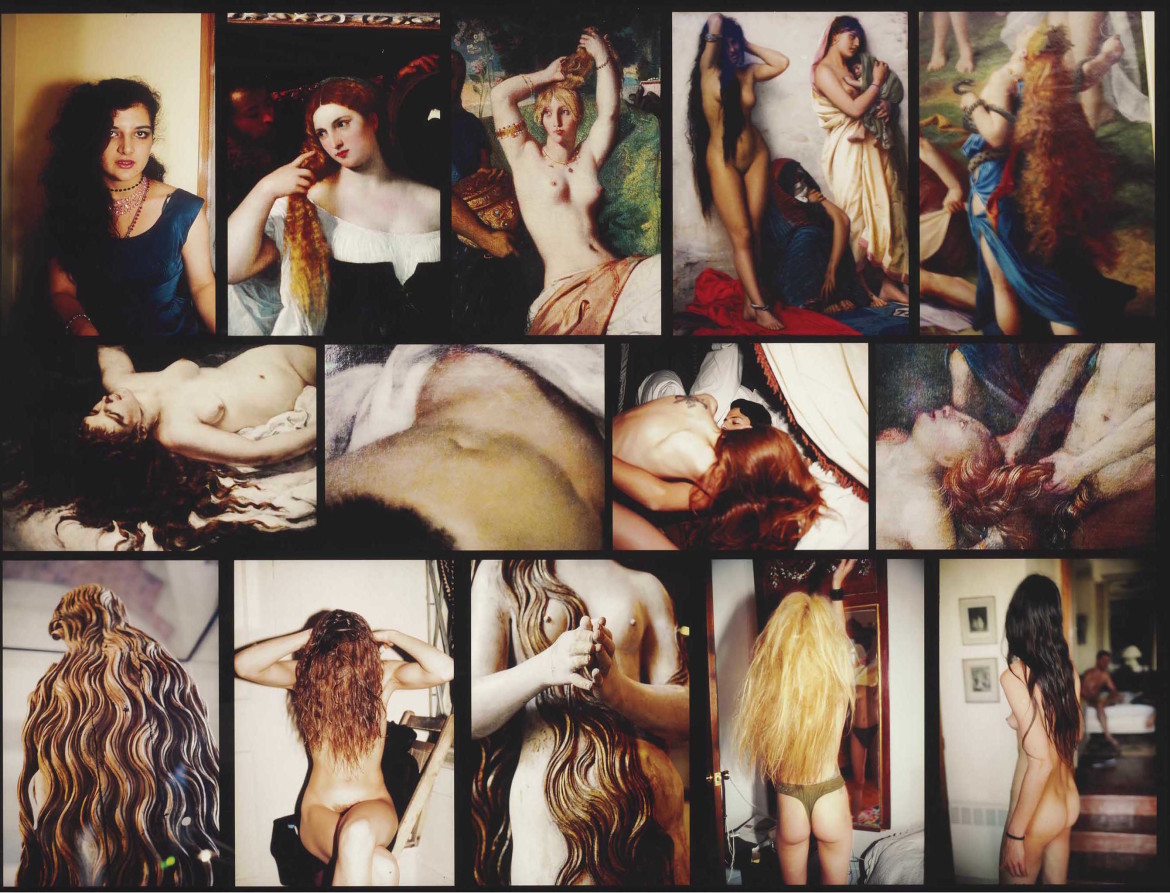 "Hair", 2011
Impressionists and Klimt
The shot "Siobhan in the Woods" seems to be a combination of the photo and pictorial technique: while the foreground with a female figure indicates the photographic nature of the image, the woods in the background, represented by the light and color spots, are quite similar to what we see in the works of impressionists.
Left: "Siobhan in the woods", Provincetown, 1991. Right: Claude Monet "Apple Trees in Blossom by Water", 1880

Left: "Amanda on My Fortuny", Berlin, 1993. Right: Gustav Klimt "Danae", 1907.
The coloring and atmosphere of "Amanda on My Fortuny" may remind the spectator of various 20th-century paintings from Collier to Klimt.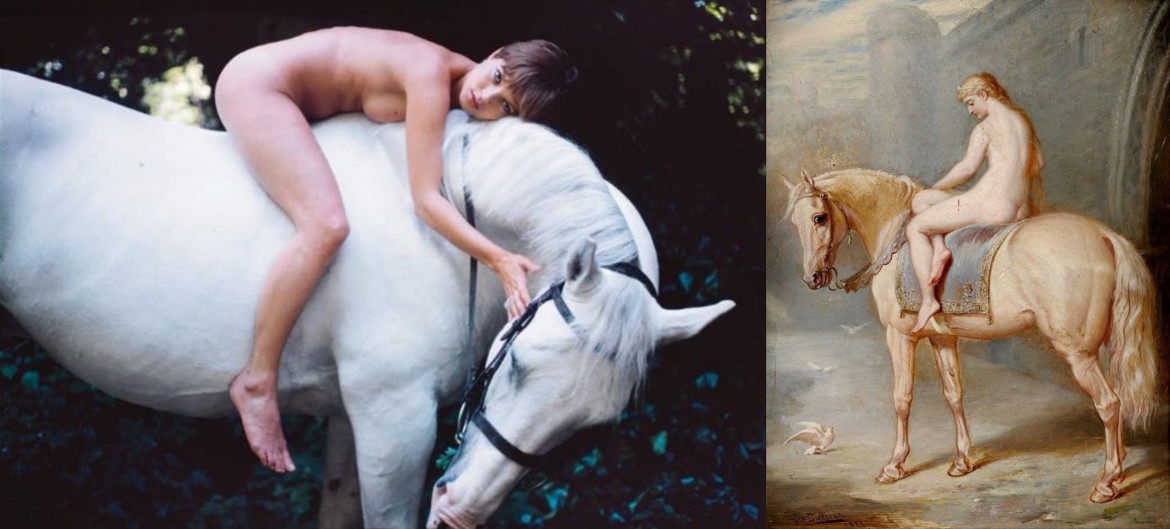 Left: "Kate Moss On a White Horse As lady Godiva", High Gate Cemetary, London, 2001.  Right: William Holmes Sullivan "Lady Godiva", 1877.
Lady Godiva
When Goldin turns away from her diary manner, she uses mythologic and literature plots, e. g. in the photograph of nude Kate Moss as Lady Godiva, who, according to the legend, rode naked through the city when her husband, an earl of Mercia, made it a condition of alleviation of taxes. By the way, the name "Peeping Tom" originates from this story: Lady Godiva had asked all citizens to shut the windows and not to go out, but one man named Thomas decided to look at the naked horsewoman and was immediately blinded by god.
Click HERE for more articles on great photographers….!!