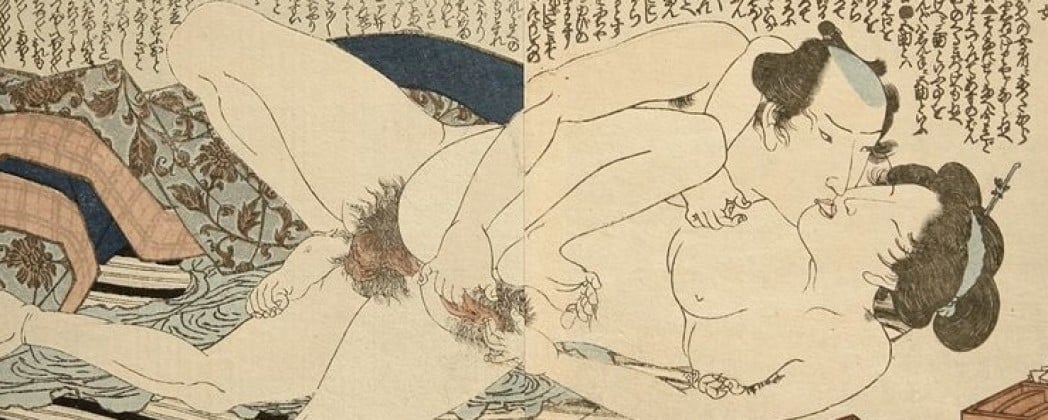 The Art of Anal Intercourse Between Heterosexual Couples
Apart from the homosexual theme, the images in shunga depicting anal penetration are scarce. I have examined my whole library on shunga, consisting of dozens of books, but haven't found any specific info on male-female penetrative anal intercourse in ancient Japan. It probably wasn't a taboo among the Japanese, as homoerotic intercourse was also considered normal, but if it was performed as a way to preserve female virginity, birth control or just for pleasure purposes is not clearly described in the literature that I came across.
Mutual Pleasure
In any case, mutual pleasure seems to be the starting point in the designs depicted below. The first two designs are interesting to compare. The first koban-sized design by an unknown member of the Utagawa school was clearly inspired by the second one, that was part of the acclaimed 'Gods of Intercourse'-series and designed by the great Katsushika Hokusai (1760-1849).
Anal Penetration
In the third image we see a completely nude couple engaged in anal penetration while passionately kissing. The male lover is also stimulating the genitalia of his partner. The fourth image portrays a male man is penetrating the anus of his lenient wife. Are they inspired by the shunga book in front of them? A rare shunga design joining two uncommon themes.   In an earlier post I already described the fifth image with a man performing double penetration using a harigata (dildo).
On his blog, the Swedish artist Senju Shunga shares his views on anal sex between heterosexual couples in shunga:
"In the traditional Japanese erotic art of Shunga, the kiss is almost as rare as the anal penetration of the woman. For all its ingenuity in design Shunga is often surprisingly repetitive and conformist. This usually has very little to do with what is considered morals in the pseudo christian world of the west, but is a result of a completley different view of sex, as it is shaped by totally different cultural standards and ideals. The cock entering the ass, a secret place where penetration is not considered "normal", is for me a show of intimacy and trust. Only if both hearts are filled with burning and honest desire can the act be truly pleasurable for them both. It is a matter of invitation and receiving your lover very intimately. Almost like sharing a great secret. It can be a means of domination and surrender but it can also be a purely lustful game." (Senju Shunga)
Click HERE for another article on the art of anal intercourse…!!!